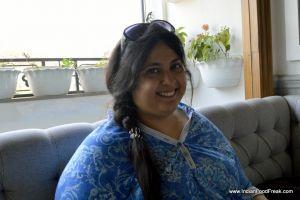 Ruchira Hoon is an old friend and though I know she is multi-faceted in as much as she wears different hats as a blogger, journalist, cook, marketeer and event curator, I never knew she is a chef-consultant too for many restaurants. And when she calls me for a food tasting at Dirty Apron in Safdarjung Enclave for which she has designed the menu, I accept the invite with almost disbelief.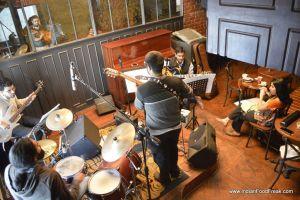 Dirty Apron is part of
The Piano Man
that first opened in Vasant Vihar in 2011 and has since then shifted to Safdarjung Enclave. Started by
Arjun Sagar Gupta
who himself is a Jazz Pianist, he was looking for a place where other musicians can come and play. The Piano Man has three sections –
The Jazz Club
which has a pubby feel and an acoustically designed ground and upper ground room, the
Cake Away
on the first floor which is a small bakery cum coffee shop and the second floor and beautifully designed terrace with wall garden is the home for Dirty Apron that serves Asian and Asian influenced European dishes.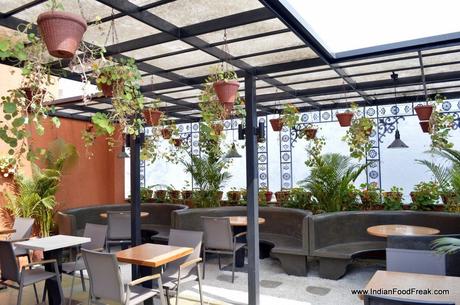 Dirty Apron Terrace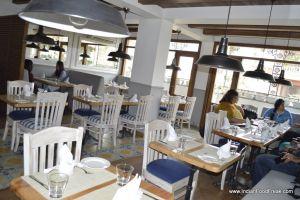 We are almost ten bloggers on an invitation and are presented with a menu comprising of many elaborate dishes. What struck us was that quite a few of the dishes did not sound like the run-of-the mill stuff so we all decided to order a substantial number of dishes from the menu and share each amongst ourselves to get a good perspective of each dish (rather than limiting ourselves to just a few dishes if ordered only for self).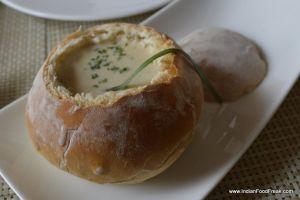 My
Seafood Chowder Soup
is New England style which is the creamy version as compared to the other variant which is brothy. Loaded with seafood, it is served beautifully in a bread bowl. Usually the bread bowl is made with sour dough so that the bowl is hard and can last longer as otherwise, the soup tends to make the inner lining soggy when it comes into contact. The bread bowl served here is fresh and soft and breaks only when the soup is about to end. My favorite soup here though is the thick
Hungarian Mushroom Soup
that has a small dollop of sour cream complementing the earthy flavours. Half of the soup is pureed and it gives that thick consistency. Most Hungarian cooks do not add sour cream but it does help add creaminess to the soup.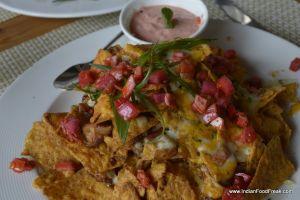 The
Korean Nachos
are an immediate hit with everyone. Doritos Nachos are mixed with grilled chicken tossed in bulgogi sauce and served with aioli and kimchi on the side. The aioli is served separately so that the good-sized portion of Doritos nachos does not get soggy before it comes to an end. Good thought and an innovative dish.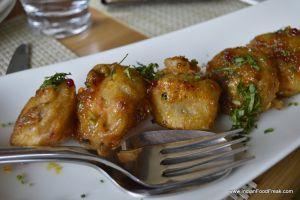 The
Stuffed Mushrooms
are tossed in sweet, sticky Japanese Nonya sauce. The Nonya sauce isn't very popular in India and the use of this sauce (and the Bulgogi sauce and kimchi aioli in Korean Nachos) shows the restaurant's intent to give an interesting Asian twist to its dishes.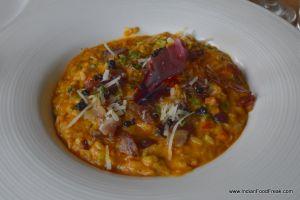 In the main course, my favourites are the
Risotto
done in
Laksa Gravy
with chicken and bacon and the
Coconut Rice served with Sambal
sauce and crispy okra and onions providing the complementing bite to the dish. A gentle squeeze of lemon can do wonders to this to further bring out the flavours.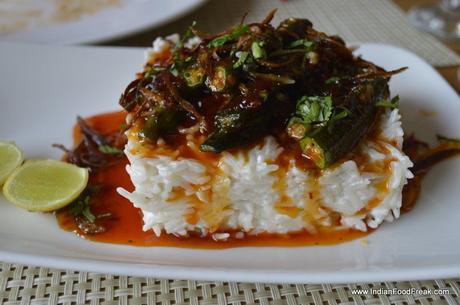 The Grilled Snapper has an interesting twist of massaman curry with sesame spinach. It is a tad over cooked and hence,  gets a little chewy.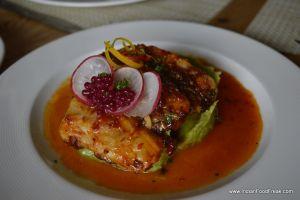 Don't miss the
Sea Bass
when you are at Dirty Apron. Served in sweet chilly sambal and wasabi mash, this dish is an art. I have not seen many play with wasabi to make a potato mash and just that innovation gets my full marks for this dish. This is seriously good thinking Ruchira!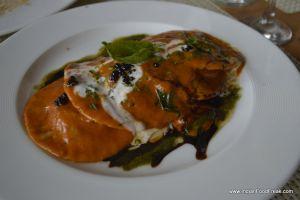 The
Pumpkin Ravioli
is embedded in Thai red curry and embellished with balsamic caviar. I quite enjoyed it because when you cut into the ravioli and douse it in the curry around, the sweet pumpkin marries very well with the curry.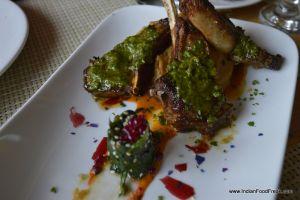 The
Red Curry marinated Grilled Lamb Chops
are served with miso mashed potatoes and Asian pesto (the pesto was drizzled on the chops in this case). These lamb chops are for people with the developed taste buds and for someone who enjoys the miso soup. While I liked it, many may not appreciate it.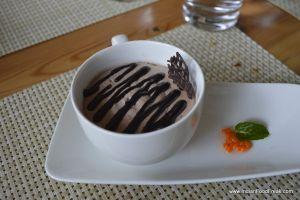 The desserts failed to ignite the same love from me as did the starters and mains. The
Crème Brule
was well made but the kaafir lime and lemon grass flavours added as a twist did hardly anything to uplift the dish. Nor did the orange rind and chilly infusion to the
Chocolate Mousse
. I am not a dessert person leave aside doing anything experimental with the desserts. Hence, this may have to do with my personal preferences.
Dirty Apron is a place to experiment. Am sure you will find many dishes that will go well with your taste buds. Just remember to go with an open mind.
Ratings (Out of 5)
Food: 3.5 | Ambience: 3.5 | Service: 3.5 | Overall: 3.5
Meal For Two: Rs2000 | Wheel Chair Friendly: No | Credit Card: Yes | Alcohol: Yes
Address: Dirty Apron, The Piano Man, B6-7/22, Safrdarjung Enclave Market, Opposite Deer Park, Safdarjung, Delhi | Phone: 011-33107861
Disclaimer: This review was done on an invitation from the restaurant. Due judgement and care has been applied by the author to remain objective and unbiased in the review, but readers need to consider this review keeping this fact in mind.