Hi All!
This is my very first post on my new blog. I love cooking and baking so I thought I'd share the cakes and treats that I cook with everyone.
My first cake baking adventure I'd like to share with everyone is my dinosaur fairy cakes, it's my niece's birthday tomorrow (5 going on 20) and she politely told her Mum that she doesn't like shop bought cakes, I think she'd only said that because I said I'd bake some cakes for her.
What I decided to make was little fairy cakes with butter cream, it is a very simple recipe I used.
What I used was:  
200g of softened butter
150g of caster sugar
200g self raising flour 
3 eggs 
2 teaspoons of vanilla flavouring
4 packets of Cadbury's Mini Dinosaurs
What I did:
I weighed out the butter and the sugar and added them to a mixing bowl, I creamed them together until they were light and fluffy. 

Next I mixed in the eggs a little bit at a time.
Once blended together I sieved in the flour and mixed until smooth, finally I added the vanilla flavouring and mixed again.
I divided them into 35 paper cases and baked 12-15 minutes or until golden and a cake tester came out clean.
After allowing them to cool I added a few drops of orange food colouring to 625g of butter cream and piped the cakes using a large star nozzle. Finishing each one with a mini dinosaur.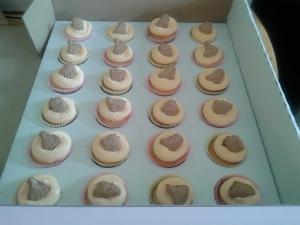 The finished result!