I am always on the look out for new supper recipes that can be rustled up almost in no time at all (anything under 30 minutes is ideal!). This is one of my favourites adapted from a recipe I picked up out of Olive Magazine UK a few years ago. The distinct, warm flavor of cumin combined with tangy spring onions is utterly delicious. I prefer using peach or mango chutney in this recipe but any variety will do. If you're not a fan of fresh coriander feel free to leave it out, and if you like a little bit of heat I recommend adding a pinch of chilli flakes to your spice mix.
_________________________
CHUTNEY CHICKEN
Serves 4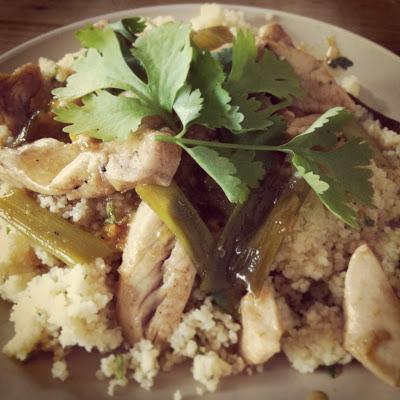 2 tsp light brown sugar
2 tsp ground cumin
1 tsp salt
1/2 tsp ground coriander
black pepper
4 chicken breast fillets cut into 5cm strips
olive oil
300g couscous
800ml good quality chicken stock
120ml chutney
4 spring onions, sliced into 4cm strips
small handful of coriander leaves, chopped
Step 1.) Combine the brown sugar, cumin, salt and ground coriander in a small bowl. Grind in some black pepper and stir well. Rub this mixture into the chicken strips and set aside. 
Step 2.) Heat a dash of olive oil in a frying pan and add the chicken strips. Cook them for a few minutes, just until they're brown on the outside. You don't need to cook them through at this stage. Step 3.) Place the couscous in a bowl and pour over 600ml of your hot chicken stock. Cover and leave to stand. Step 4.) Add the chutney to the chicken pan and allow to bubble for a few minutes, then add the sliced spring onion and cook for a further minute. 
Step 5.) Pour the remaining 200ml chicken stock into the pan and leave to bubble until the sauce has thickened slightly and the chicken is cooked through. 
Step 6.) While the sauce is boiling add the chopped coriander leaves to the couscous and fluff up with a fork. Spoon onto heated plates and top with chicken and sauce. You can garnish this dish with a few fresh coriander leaves if you like.