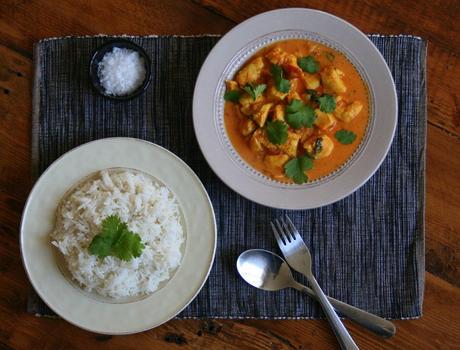 When it comes to cooking and baking I'm definitely more of a "make it from scratch" type of cook. There are a few exceptions to this rule though. Prime example - puff pastry. I use the frozen variety often and haven't made it from scratch in about 10 years. I seem to recall it taking hours and hours and I rarely have spare time for that. The shop bought variety is just fine! The other exception is curry pastes. There are some fantastic brands on the market that allow me to whip up delicious and satisfying curries in no time at all.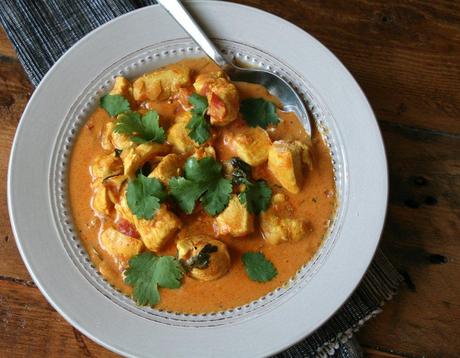 I have been meaning to post a quick curry recipe on the blog for a while. On this particular occasion I turned to one of South Africa's favorite food brands, Ina Paarman to give me the shortcut I needed to make this super-quick and super-tasty meal. I tend to choose curry pastes over curry sauces, but decided to experiment with her ready-made tikka sauce in this recipe which is adapted from a quick curry recipe I put together years ago. It's very simple and is ready in 30 minutes, perfect for a winter week night supper.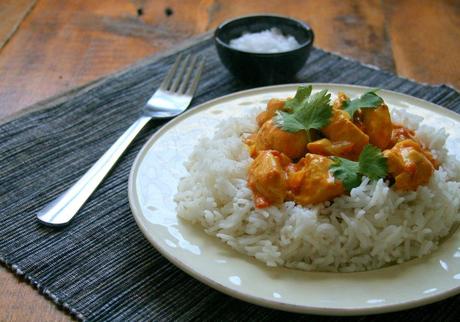 The rice is delicately flavoured with whole cloves, but you could also try cinnamon as a substitute. The cream can also be substituted with coconut milk which I often use in my curries! I was very impressed with the well rounded flavor of this dish. The chicken tikka is creamy and has the perfect consistency - not too thick or too runny - for pouring over fluffy rice or scooping up with warm naan bread.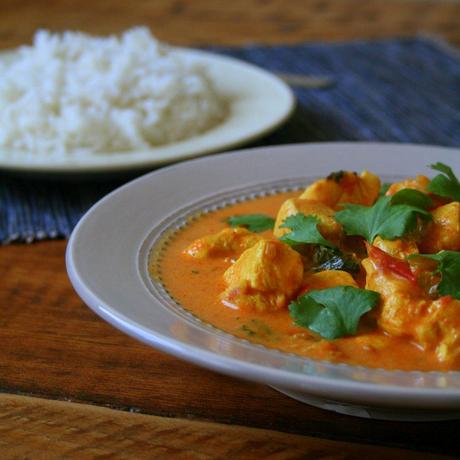 This recipe is also being featured on Homemade Heaven this week, where well known food blogger Rosemary Gough is looking at the differences between my quick and easy dish versus her made from scratch version. Pop over and have a look at the results! And enjoy those last few curries - Spring is definitely on it's way!
_________________________
CHICKEN TIKKA with FRAGRANT RICE
Serves 4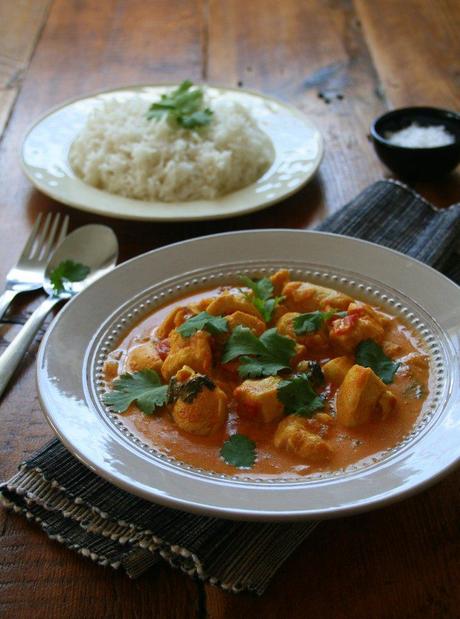 1 cup basmati rice
8 whole cloves
4 cups water
1 tablespoon sunflower oil
1 onion, chopped
4 chicken breast fillets, cubed
200ml tikka curry sauce
400g tin peeled and chopped tomatoes
150ml cup cream
salt
pepper
a handful of fresh coriander leaves (about 15g) + extra to garmish
(Optional: naan bread or poppadoms to serve)
Step 1.) Place the basmati rice, cloves and water in a saucepan. Cover and leave to soak 
Step 2.) Heat the sunflower oil in a saucepan. Add the chopped onion and sauté for 5 minutes. Step 3.) Add the cubed chicken and fry for 3 minutes to seal. Step 4.) Meanwhile, place the saucepan of rice over a medium heat and bring to the boil. Reduce the heat and simmer for 15 minutes or until all the water is absorbed and the rice is cooked through.  Step 5.) Add the tikka curry sauce and tomatoes to the chicken. Mix well, cover the saucepan and allow to simmer for 15 minutes. Step 6.) Stir in the cream and season to taste with salt and pepper. Tear the coriander leaves into the curry, mix and continue to simmer until heated through. Step 7.) Remove the cloves from the rice. Spoon the rice and chicken tikka onto heated plates, garnish with coriander leaves and serve.