As we were busy dealing with all things Welsh last week, we sent our Northern reporter lass, Christa Norman, to meet Pele and Eric Cantona at the New York Cosmos roadshow in Manchester.
 A press conference with New York Cosmos was always going to result in a media scrum, especially with football legends Pele and Eric Cantona appearing centre-panel. Journalists, heavyweight cameras, microphones and wires packed in to the Umbro Centre, Manchester. Umbro, the brand chosen to be the leading kit supplier for the newly reformed soccer club, sported its 2011 home and away shirts on several well-placed dummies around the store.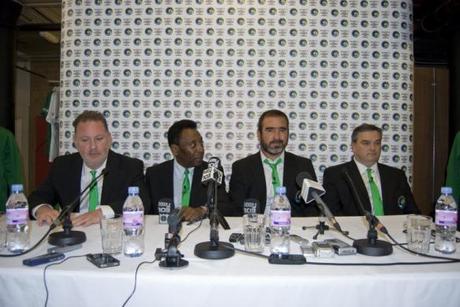 After sitting through the necessary Umbro PR preamble by "Umbro GM of the New York Cosmos" the GM eventually introduced the panel. Chairman, Paul Kemsley, Honorary President, Pele, Director of Soccer, Eric Cantona, and Terry Byrne, Vice Chairman. It was hard to believe I was only yards away from two football superstars and probably the most determined senior management which will undoubtably propel New York Cosmos back into former stardom.
It is well over 25 years ago since Cosmos last played. The club, founded in 1971 and folded in 1984, due to a "problem with the company" (Pele), announced its reformation last August 2010. In its hey day star players such as Beckenbauer and Carlos Alberto helped to make the New York Cosmos the big name in US football. Old Trafford will welcome the New York Cosmos as not only the first US team to play on its grounds on the 5th of August 2011, but will also mark the soccer club's first game.
"To be playing the first game at Manchester United is just the biggest thrill in the world." Paul Kemsley, Chairman.
There was a quiet nod to recently retired Paul Scholes by Terry, commenting that "we'll hopefully do Paul Scholes justice" in which will be Scholes' last game for Manchester United against New York Cosmos this Friday. Scholes, who announced his retirement from playing football in May 2011 is now turning his focus to a coaching role within Manchester United. Cantona, when asked how where he ranked Scholes as a football player amongst all the footballers he has played alongside described Scholes as a "great player and great personality."
The club, especially Cantona, is keen to nuture and develop its young undiscovered american talent with two academies; one academy on either coast. "Of course we can buy players," he explains, "but we want to work a lot on young talent because there is a lot of young talent in America." Indeed, it should be noted Cantona has chosen to mix players from the under-23s Cosmos team with other guest players from around the world for the upcoming friendly.
Eric Cantona describes New York Cosmos as a very special club. "I wanted to come back in a special club, and New York Cosmos is special, the teach[ing] is special and the club is special. The history of the club is great. We have lots of things to do and we a can do well…we really want to win things, and try to be one of the best teams in the US." But not only does the Director of Soccer have ambitions for New York Cosmos, he also has a wish to help the national team to win the World Cup. "The US in the next 20 years can win the world cup. They are able to win." he asserts.
It is clear New York Cosmos is in it for the long term and with the apparent rising popularity of soccer in the US, I imagine it will certainly become a big name in football once more.