Check out the original post Ding Dong Diaper Ditch Movement on Bewildered Bug
About two years ago, a good friend of mine from work got pregnant for the second time.  In a small office with only five girls, three of us who were really close, this was slightly traumatic to the two of us who remained…well…"empty".  Not because we were not pregnant, but because our girl was going to be on pregnancy leave and we would be by ourselves for the next few months (and in my case, my mid-day-chocolate-eating-pal-and-excuse would not be sitting in the cubicle across from me!!!).
We wanted to do something special, so I decided to jump on the bandwagon and make a fabulous diaper cake for her.  Problem was, I knew nothing about diapers.  So, I put it out on Twitter (my source of information).  I didn't want to use just any old diapers – after all, who knows what those dollar store diapers do to a baby's tush and delicate parts?!  Otherwise, I was swamped with brands and sizes and colours and patterns and claims…..so I asked – what is the best diaper out there?
Hands down – all of my tweeps who are mommies replied with one brand that they relied on after trial and error with their children – Pampers Swaddlers.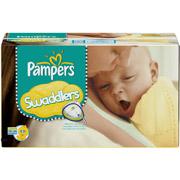 From then on, every time I've made a diaper cake I've relied on Pampers Swaddlers – and all the (then) mommies-to-be loved them and stuck with them.  Then, I learnt that Pampers Swaddlers are the number one choice of diapers in hospitals.
Why?
Because Pampers diapers absorb well, are comfortably flexible and do not leak!  Also – from my point of view, they have the cutest little illustrations across the band and they smell like baby powder – which is one of my all time favorite scents.  Oh, and they come in sizes to fit preemie babies as well (up to 28lbs).
This made me wonder, what else can one do to protect your little ones from skin conditions.  When I thought about it further, I remembered the amount of allergies on both sides of my family.  My poor little popo (when he or she eventually comes) is doomed to have allergies to something or the other (please God not a serious allergy).  What can I do to try to ensure their delicate skin is not covered in red, itchy, sore skin?
Then I stopped worrying, because the answer was in front of me as fresh and clear as the laundry I was folding. For years now, my Mom has relied on one brand of laundry detergent that has pretty much solved the itching problem in our home.  My sis and my Dad have dermatitis, and I react to every allergen you can think of, and these have plagued our family for quite a while.  So, to help out, my Mom started off using laundry detergents made for babies, and soon she started depending on Ivory Snow Liquid laundry detergent for all her laundry, regardless of whose it is.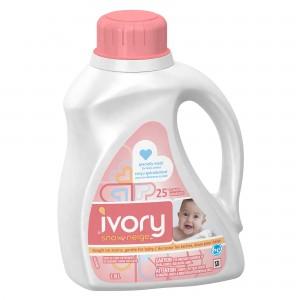 It was the only one that none of us reacted to, and for that reason I am 99.9% sure that if I used it to wash my (future) baby's clothing, I will not have to worry about allergies, rashes.  Also, Ivory Snow Liquid detergent is easy to use and works efficiently to remove any stains and dirt while washing out with little to no residue.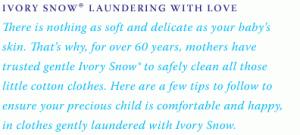 That's why I think this Ding Dong Diaper Ditch Movement is such an awesome incentive!  P&G came up with this awesome challenge where they challenge you to join their circle of support by taking part in the Ding Dong Diaper Ditch Movement where you surprise a new mom in your neighbourhood with a diaper gift to welcome their new baby and to give them a helping hand.  The idea is that you "ditch" the gift at the doorstep and ring the doorbell and hide.  Maybe even take a video of their reaction when they open the door – and share it with us because I'd love to see the pure surprise and joy on their face!
What new family would not love to find a surprise basket of baby related items at their doorstep?  When a new baby comes, any help that you can get is appreciated – so why not give them something they could use?
P&G put together a little basket in which there was a pack of Pampers Swaddlers Diapers, Pampers Sensitive Wipes, Ivory Snow Liquid Detergent, a copy of "Caring for Kids: The Complete Guide to Children's Health" and a Canada onesie.  They also suggest personalizing your basket with a simple treat for the new Mom or a personal note.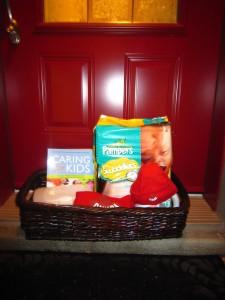 What was awesome is that P&G gave me one of their baskets to give away – I'm not in Canada anymore, but I asked my Mother-In-Law to deliver it to my cousin for my newest little (adorable) nephew, Ethan (now I'm so tempted to go on about how adorable this boy is!).
So what about you?  What if YOU are the new Mom?  Well you have a choice – you can enter the awesome giveaway (see below) featured here on Bewildered Bug, or you can hop on over to Well.ca, subscribe to Pampers before April 15th, 2013 and get a 15% discount and up to 500 Gifts to Grow points on select Pampers purchases.  You also get 50 bonus Welcome points when you sign up.  Or….I suppose you can do both!
Anyway, now for the exciting part – P&G are offering you one lucky readers an opportunity to win a Ding Dong Diaper Ditch basket to give to a new mom in your neighbourhood to show your love and support to their family….Um..or to keep for yourself if you're the new mom in the neighbourhood.
Here are the rules:
-Enter in the rafflecopter form below – you just have to do the tasks listed (and please be honest, I do check).
-This giveaway is open to Canada only (sorry girls and guys elsewhere) and will run for two weeks from Feb 28 – March 14, 2014 at 12:00am EST.
-By entering the giveaway you are accepting the fact that if you win, your contact information will be shared with a P&G PR agency for the purposes of mailing your prize.
-This giveaway may appear on other blogs as part of the #PGmom program, however, to be fair, you can only win once per giveaway.  That means if you win here, you cannot win on another blog involved in the program for this particular giveaway and vice versa.  If your name is chosen more than once, another winner will be selected, just to make sure that as many Moms as possible can take advantage of the program.
Good luck!
a Rafflecopter giveaway

I have been compensated for this post , but regardless of compensation or not, the opinions expressed in this post are honest and my own, as are those in all the posts on Bewildered Bug.
Bewildered Bug - ...just trying to navigate through this obstacle course called life...