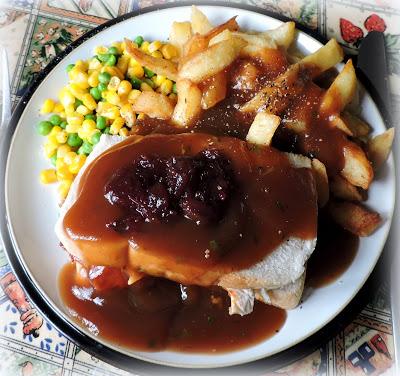 One thing I miss over here when we go out to eat (which isn't often) are the lovely Diner Style of Hot Roasted Meat Sandwiches which we used to get back home in North America.  Almost every family restaurant, truck stop, or diner has hot sandwiches on offer.  Hot Roast Beef, Hot Turkey (very popular) Hot Chicken,
Hot Hamburger
, etc.
Going out for one of these was always a real treat.  With  tender roasted meat with gravy between two thick slices of white bread with more gravy ladled over top, they would be served up hot, on large platters, with plenty of hot chips, veg and coleslaw on the side. You could also have gravy on your chips (fries), or not as per your choice.  In Canada we love gravy on our chips, and here in the UK, they also like gravy on their chips, or curry sauce. (Something I have yet to try.)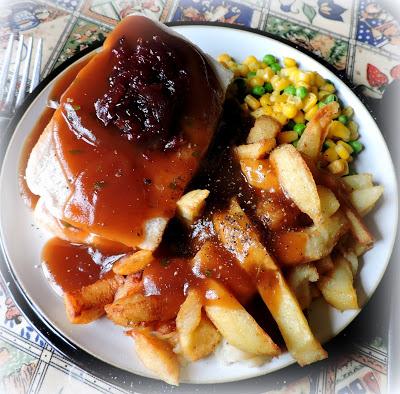 I had some leftover roast chicken today and so I made us Hot Chicken Sandwiches for a change, instead of the usual casserole.  Of course with there only being two of us and with neither of us having huge appetites these days, we basically only each ha half of a sandwich, along with the suggested trimmings.  It looks like rather a lot, but we only ever use a sandwich plate for our meals these days, never a full dinner plate. And it is plenty for us.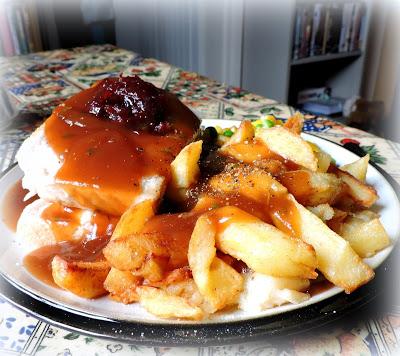 *Diner Style Hot Sandwiches*
Serves 4
Printable Recipe 
Simple really.  A once in a blue moon treat. 
8 slices thick white toasty bread (Texas Toast in North America)1 pound sliced leftover roasted meat (chicken, turkey, beef, pork, lamb), gently warmed 2 TBS of appropriate stockabout 720ml (3 cups) of hot leftover or fresh gravy  
To serve:
hot chips (french fries)cooked vegetables (peas and carrots are a favourite)coleslaw  
Place the appropriate stock in a saucepan, and add the sliced meat.  Cover and cook over low heat until heated through thoroughly.  Place one slice of bread on each of four heated plates.  Top each with one fourth of the hot meat.  Top with some of the gravy, and then place another slice of bread on top.  Place chips and vegetables on the plates, and ladle the remaining gravy over the bread and chips.  Serve immediately with coleslaw on the side. 

Good chips/fries are a must!  If you want to make your own from scratch this is a cracking recipe.  You can also use oven chips.  I like the crinkle ones in that case, or if you are really lucky and have a chippy close by, you can just send hubby out to pick up a large portion of chips. By the time you have the remaining elements ready, he'll be back and you'll be set to go!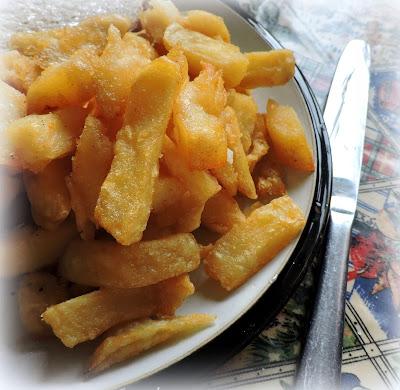 *Perfect Chips*
Printable Recipe  

There are two things you need for perfect chips. One a really good potato.  You want a nice floury one, such as a Maris Piper.  You cannot make good chips with new potatoes.  Old ones are best.  Second you want to start with pure hard fat or dripping, preferably an animal fat.  Third . . . patience.   Good chips require several cookings. The first is a quick poaching in lightly salted water.  .  Let them cool and then fry for about five minutes just until cooked through, then a final fry in hotter fat to brown and finish cooking.  See . . . patience. 
200g floury potatoes per person (a scant half pound)(use potatoes that are good for mashing)a good solid fat to half fill your pan when melted
a frying thermometer
Peel your potatoes and cut them into chips.  Rinse them well in cold running water and drain well.  Put the cut potatoes into a pot of lightly salted cold water.  Bring to the boil and then reduce the heat to a slow simmer and cook for about 5 minutes, or just until they give slightly with the prodding of a sharp knife.  Drain well and then dry them on kitchen paper towelling.  Allow to cool completely and then place into the fridge until well chilled. 
When you are ready to fry your chips heat your fat to 120*C/250*F.  Add the chips in batches, without crowding the pan.   Blanch in the fat for 5 minutes, just until cooked through.   Remove, pat dry and drain on paper towelling.  Once you have blanched all the chips raise the temperature of the fat to 160*C/320*F.  Fry the chips again until crisp and golden brown.  Drain well, season with some salt and serve immediately.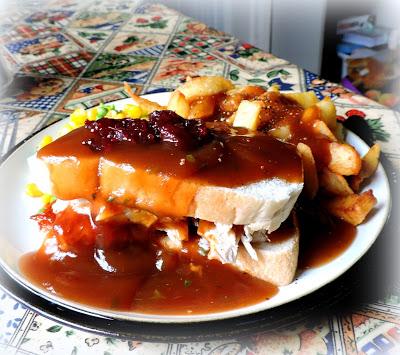 I added a dollop of cranberry sauce to the top of mine . . .  coz I'm crazy like that,  and I love cranberry sauce with both roast chicken and turkey.  You  will want a nice gravy to serve with your hot sandwiches.  You can of course use Bisto granules and make it that way, but if you have leftover drippings, etc. its really quite easy to make a better tasting gravy from scratch!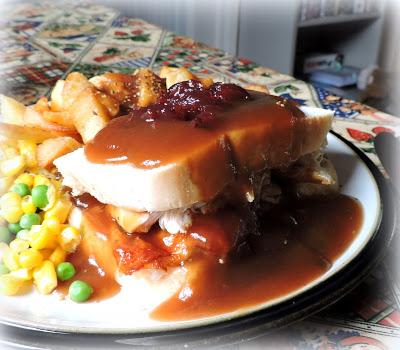 *Brown Gravy*
Makes 480ml (2 cups) 
Printable Recipe
2 TBS of fat from the roasted meat2 TBS plain flour360ml pan juices, broth, water, wine or a combination ( 1 1/2 cups)salt and freshly ground black pepper to taste
Pour all the pan juices from your roasting pan into a measuring cup.  When the fat rises to the top, spoon off 2 TBS and return that to the roasting pan.  Scoop off and discard the remaining fat. Place the roasting tin over a burner and heat gently until the fat begins to sizzle just a bit.  Whisk in the flour and cook through for several minutes, stirring constantly.  Add enough additional liquid to the juices in the cup to make 360ml/1 1/2 cups in all.  Slowly whisk this liquid into the roasting pan and cook for 5 to 6 minutes until thickened and bubbling. If your gravy is too thick, then you can add additional liquid.  Cook for a further minute.  Season to taste with salt and black pepper.  Keep warm until you need to use it. 

Coleslaw is a must.  You won't get any meal at a diner in North America,  that doesn't come with a small container of coleslaw on the side. At some places it might be a vinaigrette coleslaw, but more often than not it will be a delicious creamy slaw.  Just like this.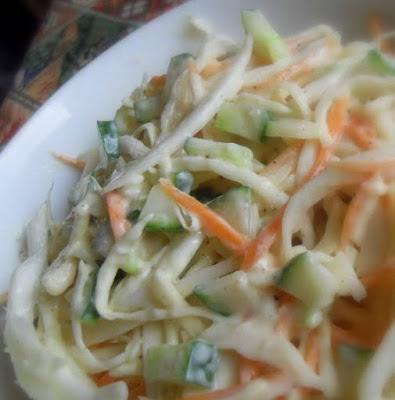 *Creamy Coleslaw*
Serves 8 to 10
Printable Recipe
A deliciously cream coleslaw that has just the right amount of crunch and flavour!  There is no sogginess here!!
10 ounces of white cabbage, trimmed, cored and very thinly cut
(about 1/2 of a medium cabbage)
5 ounces of carrots, peeled, trimmed and julienned
(1 medium carrot)
4 inches of an English Cucumber, trimmed, seeded and cut into small dice
(Do not peel)
2 - 3 large dessertspoons of good quality mayonnaise
1 TBS of Dijon mustard
2 TBS white wine vinegar
1 tsp caster sugar
1/2 tsp celery salt
freshly ground black pepper to taste
1/2 tsp onion powder
Place the vegetables into a large bowl.  Whisk together the mustard, mayonnaise, white wine vinegar, sugar, celery salt, black pepper and onion powder.  Mix well.  Pour over the vegetables and toss to coat.  Cover and chill for at least one hour before serving.
Note - the amount of mayonnaise you use depends on the cabbage, some cabbages take more mayonnaise than others.  It also depends on how creamy you like your coleslaw!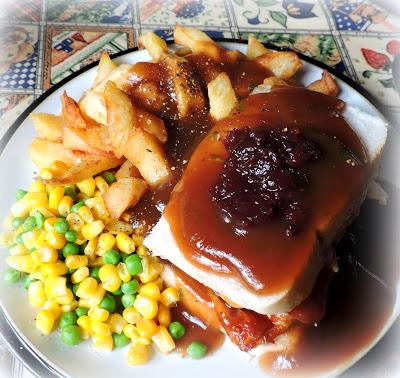 Of course there may be times when you don't have any leftover gravy, or even gravy granules, but don't worry!  That doesn't mean you can't still make a delicious gravy as this next recipe proves quite deliciously!  Adapted from a recipe found in the Fanny Farmer Cookbook. (So you know that it just has to be good!)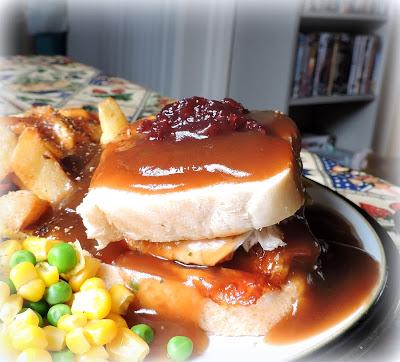 *Improvised Gravy*Makes about 360ml (1 1/2 cups)Printable Recipe
Perfect for when you don't have enough pan drippings or meat juices to make a gravy, or need some gravy to create a tasty dish when using up leftovers. You can add herbs if you wish.  Use beef broth for red meat and chicken broth for poultry. 
2 TBS mince shallots or onion3 TBS butter3 TBS plain flour60ml red wine or dry vermouth (1/4 cup, optional)360ml  beef or chicken broth or stock (1 1/2 cups)leftover drippings or buttersalt and black pepper to taste 
Melt the butter in a large saucepan over medium heat.  Add the shallots/onions and cook gently until translucent.  Whisk in the flour.  Cook slowly, stirring constantly, until it begins to brown. Remove the pan from the heat and whisk in the red wine/vermouth if using, along with an equal amount of broth. whisking constantly. Slowly add the remaining liquid.  Continue to cook for a further 5 minutes, stirring often, until you have the proper consistency. Whisk in the drippings or butter, salt and pepper to taste.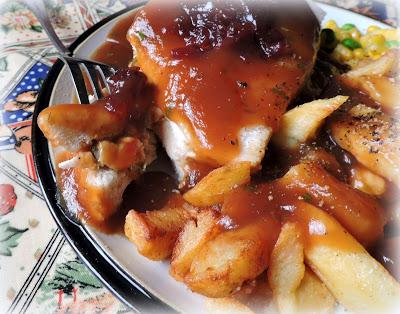 This isn't something which we have very often, maybe only once a year.  Back in the day I could eat a whole one of these sandwiches, and then a polished of a slice of cream pie as well.  Mind you, back in the day I was a very busy and active mother of five.  Things change   . . . Bon Appetit!