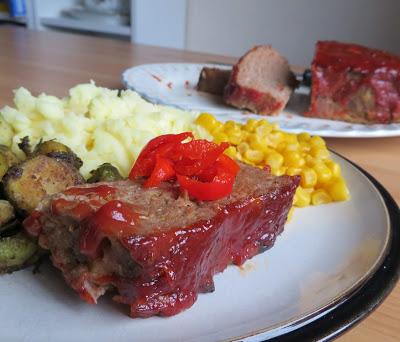 Meatloaf.  I put my hand up, I hated my mother's meatloaf when I was a child.  I think it had more to do with the quality of ground meat she used.  I was a fully grown adult and cooking for myself before I came to fully appreciate how delicious it can actually be!  In north America you will find Meatloaf Platter dinners offered in most Diner's, usually as a Blue Plate Special.  Normally accompanied with Mashed Potatoes, gravy and a vegetable on the side.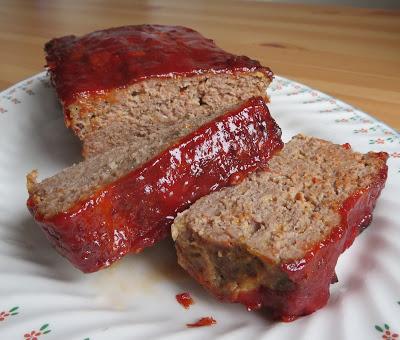 Todd is still not sure (after 20 years!) if meatloaf is something he loves or not, but yesterday he quite happily ate two slices.  The recipe I am sharing today is a riff on my usual version.  I added something that I received in my latest Degustabox to spice it up a bit, with most delicious results.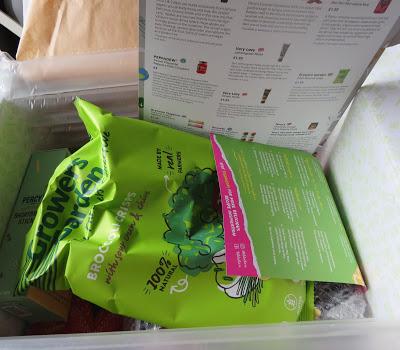 As those of you who have been reading me for a while know, I am the lucky recipient of the gift of a Degustabox each month. Once a month, around the middle of the month, I am gifted with one of these lovely boxes which contain a delicious assortment of all things foodie.  I just love these boxes.  Each one is always a lovely surprise.   Opening each one is tiny a bit like opening a Christmas gift to me. Always a surprise, and always filled with things that pique my interest and desire to try.
Degustabox
is a monthly foodie subscription service that sends out a range of 10 to 15 specially selected foodie products. I even have a code that  can give you which will  give you a £5 discount off of your first box. I will tell you about that at the end. I have been getting these boxes for a couple of years now and I have to say I have never been disappointed.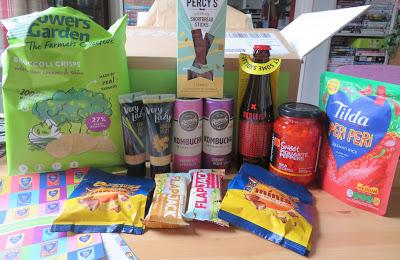 The April 2020 Box was entitled the "UK vs INTERNAIONAL" Box.  As usual it was filled with lots of goodies for us to try and to enjoy. Here is a little bit about the products we received in the April box.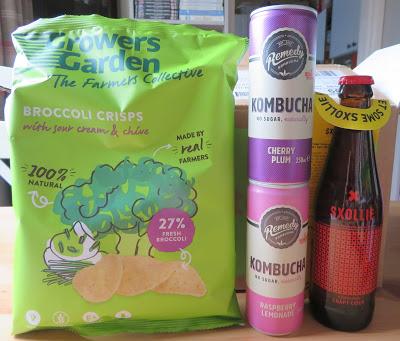 GROWERS GARDEN
Fresh Broccoli Crisps  1 X £1.99 
I am a huge fan of these delicious crisps. Growers Garden are believed to be the world first crisps to be made with FRESH broccoli.  Grown on their own farm, they are using their wonky vegetables to make a healthier snack.  WE LOVE THESE IN OUR HOUSE!!
*Available in approximately 600 stores across the UK.  Visit
growers-garden.com/stockists
for your nearest store.
REMEDY Kombucha Raspberry Lemonade 250ml/Cherry Plum 250ml  2 X £1.85
KOM-WHAT-CHA?
Remedy Kombucha is a healthy and tasty soft drink, made by naturally ermenting sweet tea with a live culture. he result is a sparkling drink that contains live cultures, tea polyphenols, organic acids and no sugar, naturally. Oh, and it tastes delicious.
*Available at M&S, Morrisons, Amazon.co.uk, Holland & Barrett, Boots, Boohs, WHSMith, Plane Organic, Whol Foods Market and many more.
SXOLLIE Cider Cripps Pink
SXOLLIE
Ciders are made exclusively from famous apples you already know and love, The Golden Delicious, Granny Smith and in this case, the Pink Lady.  Apples are sourced directly from the Elgin Valley in South Africa where these apples are lovingly grown in the sunshine. The result? A light, easy drinking, session-able cider and captures the essence of the fruit. SXOLLIE Ciders are vegan and gluten free.
*Available at Sainsbury's, Waitrose and selected pubs and bars.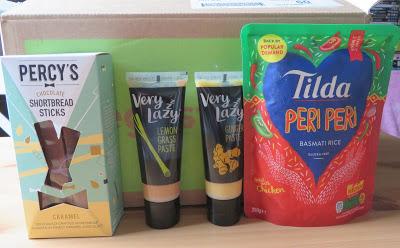 PERCY'S
Caramel Shortbread Sticks 1 X £3.00
Percy's Caramel Shortbread Sticks are a tasty treat good enough to bring a smiel to anyone's face.  Buttery, melt in the mouth shortbread is coated in caramel milk chocolae and hand-spun with dark chocolate to decorate. Undeniably moreish, we dare you to taste one and try to resist anothr.
*Available at Sainsbury's Ocado and Independant stores.  
VERY LAZY
Ginger Paste and Lemongrass Paste 2 X £1.85
Lemongrass Paste - This paste easily injects a vibrant flavor to your food.  Great for Pho, Thai Curries, and even cocktails. Amazing flavor is just one squeeze away. 1 tsp = half a stick of lemongrass.
Ginger Paste - Want maximum flavor with no fuss? Whether its a stir fry, marinade, or a smoothie of ginger goodness. Easy to use Ginger Paste is the perfect way to infuse your culiary delights. 1 tsp = 1 thumb of ginger.
*Both are available at Tesco 
TILDA
Peri Peri Microwave Rice 1 X £1.59
A flavor sensation combining bird's eye chilli heat with green and red peppers, sweet tomato, garlic, smoky paprika, oregano and a squeeze of zesty lemon. Peri Peri rice is not only delicious but also gluten free, suitable for vegetarians and vegans and contains no artificial flavourings, colours or preservatives.
*Available in all the major supermarket chains.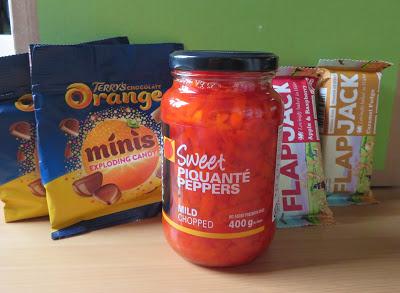 TERRY'S Chocolate Orange Minis Popping Candy  (The Terry's Chocolate Orange Easter Egg + Minis Popping Candy retailed at £4)
The iconic Terry's Chocolate Orange quirky orange you know and love dressed up for Easer!  The Minis Exploding Candy are delicious milk chocolate segments, flavoured with real orange oil and packed full of fun popping cady pieces. Perfect for sharing with friends and family. Minis with fizz, crackle'n bang!
*Available in the major supermarket chains as part of Terry's Chocolate Orange Popping Candy Easter Egg Pack.
BRYNMOR FLAPJACK
Caramel fudge/Apple & Raspberry  2 X £1.29 
Lovingly baked in the heart of the Welsh countryside, Brynmor Flapjacks are the perfect fue for any adventure. After cracking the code to better snacking, they have developed a range of delicious nutritious flapjacks, that come with an array of health benefis without sacrificing on that ever important element, taste.
*Available at Ocado, Waitrose, NISA, WHSmith Travel, Grapetre, independent health shops & at
brynmorfoods.com 
PEPPADEW
Sweet Piquante Peppers Mild Chopped 1 X £3.00
Peppadew Sweet Piquante Mild Chopped are loved for their unique layered flavor sweet and then mildly spiced, firm and crunchy texture and excellent quality. Our Sweet Piquante Peppers can be used as an ingredients or topping for everyday meal occasions such as Pizas, pastas, salads, wraps, soups, sandwiches and burgers.  The possibilities are endless.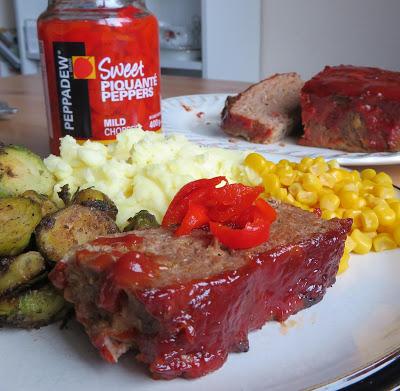 No surprise, as a huge fan of Peppadew Sweet Piquante Peppers, this was the ingredient I decided to showcase this month with a recipe.  I have been using these for years on pizzas, etc. .and this was the ingredient I incorporated into my winning turkey recipe when I won the Turkey Award back in 2012.  I decided to infuse my meat loaf recipe with some of their delicious flavor and spark!!  The recipe I wond with was
Parmesan Crusted Turkey Steaks with a Tomato & Peppadew Relish
.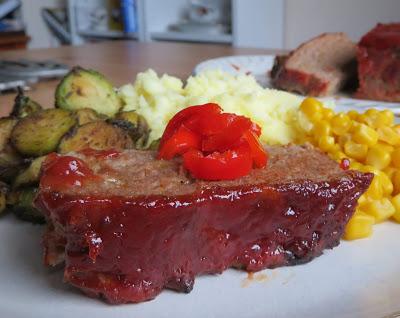 This truly is a delicious Meatloaf.  I always make a flavor puree that I mix into the meat with some fresh bread crumbs.  I incorporated the peppers into that puree. You could just chop the onion and peppers if you wanted to, but I don't like big chunks of anything in my meatloaf.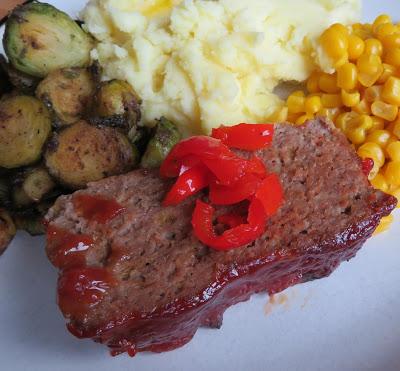 I incorporated some of the juice/pickling liquid into the glaze that I always put on top of my meatloaves.  Tasty!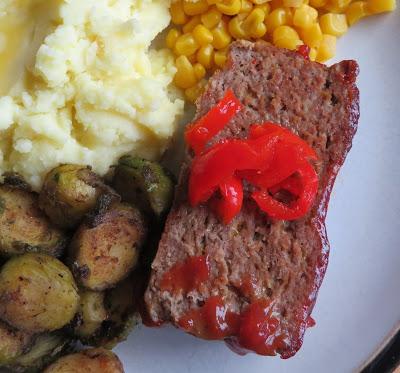 Rather than a gravy, I served  more of the pickled peppers on the side.  Yummy!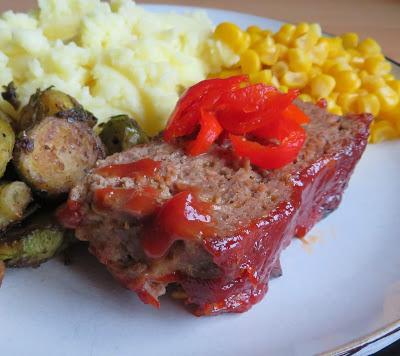 These peppers added a lovely tang and just a hint of heat/spice to my meatloaf that we both really enjoyed, a LOT!  If you are in North America and cannot get these peppers, you could try Cherchi's peppers, or you could leave them out altogether and just add 2 TBS worcestershire sauce.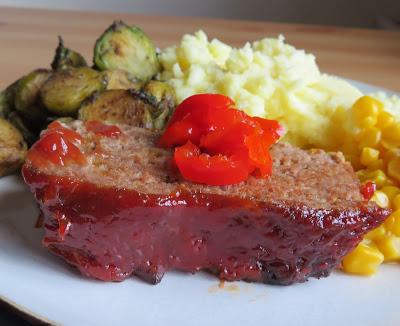 I always like to add cheddar cheese to my meatloaf as well, which adds another layer of richness and flavor.  It also helps to make a loaf that is nice and moist, without ever being dry. If you want you can use oats instead of bread crumbs.  I also like to use ground steak rather than ground beef.  (A personal preference as it is leaner.)
Yield:
8
Author:
Marie Rayner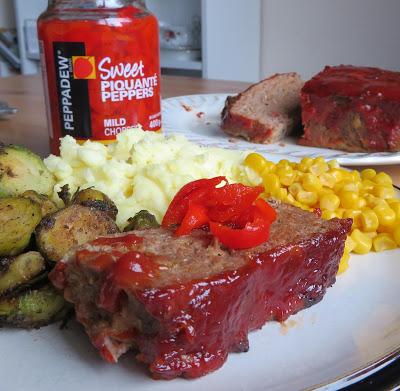 Diner Style Glazed Meatloaf
Baked in a free form style, this lovely meatloaf has a wonderful crust and flavor.  If I am feeling particularly indulgent I will lay strips of steaky bacon across the top, which is very nice, but it's delicious without it as well.
Ingredients:
For the meatloaf:
120g of freshly made bread crumbs (2 cups)
1 medium onion, peeled and cut into chunks
2 medium eggs, beaten
2 pounds extra lean ground beef (I use ground steak)
2 TBS Peppadew Sweet Piquante Peppers Mild Chopped
1 1/2 tsp dry mustard powder
1 1/2 tsp salt
1/2 tsp freshly ground black pepper
180ml whole milk (3/4 cup)
120g grated cheddar cheese (1 cup)
For the Glaze:
125g of tomato ketchup (1/2 cup)
1/2 tsp dry mustard powder
2 TBS soft light brown sugar, packed
1/2 TBS liquid from the Peppadew Sweet Piquante Peppers jar
Instructions:
Place the onion, peppers, eggs, Worcestershire sauce, dry mustard powder, salt, pepper and milk into a blender. Blitz until smooth.
Preheat the oven to 180*C/350*F/ gas mark 4. Have ready a large shallow roasting tin. Line a loaf tin with plastic cling film.
Place the meat, bread crumbs and cheese into a large bowl. Pour the mixture from the blender over top. Mix all together lightly with your hands, until well combined. Pack into the lined loaf tin, smoothing over the top. Dump into the middle of the roasting tin, removing the loaf tin and the plastic cling film.
Bake for 35 to 40 minutes. Whisk together the glaze ingredients until well mixed. Remove the meatloaf from the oven and brush this mixture over all. Return to the oven and bake for a further 10 to 15 minutes. Remove from the oven and allow to stand for 15 minutes before cutting into slices to serve.
Did you make this recipe?
Tag @marierayner5530 on instagram and hashtag it #EnglishKitchenCreated using
The Recipes Generator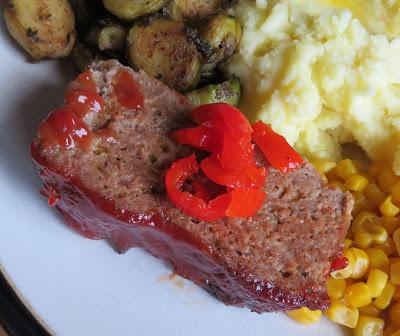 I really
DO
make great use of and enjoy many of these fabulous products I am sent each month to try out. 
Many thanks to Degustabox UK for gifting me this box. I have to say I really look forward to getting my box each month. There are always lots of things in it to enjoy and new products to try out. I highly recommend. You can also tailor the boxes to your own likes and dislikes by filling in your own Taste Profile.  If you like the sound of this box, why not sign up now! I find them to be really good value for money spent and I really enjoy trying out new products that I have not tried before.   Included is also a detailed information card  which tells you all about each product included, and other extras such as recipes, etc.   
Follow them on Facebook 
Follow them on Twitter  
So, that was the April Degustabox - a nice selection of products as always. We loved it. The price of each Degustabox is £12.99 (including delivery). To order your box, visit www.degustabox.com 
Use the code 2ROE0 to get £5 off your first Degustabox, free delivery – enjoy! 
I was gifted with the box free of charge, however any and all opinions are my own.  

Follow my blog with Bloglovin