Sweet and Sour Lemon Pickle made with Ayurvedic spices I have already mentioned in my previous posts  that I love to eat and make different type of pickles that I've learnt from my grandmother. Lemon pickles have the longest shelf life among pickles, and usually stay fresh till they're finished. Today I am sharing a very authentic and popular khatta metha nimbu ka achar ki recipe which is a specialty from Uttar Pradesh.
It is very good for digestion and stomach aches as a lot of spices that are used in ayurveda are added in it.
Every year I make a large jar of this nimbu pickle. The interesting characteristic of this pickle is that as the pickle ages it become more delicious and good for digestion. On my last India visit I found a 8 year old nimbu pickle jar in my mother's pantry,which had become too dry and so my mother ground the pieces of the dried pickle in a grinder and made delicious
digestive
herbal lemon
churan
:).If you like this, you may also want to try out the-
Khatta metha nimbu ka achar (sweet and sour lemon pickle)
Gobhi gajar ka Punjabi achar
Punjabi mango pickle 
Khajoor pickle
and many more pickle recipes from my blog which are all family favorites.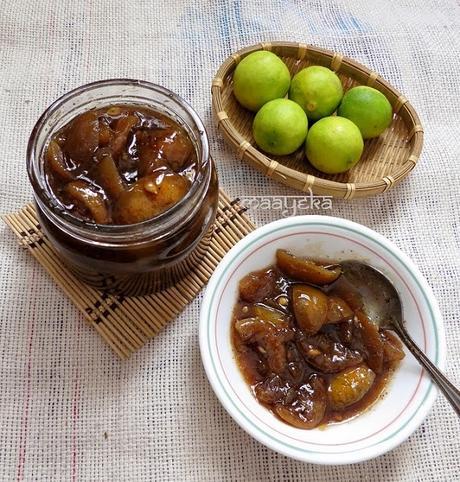 Khatta Meetha Nimbu Ka Achar/Lemon Pickle
Sweet and Sour Lemon Pickle made with Ayurvedic spices
Course

Pickles

Cuisine

Indian, Pickles
Servings Prep Time
2.5kg 1hour
Servings
Prep Time
2.5kg 1hour
Ingredients
1.5

kg

Lemons / Nimbu

900

gms

Sugar / Chini

1/2

cup

Ginger / Adrak

sliced

100

gms

Black Salt / Kala Namak

50

gm

Rock salt / Sendha namak

2

tsp

Red Chilli powder / Laal mirch powder

10

Black Myroblan / Harad / Haritiki

15

Bengal Pepper / Long Pepper / Lendi Peepli

2

tsp

Peppercorns / Sabut Kali Mirch

25

Cloves / Lavang

10

Black Cardamom / Badi Elaichi

1.5

tsp

Carom Seeds / Ajwain

2

tsp

Cumin Seeds / Sabut Jeera

8

Black Myroblan / Harad / Haritiki

10

Bengal Pepper / Long Pepper / Lendi Peepli

2

tsp

Ginger Powder / Saunth

1.5

tsp

Asafoetida / Hing powder
Instructions
Wash and wipe the lemons and then cut into 4 pieces.

Add salt in the lemon pieces and mix well and fill in a glass jar.

Close the jar with a plate or lid(don't use a airtight jar)and keep it in a warm place or in sunlight for a month or till the skin of lemons become soft.

Keep shaking or mixing the lemons in 2-3 days.

When lemon peel become soft after about a month then Grind all the spices listed in -to grind and make a powder

Now add chili powder, asafoetida, ground spice powder, sugar ,chopped ginger and 10 whole pipli and 10 whole harad in the lemons and mix well.

keep the jar in sunlight till the sugar syrup thickens slightly.

It may take about 15-25 days depending on the heat in the climate.
Recipe Notes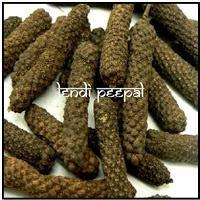 Peepli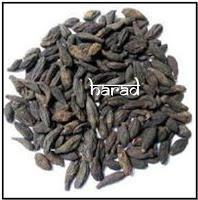 Harad
Serving suggestions-taste great with any fried snack,pakora,poori,mathri,kachori,khichdi or daal-rice.
NOTE- 1-*When you have stomach ache or gastric problem, take out the whole
harad
or
pipli
and chew slowly.
2-Lemons with thin skin should be preferred to make this pickle.
3- You may use half sugar and half jaggary instead of using only sugar
4-Add sugar only after the lemon peel becomes soft,it may take about 30- 45 days depends on the quality of lemon and thickness of lemon
5-If you are making in small quantity then can remove the pips of lemon,but as I make it in large quantity so avoided that,as they can be removed while eating. 6-Stays well for years or till it last.
The post Digestive and Khatta Metha Masala Nimbu Ka Achar , Lemon Pickle appeared first on Maayeka. Indian home recipes - just like Maayeka!