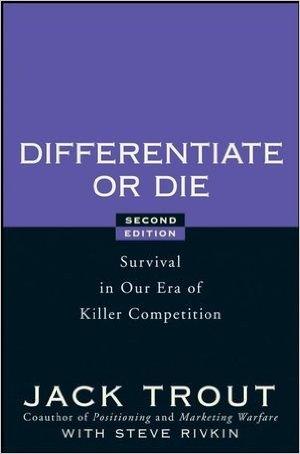 General book information:
Differentiate or Die: Survival in Our Era of Killer Competition
Author: Jack Trout
Edition: Second Edition (2008)
Published by: John Wiley & Sons
My Review:
Jack Trout's guide on how to differentiate your product or service in the information age where customers are overwhelmed with choice. The guide is both theoretical and practical, and will help anyone from small business owners, to international managers.
Practical Marketing Takeaways:
People fall into 4 types of psychological profiles, which are useful when constructing advertising to sell to them:
Each of these have specific characteristics which need to be considered when constructing your marketing message to them:
Intuitives: Understand the potential and possibilities of a product, avoid details, and see the bigger picture.
Thinkers: Very analytical people, logical and precise, who can process lots of information and ignore emotions.
Feelers: Empathise with the feelings of others, dislike intellectual arguments, care a lot about their own likes and dislikes, and enjoy working with others.
Sensors: See things as they are, respect facts, and have a large capacity for detail, and seldom make mistakes. Good at visualising things in context.
-> Click to view on Amazon now: Differentiate or Die: Survival in Our Era of Killer Competition