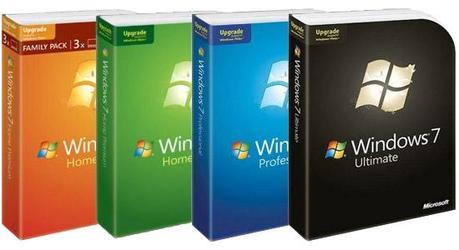 Microsoft Windows was launched on July 22, 2009 along with its 6 versions. It helped Microsoft's sinking boat to recover losses occurred after Windows Vista launch. Similar to its older versions Windows 7 as mentioned above have different 6 versions with different capabilities and reach namely:
Windows 7 Starter
Windows 7 Home Basic
Windows 7 Home Premium
Windows 7 Professional
Windows 7 Enterprise
Windows 7 Ultimate
Many times we gets confused when choosing between Windows 7 different versions. Most of people prefer Ultimate or Professional without any knowledge for what they are paying. In this story we going to tell you to how to choose best Windows 7 build according to your needs. Lets' Discuss Windows 7 versions:
Windows 7 Starter
Microsoft made this version just for small notebook PCs, and is only available through the OEM channel on the new PCs limited to the specific types of hardware. The Windows 7 Starter edition does not have many required features and it also not allow automatic network based backups. Other features that are missing – Media Center, Sticky Notes, Snipping Tool.
Windows 7 Home Basic
This edition of Windows 7 allows you to enjoy more multimedia entertainment on your PC. Its only available in emerging market only like india, China, etc. Windows 7 Home Basic also allows to manage your network in better way and also have advanced networking support along with Mobility center support.
Windows 7 Home Premium
Most of the Time your new PC or Laptop have it preinstalled. It have most of the features for home users. Its the only single version which is offered to consumers. It include all features in above Editions and in addition you gets Windows Aero Theme. But it doesn't support Windows XP mode, Windows Domain, Automatic Backup, BitLocker, and multi-language.
Windows 7 Professional
This edition is mainly for Businesses and have similar features to Home Premium except some security and connectivity features. It have Windows XP Mode, back up your computer over a network and ability of Remote desktop connection. It is available to Retail users only. It lacks features like Direct Access, Different Language Packs,  App Locker, etc.
Windows 7 Enterprise/Ultimate
It available only via Microsoft Software Assurance Licensing. Both Windows 7 Enterprise and Windows 7 Ultimate have same features but name is changed when working place. If it's used in corporate environment, its called the Enterprise edition and on personal computers it called Ultimate. It has all features in mentioned in above Editions and along with it includes BitLocker, BitLocker To Go, AppLocker, BranchCache, DirectAccess, MUI, etc.
For more clearance we are inserting table below which will help you to better understand different versions of Windows: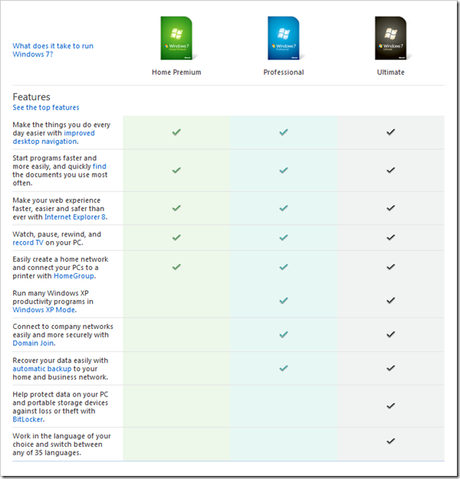 We hope we have cleared some of your questions, if not drop comment below , we will answer your queries.