I am starting a 28 day trial of diet chef. Now you may be reading my blog and perhaps spotted a picture or two of me and thinking "Why the hell does she need diet chef?". I'm not overweight and my BMI is apparently what it should be. I don't look big and fit into many size 10 clothes. So why am I doing this?
I have 3 children, my youngest being 18 months. All of my children were born via Caesarean section. I now have this awful sticky out flabby tummy that so far nothing has shifted. I don't feel good about myself at the moment. I hate my saggy belly, no matter what I wear I feel it sticks out and think I still look heavily pregnant. My arms, legs are skinny and therefore my body looks mis shaped with my tummy. Yes I do crunches and I don't stuff myself with junk yet it's still there 18 months on. I don't know if it's muscle damage or just fat and I'd be a little embarrassed to ask a doctor. I think I am what you call a skinny fat person at the moment. When I get the chance to go out I have to wear peplum or skater dresses to hide it.
Hence why I am trying diet chef. I just hope I can stick to it.
I think my main problem may be that I don't really eat regular meals. I skip breakfast and usually skip lunch too then have something late on when kids are in bed. I also snack regularly during the day and probably drink too much tea.
So what is diet chef
Diet Chef is basically healthy ready made meals delivered to your door. The meals are prepared by chefs and delivered each month. The meals consist of breakfasts, lunches, dinners and snacks. Diet Chef customers choose their own meals from a huge list.
The meals are all balanced and contain healthy ingredients. It is of course all about calorie control and the meals provide around 1200 calories per day which is much less than most people need in a day to sustain their weight.
On the diet chef web site is a BMI checker. You enter your height, weight, age and activity level and it gives your BMI. My BMI is 22 which is in the normal weight range. However I know I need to lose some tummy weight and here is a screen shot of what my BMI checker states.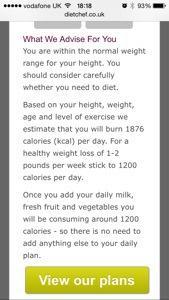 I know that it's impossible for me to lose stones of weight but if I can just get a few pound off my tummy area then I will be happy. So here we go.
Let Diet Chef begin.
Starting Diet Chef
I was given a link to start my trial of Diet Chef. I was presented with a fairly large menu of options for Breakfast, lunch, dinner and snacks.
My big box arrived on my chosen day. This box was huge and packed full of my chosen dishes.
The box arrived late last week. It was the last week of Easter holidays and Kids still had lots of chocolate eggs and sweets everywhere. I therefore thought it best to start the diet chef plan at the start of this week once they returned to school and the chocolate temptation was gone.
Breakfast options include several varieties of muesli and granola, breakfast bars and porridges. I rarely eat breakfast so this will be a challenge to remember to eat it. I'm not a porridge lover so instead opted for the granola, muesli and a few bars.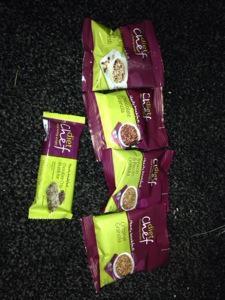 The packets seem small but as I don't normally eat breakfast this won't be a problem. I can also bulk up the breakfasts with fruit and yoghurt too as part of the calorie allowance.
Lunch consists mainly of soups in lots of varieties. There were also a few pasta options which I didn't really fancy and a milkshake selection. Also in the menu for lunch were protein bars . I think perhaps more options could be added to the lunches but I was quite happy with some soups and protein bars for a change.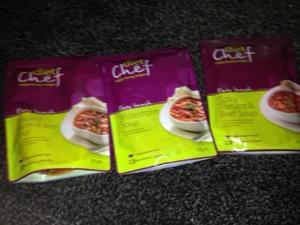 I was very impressed with the selection of main meals available and I chose quite a few different ones. There are curries, meatballs, Bolognese and so much more. The meals don't need refrigerating either which I was a little worried about where I would store them (my fridge is always full). For now they are staying in the huge box which they came in and I can just dig in and get them.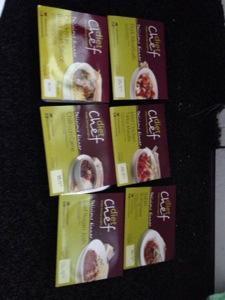 Snacks- I was so happy to beable to choose a few snacks too. The snacks include popcorn, baked crisps, cookies and protein bars. A change to my usual snacking options.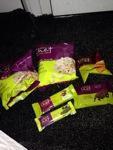 How does it taste?
Before starting my diet chef trial I had spoke to friends and family and mentioned diet chef. I had also looked up online reviews. I saw and heard a lot of negative reviews of the meals which made me a little nervous of what I had let myself in for.
I actually think these people must have tried something other than diet chef.
The soups are just delicious, thick with lots of ingredients, vegetables, meat, depending on what you choose. They come in packets which need a corner snipping off and heating in microwave for a few minutes. This is the minestrone one.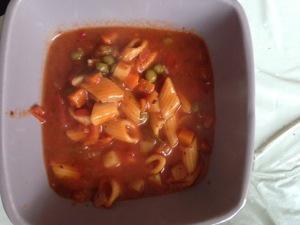 One bowl of soup seemed enough for me from the start, everyone is different tho and some people may struggle at first as the portions can seem small.
The main meals are also very tasty. There is so much variety so obviously they all taste different and I have only been on them a few days so far. The only thing I would say is that the meals come as just meals and nothing else. For instance the meatballs are just on their own, obviously in a sauce but no pasta or rice so you do have to add your own small portions. This in turn means extra cost.
My Breakfasts are granola, muesli and bars. The bars taste like most other muesli or health bars. I have the granola and muesli with yoghurt and I love the chocolate granola. Yes you heard right; Chocolate granola.
I can't say much about snacks. They are snacks after all and taste good.
So far I am very happy with my food selections and very surprised at how good it all tastes.
Time to fight the flab
So this week is the start of a month of diet chef. I hope I can stick to it. I will post regular weekly updates on how I am doing and my weight loss (if any) and also any change in my tummy bulge, fingers crossed.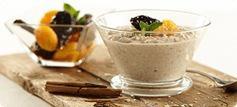 I am currently weighing in at 9 stone 6 or 135 pounds. This is probably the biggest I have been apart from pregnancy and I would like to get back down to 8-9 stone.
Find Diet Chef on
TWITTER
Instagram
Google +