Natural gas stations still rare, but poised to expand throughout N.J.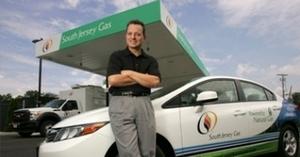 Todd Gordon, manager of commercial and industrial energy efficiency consulting for South Jersey Gas, at the utility's Glassboro station, which opened in March. It plans to open five to seven more stations in the next 10 years, and is in the design phase to open its second location in Millville.
Replacing diesel with natural gas can cut a vehicle's greenhouse gas emissions by 30 percent, and also cut the fleet owner's fuel costs by as much as half, thanks to new supplies of the fuel from the Marcellus Shale. While the resource itself is abundant, though, compressed natural gas fueling stations remain relatively scarce.