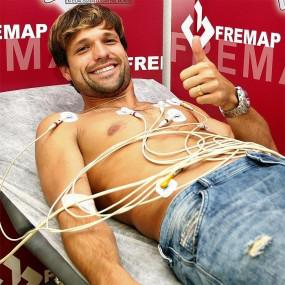 Diego undergoing his medical exam
Brazilian international Diego arrived in Madrid and underwent a physical prior to his presentation.
The former Santos and Juventus man arrived to the ranks of the Colchoneros on loan after wanting out over at Wolfsburg. His objectives are rather clear and he would like to see if this team can reach them.
Champions League is his goal with this team this coming season. "There is just too much quality on this team," says Diego upon his arrival.
"Compete with the big teams," said the ambitious Brazilian midfielder. His desire to win surpasses the current situation in the league. He wants to compete at all costs for the top spots. For the team to do so is by competing against the teams at the top of the table.
"Barcelona? Real Madrid? On the pitch it's 11 on 11." And when speaking about his return to form, his goal at the personal level is simple. He would like to return to form and be able to get a chance to be considered for the Brazilian national team yet again.
Diego interview

akamaihd video_WMV V9 by simplyfutbol