"Diddy" Is No More. Meet Brother Love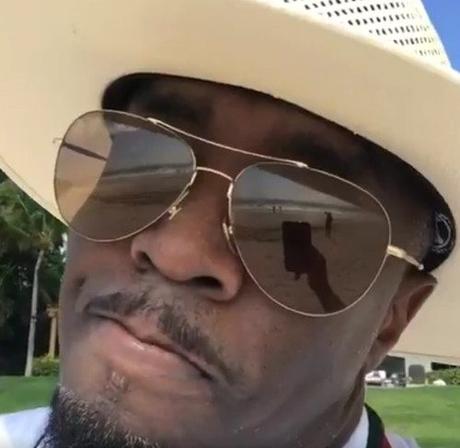 Sean Combs aka P. Diddy aka Puff Daddy aka Puffy aka Stay Puffed (which clearly he do be) announced that's he's changing his name up once again. The artist formally known as "Biggie's 'Lil Friend" shall now be referred to as Love. You may also call him Brother Love. Please update your contacts lists accordingly. If you have a P. Diddy tattoo, make an appointment with the laser surgeon. Brother Love will no longer be responding to those other names so don't even try it. You'll only embarrass yourself.
Here's Love's big news.
I decided to change my name again!

My new name is LOVE aka Brother Love. #TakeDat pic.twitter.com/gArAXusygG

— Sean Diddy Combs (@diddy) November 4, 2017
Brother Love made his announcement from an undisclosed beach (Jamaican me high, perhaps) where he revealed that after considerable time spent praying to God/Jah he was led to embrace his new moniker despite the risk that the move could "come off as corny to some people". STOP! I can hear you some of you snickering right now. This is "very, very serious", you guys. Very serious indeed. Have you looked into yourself as deeply as Brother Love has? Have you ever been moved by serious introspection and prayer on a private beach resort wearing a goofy hat better suited to Julia Roberts in Pretty Woman when she goes to the polo match and got Weinsteined by George Costanza and found that you were "just not who I am before"? Well have you? That's what I thought. Brother Love has. You can see the spiritual and emotional growth reflected in his eyes. Well, reflected in his $5,000 sunglasses.
Brother Love's announcement came on his 48th birthday. You naysayers screaming "midlife rap mogul crisis" can just shut your cynical mouths right up. Love is not about that. Unfortunately for Brother Love, the cynics and the haters have already started coming out of the woodwork. Some folks on Twitter were quick to point that the name Brother Love is already taken by WWF/WWE personality Bruce Prichard. Bruce has even piped in himself.
Yo. Find a new gimmick. I invented and perfected Brother Love. I am the original and you are not. Remember North Carolina.

— Bruce Prichard (@bruceprichard) November 4, 2017
You mean like the wrestling manager? That's gimmick infringement. @HeyHeyItsConrad @bruceprichard @PrichardShow pic.twitter.com/3ykU0s5rRu

— CoCo & Stu (@CoCoandStu) November 4, 2017
If this whole name change leads to a wrestling match dubbed "The Battle of The Brotherly Loves" in which Bruce and TAFKA Diddy battle it out in the ring for the rights to the name Brother Love, why there just might be hope for us yet. In Jah's name we pray.
Pic: @diddy
Source: "Diddy" Is No More. Meet Brother Love
6 total views, 6 views today