Of course your pharmacist can fill prescriptions. Everyone knows that. But in honor of Pharmacist Awareness Month, I'm sharing some lesser-known services that your pharmacist can take care of for you...and the chance to win a $500 Shoppers Drug Mart gift card!!
Now, did you know that your pharmacist can...
Administer flu shots?
Administer other vaccines, such travel vaccines (how I wish I needed some of these right now) and the shingles shot?
Renew and extend prescriptions?
Provide advice on diet/healthy eating/cholesterol/high blood pressure?
Provide support for managing diabetes, such as helping you select a blood glucose monitor and helping you understand how to use insulin and insulin pumps?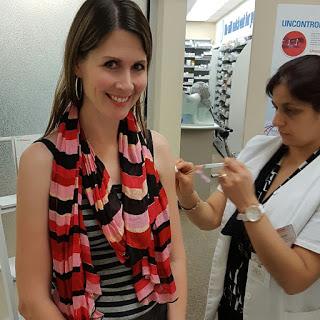 And one of my personal favourites:
Provide advice on over-the-counter medications?
Some of the most incredible help I've received from my Shoppers Drug Mart pharmacist has actually been over the phone, on the occasions that I am feeling so unwell (or one of the girls is so crummy) that I have to send my husband to the pharmacy for me. 
These calls tend to open with a similar script: "The symptoms are XYZ and for the love of God please tell me there is something over-the-counter to help us!" The kind pharmacist will then ask me questions, determine an appropriate product, and put it aside for my husband to pick up.
I'm sure you must have your own great example about how a Shoppers Drug Mart pharmacist has helped you out...so how would you feel if I told you it could win you a $500 Shoppers Drug Mart gift card by sharing your story?
At the link below, you have a chance to tell your own story, and one This Mom Loves winner will be chosen by a panel of judges (not me!) to win a $500 gift card! It doesn't have to be long; 50-200 words is all that's required...and did I mention that one of my readers will win this prize? Make sure to tell them This Mom Loves sent you! (Note that there are other bloggers participating in the campaign, but you can only enter once.) Full contest rules can be found here.
Entries will be judged by the following criteria:
The contest judging panel will judge the qualified entries based on how the story best reflects the themes of the Love Your Pharmacist Online Contest. The pharmacist submitted must be a Shoppers Drug Mart, Real Canadian Superstore or Real Atlantic Superstore pharmacist. The Love Your Pharmacist Online Contest themes require a pharmacist: 
1. Demonstrating a caring approach 
2. Using an expanded scope of practice service 
3. Making a difference to the health of the patient, child or parent 
4. Going over and above what the customer would have expected 
You have until Friday, March 31st to enter, and here's the link:
https://www.surveymonkey.com/r/5NJFPWP
Good luck!