Have you received a DM on Twitter or Facebook saying you were vouched for? It's connect.me - a private beta plaform in a simple and socially-verified way to share your reputation and connect with respected people across the social web.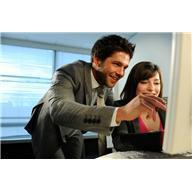 Connect.me uses your social login from Twitter, Facebook, or LinkedIn and not an email address like most other social websites. When you vouch for someone, you tell them what you like about them or respect them for. It could also be about their skill, expertise or passion.
You become verified when you have vouched for 10+ people and 3 people have vouched for you.
 You'll receive a ribbon on your profile and be listed in connect.me people directory.
There are more levels too that you can reach on connect.me.
Let me know if you'd like to be vouched for and an invite! 
Feel free to vouch for me too.