Did Matt Lauer's co-workers & co-anchors know all about his predatory behavior?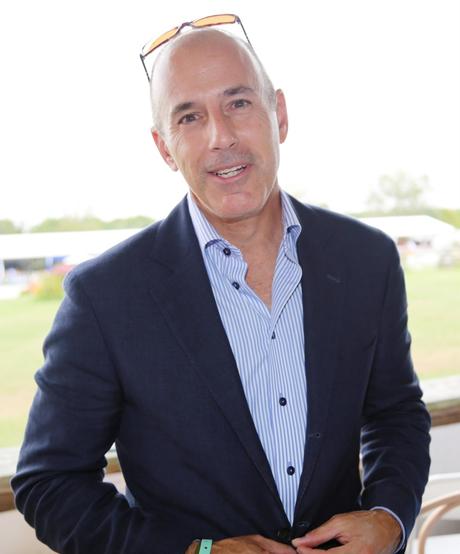 To be clear, I still believe we should adhere to the principle of "don't blame women for a man's predatory behavior." There was a lot of twisting and turning to find some way to blame the women in the Harvey Weinstein stories, and I'm seeing it again with the Matt Lauer situation. Meredith Vieira is not to blame for Matt Lauer's behavior. Savannah Guthrie is not to blame for Matt Lauer's behavior. Hota Kotb is not to blame for Matt Lauer's behavior. Katie Couric is not to blame for Matt Lauer's behavior. Matt Lauer is to blame for Matt Lauer's behavior. All that being said, yes, of course I'm annoyed by the shocked faces and reports of everyone at 30 Rock being in tears. People knew. Like the Weinstein situation, many, many people knew *some* of it. They didn't know all of it. But a lot of people had a very good idea that Matt Lauer was using 30 Rock as his hunting ground. The Variety journalist Ramin Setoodeh, who co-authored the explosive exposé this week, told CNN that people at NBC knew:
After the Matt Lauer news broke yesterday, his TODAY co-hosts, Samantha Guthrie and Hoda Kotb, addressed the story head-on, saying they were "heartbroken" by the account.
"We just learned this moments ago, just this morning," a shocked-looking Guthie said, suggesting that this was the first time the co-hosts had heard mention of the bombshell allegations. But what if they already knew? That's what Variety writer Ramin Setoodeh, who co-wrote the devastating account detailing the allegations against Lauer, suggested when he appeared on CNN this morning.
"Our sources say it wasn't even considered a secret," he said. "It was known by many employees at the TODAY Show, including some employees that have gone on television and said publicly 'we had no idea.' Some of the other personalities, on-air personalities, were aware of these allegations."
As if it wasn't clear enough already, Setoodeh doubled down on the suggestion that Guthrie and Kotb knew about the allegations before yesterday morning.
"According to our sources, the co-anchors were aware of some of these allegations," he said. "They're having trouble reckoning what some of these anchors said in private conversations versus what was said on TV yesterday. We believe there will be more evidence about 'who knew what when' that will come out in the reporting in the days to come."
Setoodeh also said that Variety has interviewed several more victims and that he is "confident" they will step forward to tell their story in the near future.
[From Mediaite]
I believe Setoodeh, because Variety had been working on their Lauer story for two months, and they were already in contact with many former and current NBC employees. The NY Times was on it too. Which makes this next story even more galling – apparently, Lauer wants a $30 million golden parachute. NOPE.
Lawyers for Matt Lauer are working on landing the shamed anchor a $30 million golden sexual parachute following his NBC firing. Sources close to the disgraced newsman say his team is working on a plan to get him paid through the remainder of his $20 million a year contract – which still has a year and a half to run. A source close to Lauer's team said, "They are currently looking at his contract and determining whether the claims against him, which clearly would affect any moral clause in his contract and his ensuing termination would cut off his contractual rights to be paid through to the end of his contract."
NBC had in 2016 renegotiated a new deal with Lauer valued at $20 million a year which would have kept him on the air through the end of 2018. But moral clauses are often included in TV contracts and specify that talent could be fired without pay if they bring the company into any disrepute. Another TV insider said, "There is no way Matt is getting paid. There has been an irrevocable breach of Matt's contract, there is a moral clause that says if he brings the company into disrepute — which he clearly has — NBC can terminate his employment immediately without pay and they do not have to pay out his contract."
[From Page Six]
I couldn't remember if Bill O'Reilly got a golden parachute from Fox News after he was sh-tcanned, so I looked it up – he did. He got $25 million from Fox News, and that was AFTER Fox News had paid out *LITERALLY MILLIONS OF DOLLARS* to his victims over the course of two decades. It not only pays to be a mediocre white man in America, it pays to be sexual predator whose crimes are systematically covered up by the boys-club atmosphere of corporate America. If NBC pays Lauer one penny more, we really will need to start burning sh-t down.
Last thing – this clip is awful. It's from May 2016.
Photos courtesy of Backgrid.
Source: Did Matt Lauer's co-workers & co-anchors know all about his predatory behavior?
4 total views, 4 views today