The Pound appreciated significantly this week as a number of comments from Europe boosted GBP exchange rates, with comments from Germany and chief EU negotiator Michel Barnier striking a positive tone and insinuating that the UK and EU may still have the opportunity to strike a mutually beneficial deal. The more positive murmurs from Europe followed a much more fruitful bout of meetings between Dominic Raab and Michel Barnier.
Germany offers hope of Brexit deal
Wednesday found the pound on a typical losing streak against1 the Euro and Dollar with exchange rates dropping to 1.1052 and 1.2752 respectively, both week lows. However, GBP exchange rates were boosted significantly as it appeared that Germany was willing to offer more flexibility on their Brexit stance.
Precisely what Germany is now willing to concede or forego remain unknown, yet broadly it is understood that Germany is now prepared to accept less thorough details on the UK's financial and trade collaborations. Germany's admission comes as the zone faces potential headwinds from the crashing of the lira and Turkeys euro-based debt mountain and the ongoing Italian fiscal issues. The UK is now also more willing to a less comprehensive overview of the UK and EU's future relationship. Germany and the UK's concessions have also been reinforced by Angela Merkel and Dominic Raab.
Raab stated last week that a Brexit Deal was "within our sights" and Merkel claimed that Germany would "use all our force and creativity" to ensure talks would lead to an agreement.
Michel Barnier open to discussion on the Irish border
Incredibly GBP exchange rates received further support from an unlikely source in Michel Barnier. The Chief EU negotiator claimed the union were "determined" to reach deal with the UK reiterating the bloc's sentiment Barnier said:
"Let me repeat also that the no-deal scenario is not our scenario."
On Friday Barnier also conceded that he remained open-minded in order to find a solution to the backstop Irish border issues. Even mooting the possibility of simplifying checks on the border. His comments a far cry from his last on the Irish border whereby he remained insistent that check remained in order to uphold the integrity of the single market.
For both parties, the border will remain a key topic of negotiation and a hurdle, if common ground can be found the possibility of sourcing an amicable deal could be possible. However, the clock is ticking with just a few months to find a solution left.
Single Boris still talking down Chequers Brexit deal
Never far from the headlines, Boris Johnson announced that he was separating from his wife of 25 years Marina Wheeler. Despite apparent issues at home once again the former cabinet minister hasn't refrained from controversial remarks in the same sentence as Brexit.
This week seemingly strikes a comparison between Theresa May's Chequers deal and a suicide vest. His comments were promptly criticised by senior conservative party members. Criticising the negotiations so far Boris stated:
"Under the Chequers proposal we are set to agree to accept their rules – forever – with no say on the making of those rules. It is a humiliation. We look like a seven-stone weakling being comically bent out of shape by a 500lb gorilla."
Whilst Boris's most recent comments are unlikely to attract much support or further his fan base he clearly remains an influential as well as divisive figure. Currently, Boris's support throughout the party has ensured that he has enjoyed more strikes than a baseball player. One can only imagine May must be growing tired of the constant undermining, could this be the opportunity she needs. Particularly as these latest comments have been met with such disapproval and condemnation.
TUC fires 2nd referendum warning
This weekend also saw further issues for May this time outside of her own party. The BBC reported that the Trades Union Congress (TUC) is willing to through its full weight behind a referendum on the final Brexit deal.
In a televised interview the TUC leader Frances O'Grady claimed that unless the UK struck ''the deal that working people needed'' with the European Union that she would demand a ''Popular vote'' on the final deal.
The people's vote online petition continues to gain momentum a recent poll highlighting that 2700 members of the TUC's biggest members think that Brexit is bad for jobs. Another YouGov poll indicating that two-thirds of Unison members would support another referendum.
Pound roller coaster continues
Whilst traders and investors will have become accustomed to Pound exchange rates reacting to continually changing sentiment on Brexit. If substantiated the concession by Germany and Barnier could form an excellent foundation for Dominic Raab to continue talks.
The news of the potential middle ground propelling Pound- Dollar exchange rates to a week high of high of 1.3018, from a low of 1.2794 with sterling managing to keep the grasp of the majority of its gains before the pair closing at 1.2916.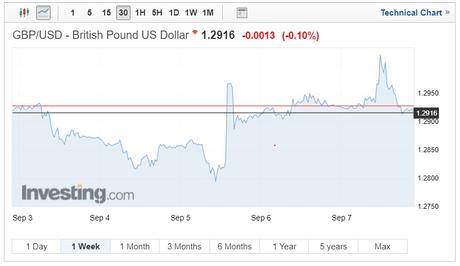 Pound-Euro followed a similar route with sterling climbing from a low of 1.1052 midweek to a high of 1.1208 and closing at 1.1182. Sterling additionally being buoyed by Wednesdays Services PMI which reversed last month below par outcome reaching 54.3 against a forecast of 53.9.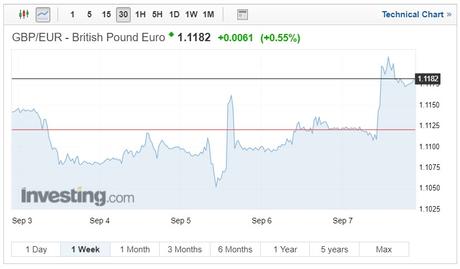 The Jury is still out as to whether a resolution will be found over the coming week and even if found does the deal risk being derailed by a union? Whilst this is impossible to forecast the improvement or in mediation between the UK and EU will not harm the chances.
Featured image: © Eisenhans – stock.adobe.com