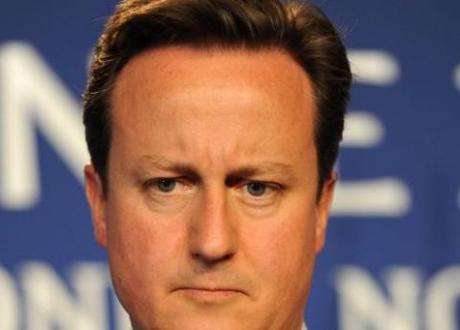 David Cameron
UK Prime Minister David Cameron addressed the Conservative Party conference last night. According to Nicholas Watt in The Guardian, Tory strategists had decided that the speech needed to be "upbeat and optimistic" after a week of doom and gloom. Did he manage to rally the troops?
"This is the new economy we're building: leading in advanced manufacturing, technology, life sciences, green engineering. Inventing, creating, exporting", David Cameron told the Conservative Party conference in Manchester.
Hasty rewrite. Originally, Cameron's speech also included an apparent exhortation to voters to pay off their credit and store card bills. Unfortunately, this did not go down well with the media, prompting a hasty rewrite. "Paying off consumer debts too rapidly would plunge an already enfeebled economy back into deep recession", argued Larry Elliott in The Guardian.
'Sogginess.' Instead of consumer debt, Cameron turned his attention on another scourge of modern society: "can't-do sogginess." The Prime Minister argued that Britain needs to show some fighting spirit in a time of economic decline. "Remember, it is not the size of the dog in the fight, it's the size of the fight in the dog", he said.
"Frankly, there's too much can't-do sogginess around. We need to be a sharp, focused, can-do country", said Cameron.
Tremendous. A Times (£) editorial found the speech "tremendously good" after a slow start, and particularly praised Cameron for stating his support for gay marriage and for pledging to reform the adoption system. Nevertheless, the editorial also made clear that it will be difficult for the prime minister to deliver on his vision of a better future.
Foolish. Max Hastings also picked up on this difficulty in The Daily Mail: "It seems foolish to pretend that his speech will dispel public unease that amid global financial turmoil his government lacks a coherent plan", he wrote. Hastings also suggested that the speech was better suited to a Labour party conference, due to Cameron's apparent emphasis on "social democracy of the brand created by Tony Blair."
Style over substance. According to a Guardian editorial, Cameron proved that he is a more proficient orator than Labour leader Ed Miliband and Liberal Democrat leader Nick Clegg, but that his speech lacked substance. The Guardian pointed out that the prime minister had neglected to mention issues surrounding Scotland and the Human Rights Act, and that he had "failed to rise to the occasion on the economy."
Mission accomplished. By contrast, Benedict Brogan wrote on The Telegraph blog that Cameron struggled with his delivery but that he achieved his objectives thanks to the substance of his speech. According to Brogan, Cameron successfully positioned the Tories in the centre ground of British politics with his "unashamedly modern message of social liberalism", and also generated "a narrative of confidence that should withstand the terrible realities of impending economic disaster". Brogan also pointed out that amid the "social liberalism", Cameron included a little something for more traditional Conservatives by lambasting health and safety directives and Europe.