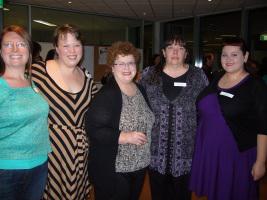 Charlaine Harris, the creator of the Sookie Stackhouse novels on which True Blood is based, has been extremely tight lipped about the final installment in the series.  The book, entitled 'Dead Ever After', isn't due to hit bookshelves until next May but fans have been clamouring for any pieces of information they can get.  Harris, who is currently doing her first Australian tour, attended an event which was held in her honor by the Australian Romance Readers Association, and while she didn't give specifics she most certainly had people talking.  Fans were asking about the Eric-Bill-Sookie triangle and according to the ARRA Harris said:
Why does everyone assume it's going to be one of them?
So was that a hint, or an off the cuff remark?  No one knows for sure but Harris' prior statements on the series seem to suggest it will be neither Bill or Eric.  She has repeatedly said that Sookie will not be made a vampire so it wouldn't make sense for her to end up with one in the end. 
During the event Harris said that she is looking forward to moving on from Sookie even though the fans of the series may be sad.  She is hoping that those fans may give her Midnight Palm series a try.  Set at a crossroads in Texas, the series features an ensemble cast and will have a little mystery and a little paranormal.  As a huge fan of Charlaine I most definitely will be checking this series out!
For our Australian followers, if you didn't get the chance to see Charlaine at this event there are still many opportunities to see her while she's there.  Click here for her tour schedule.
So Truebies who do you think Sookie will end up with in the end?  And let us know if you are looking forward to Charlaine's new series, in the comment section below.
Source: AustralianRomanceReaders.com – Charlaine Harris Event
Image Credit: AustralianRomanceReaders.com