Tasteless food, very small staterooms and limited late night entertainment during a recent cruise aboard the Norwegian Gem were a few observations which encouraged comparisons with experiences onboard previous Carnival Fun Ship sailings.
Our twentieth anniversary sailing on the NCL Gem was our tenth cruise to date: two sailings aboard Royal Caribbean ships, two with Norwegian (Dreamward and Gem included) and six with Carnival cruise lines. Although beautiful, quality within was less-than-stellar aboard the Gem.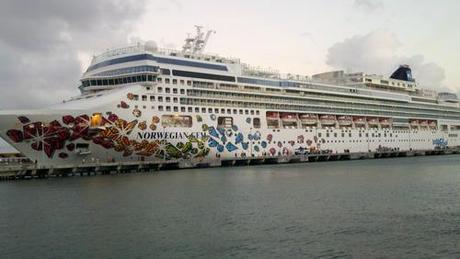 The Norwegian Gem is a nicely sized (93k ton), stately cruise ship which reminded me of an old ocean liner. Although public spaces aboard the Gem are elegant compared to Carnival's older ships, (known mainly for Farkas' designs of whimsy such as on the Liberty), newer sailing vessels such as the Dream and Victory have a less "in-your-face" color scheme.
A two-story atrium with a huge movie screen features restful nature scenes on the NCL Gem: peaceful background music is piped in until midnight. The scene reminded me a bit of the movie "Soylent Green" and I fell prey to lazing and gazing at short videos of the Panama Canal and water eruptions in Oahu with Barry and many of the older folks. Carnival, in contrast, has large outdoor screens, lounge chairs and blankets set up for midnight movies (popcorn at the ready).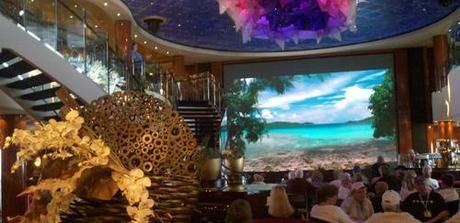 Norwegian Gem atrium
Promptly at midnight the NCL Gem screen shut down leaving a blank wall and a deafening silence in the main hall. Carnival ships atriums, in comparison, are ten stories high with lively music and people milling about until all hours of the night. There is limited late night entertainment on board the NCL Gem and most people disappeared to their rooms. For those (like us) who were dirty stay-outs, Bliss and Spinnaker lounges are located on either end of the ship.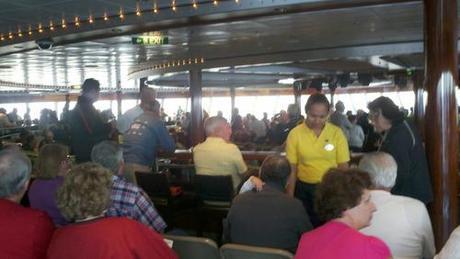 Bingo in the Spinnaker Lounge
Although staterooms on almost every cruise line are known to have space constraints, there is a noticeable size discrepancy aboard the Norwegian Gem. Tight quarters force closeness and remind me of older ships but, in Norwegian's defense, there are sliding doors in the bathroom to offer some modicum of privacy.
Food aboard the Norwegian Gem was, for the most part, bland and tasteless and the Garden Café closed promptly at 11 pm. There is all-night service in the atrium but, in order to get a slice of pizza, for example, it has to be ordered through room service at an additional charge.
Speaking of additional charges, Norwegian Cruise Lines claims the benefits of "Freestyle Cruising" on its website which states, "a wide range of dining options all included in your cruise price, and all available on your schedule."
This statement is incorrect. There were ten other restaurants on board the Norwegian Gem and each one charged an additional fee in order to dine there, from $10 to upwards of $25 at Cagney's Steak House (even more if you wanted extras such as lobster served with your steak.) Was NCL saving the more tasty food for the people who paid extra? Did all food taste equally as bland?  BAD IDEA on all levels NORWEGIAN!
As for dining being on "our schedule", this could not be further from the truth unless, again, you paid extra for the privilege. It's true that he buffet is available but, if you want to be served in one of the two dining rooms, you have to choose either the 5:30 or 8:30 times and you have to reserve your table well in advance or you will wait up to forty-five minutes for your dreaded "beeper" to vibrate.
On Carnival cruise ships upon which we sailed, we had a table for two reserved for us every night, there is fun (yet silly) entertainment in the dining room and the food was tasty and plentiful with the desserts taking center stage.
Pool, waterslides, entertainment? The live bands are terrific on both NCL and Carnival but CCL takes the cake with its double waterslide aboard the Dream.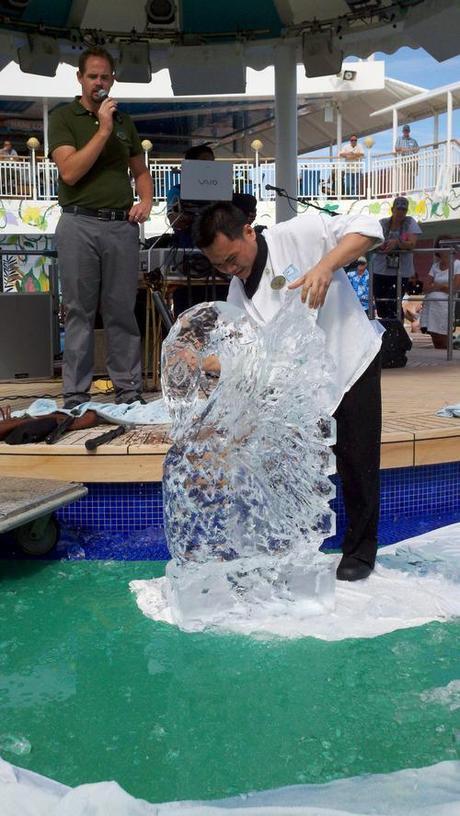 Golf? Norwegian and Carnival cruise ships each have golf-related activities. Carnival cruises have fun nine-hole putting greens located on top on the ship but, when the wind is blowing, chances are you will opt-out. The Norwegian Gem has two nets with bulls-eye targets located on the upper deck. The golf clubs were old but functional and we hit a few golf balls every day. My target shots were getting deadly by the end of the cruise and no, I didn't have to hit right-handed; there were left-handed clubs aboard.
HIDDEN CHARGES: In addition to extra fees for many of the restaurants on Norwegian Gem (everything is included aboard the Carnival cruises), Norwegian also adds a service charge of $12 per person per day to your bill. This can get quite costly. I only found out about this add-on when searching for information about the Gem on the internet …after I booked the cruise. I contacted my agent who then came clean and told me that I can have the charges removed onboard the last day of the cruise and individually tip as we saw fit to do.
More hidden charges? An automatic 15% gratuity is added to all drinks ordered which, in my opinion, hurts the servers as much as the cruisers.
Perhaps NCL thinks that travelers won't put up a big fuss over these surprise hidden fees but...NOTE TO NORWEGIAN GEM: Travelers don't like hidden fees, tasteless food and exclusion from many of the onboard dining options. Additional charges to eat in the "upscale" dining rooms shows in the lack of attention paid to the food in the main dining areas.
YES, we did have a great time! Will we take another cruise on Norwegian? Although the ship is beautiful on the outside, the executives within Norwegian should probably sail aboard Carnival and take with them the positives to include aboard their own fleet.
Voice your opinion on Twitter @Golf4Beginners and friend on Facebook.
Posted via email from stacysolomon's posterous