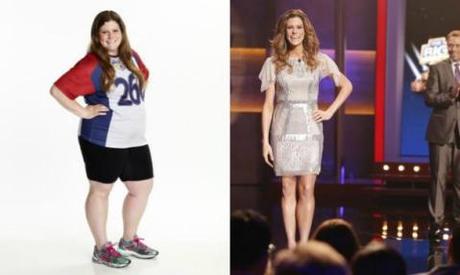 Rachel Frederickson at the start of "The Biggest Loser" (L) and on the finale (R). (NBC/Paul Drinkwater/AP; NBC/Trae Patton/AP)
Much controversy has been stirred by Monday's season finale of NBC's "Biggest Loser."  Rachel Frederickson stunned trainers and fans by losing an astonishing 155 lbs and dropping her total weight to a paltry 105 lbs.  Stunned faces of trainers Jillian Michaels and Bob Harper were indicative of the contestant's vast body transformation.  Many on Twitter and in the media are questioning if this once obese contestant has now partaken in a reverse eating disorder of anorexia. 
The weight loss competition and reality show is known for its drastic transformations.  Rachel losing almost 60% of her starting body weight however had never been accomplished on the show before.  The winner of the show gets a $250,000 cash prize.  Many are asking if Rachel starved herself to victory.
I don't watch this show.  I'm only aware of the controversy because it's been kind of hard to miss when watching the news.  Do I think she lost too much weight?  Maybe.  While it may look to me that she is a bit too thin, it really isn't fair to simply look at a photo or a video clip and judge a person's health or determination.  While a person's weight is generally an indicator of one's overall health, it is not the only one.
Every person has a different body structure.  While 105 lbs might seem too thin to me, it might be the perfect weight for her body.  I'd be interested to hear what a nutritionist and doctor think of her weight.  We simply don't know all the details.  Losing weight and keeping it off is very difficult.  Rachel should be applauded for her hard work.  If doctors do find that she is too thin or that she's become anorexic than I wish she seek help.  Until then we should realize that not everyone is the same.  Sometimes a number is simply a number.  You could be "thin" yet vastly unhealthy (high blood pressure, cholesterol, etc).  I'd be interested in learning other parameters of her health, before labeling her as anorexic.
What do you think?
Email: [email protected]
Twitter: @adrakontaidis & @talkrealdebate