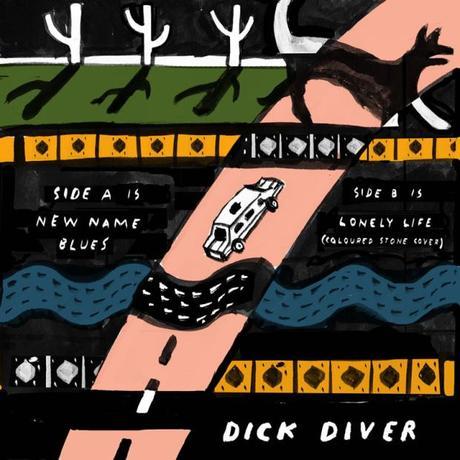 Melbourne's solid four-piece Dick Diver certainly raised the bar on their latest track "New Name Blues". It may start of in a typically unassuming, jangly manner, but soon enough the track slides into a beautifully orchestrated instrumental part comprised by airy saxophones tangled up in spacey, layered guitar work. It keeps echoing out into a chaotic, hallucinatory noise, barely touching the ground beneath.
It's hard not to get impressed by prolific singer Al Montfort, more known for his fearless genre-hopping in bands like Total Control and UV Race (amongst others), but here, he slides into a slurred, laid-back hum, likely to draw comparisons to Mac DeMarco. Indeed, Montfort is having a brilliant year; Total Control just released an interesting new album Typical System that I still haven't found the time to dive into, and now "New Name Blues" finds Dick Diver breaking into a larger conversation than before. But Montfort aside, the other band members Edwards, McKay and Hughes are putting on a glorious show, making "New Name Blues" an impressive game changer for the Australian jangle-punk outfit.
Also listen to the Coloured Stone cover "Lonely Life", the B-side to "New Name Blues".