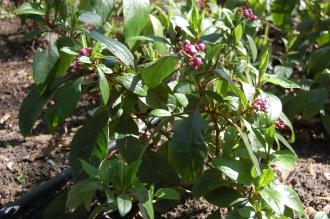 Dichroa febrifuga (16/03/2014, Kew Gardens, London)
Position: Full sun to dappled shade
Flowering period: Summer
Soil: Moist, well drained
Eventual Height: 2m
Eventual Spread: 2m
Hardiness: 8b, 9a, 9b, 10a, 10b, 11
Family: Hydrangeaceae
Dichroa febrifuga is a semi evergreen shrub with a bushy habit. Its dark green leaves are elliptic with finely serrulate margins, up to 20cm long and 8cm broad. Its dark blue/ pink hermaphrodite flowers appear as terminal panicles which are up to 15cm across. Its flowers tend to be more blue the more acidic the soil. Its blue/ pink fruit appear in late autumn. Its roots are used in herbal medicine.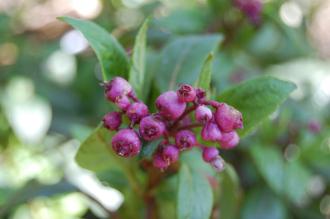 Dichroa febrifuga Berries (16/03/2014, Kew Gardens, London)
Dichroa febrifuga, commonly known as Chinese Quinine, Blue Evergreen Hydrangea, Gigil, Tataruman or Ramram, is native to East Asia including Nepal, China and Japan and South East Asia. In its native habitat it grows at forest margins.
The etymological root of the binomial name Dichroa is derived from dichroos meaning 'two coloured', in reference to its variable flower color. Febrifuga is derived from the Latin febris meaning 'fever' and fugare meaning 'to chase away', in reference to this plant's medicinal use.
The landscape architect may find Dichroa febrifuga useful as an unusual evergreen shrub with dramatic flowers and winter berries. This plant prefers a sheltered position.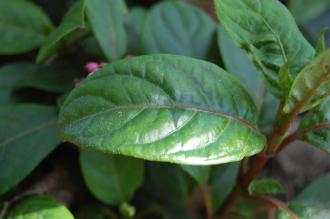 Dichroa febrifuga Leaf (16/03/2014, Kew Gardens, London)
Ecologically, Dichroa febrifuga flowers are attractive to pollinating insects. Its berries are attractive tome birds.
Dichroa febrifuga prefers moist, fertile, well-drained soils. It tolerates most pH of soil. It will tolerate very acid soils. It dislikes dry soils.
Dichroa febrifuga requires little maintenance.