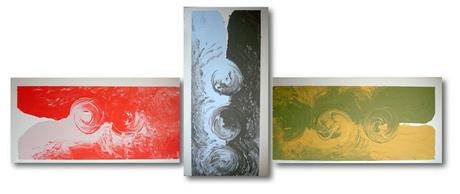 the March 2016 set
Today, Thursday 17th of March was the hottest day so far in 2016, and inspiration finally struck.
I decided to stick to my original plan for my 100 cm by 50 cm landscape two-colour three-bordered paintings with the dream-circle, or Oggam-circles, added. I wanted these three new paintings to be
gold
,
silver
,
bronze
but you can't really do that with two colours, so the choice of colours for these three new works was made on the spur of the moment in the shop with these three tones in mind. But not restrcited to or restrained by thoughts of Olympic medallion A, B or C or accurate depiction of such metals' reflective properties.
My last Dichotomy paintings were dated Feb 24th, the three new canvases had been ordered and had arrived at the start of March but I couldn't find a happy/spontaneous way to 'add the circle' to this series of two-colour paintings that didn't seem too contrived or fake.
While I was waiting for 'inspiration to strike', I did have this
INSANE PLAN
to fuck up the natural-evolution path of my
Not-Thinky-Too-Hardy
paintings with two new standy-uppy or tall-portrait radical-format broken-border four-colour paintings instead of the three I'd planned. But I just couldn't do that. Not yet. Remember, I'd already killed/axed/destroyed the first two 100 cm by 50 cm four-colour four-bordered paintings because 'patience is a virtue' or 'should be' and these
'ugly fucking things' were nowhere along any natural-artistic evolutionary line.
But I needed to 'add the circle' I'd dreamt about on Feb 28th, the lines of Oggam-inspired Welsh embossed language carving symbols.
I create mind experiments of every piece of art I'll attempt to make. It's like when you're about to massage a back, where to start and how to proceed. Art-questions involve how the paint is applied, from which directions, in which layers or which order? New questions emerged like, "What should the radius of these circles be? How should they progress across the canvas? Is there an additional aspect they're trying to convey, beyond the two-colour brain-split left-right narrative?"
After three more days of lip-chewing, I wandered off to buy the paints as I eventually found a satisfactory i.e. non-contrived, way to incorporate the linear three dream-circles. Something that made sense and was fundamentally relevant to the creation method of these pieces, thus far. I've retained the style and application of the earlier Dichotomy paintings. The circle or three circles fell in right nice. There's even a suggestion of where the circles come from i.e. the chaotic ether...
I'm very happy with the spontaneous way these three new paintings finally came together.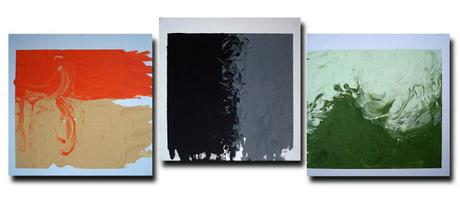 possible arrangement of three assymetrical-border'd paintings from Feb 2016