PriceScope reports on diamond prices on a monthly basis. We have seen a positive increase in the average price of round diamonds since the beginning of 2021. As COVID-19 rules and regulations ease worldwide we're starting to see the diamond market restore its true value. This blogpost also dives into the top five (5) most popular diamond shapes on the market for the month. We hope that you find our diamond prices blogpost resourceful.
Let's take a closer look at the diamond prices for June 2021:
POPULAR DIAMOND SHAPES

Round diamonds continue to be the most popular shape of diamond on the market although the decrease in popularity. Round diamonds only consume 69.93% in popularity. This is the lowest in popularity (%) that round diamonds have been this year. Princess has shot up to second place without even making it in the Top 5 last month. Oval has decreased in popularity and now sits in 5th place. Cushion and Emerald remain in third and fourth place.
DIAMOND PRICE CHARTS FOR ROUND DIAMONDS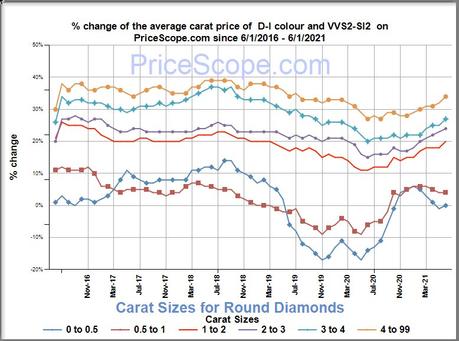 The table below gives you the rundown and details of the changes for the last three months (04/01/2021 - 06/01/2021).
This June the average diamond price per carat for a round diamond of 1 - 1.4 carat G color VS1 clarity is $8,205, compared to, May 2021 which was an average price of $7,909. We have seen a greater increase in the past month due to high demand.
The current average and lowest prices per carat are shown in PriceScope's diamond price charts by carat and their corresponding color and clarity.

Average Diamond Price per Carat (06/01/2021)
We advise consumers to keep in mind that cut quality and vendor services such as upgrades and returns can make a significant difference in the price point when shopping for loose diamonds.
PriceScope has been collecting retail diamond prices since 2007 of over 500,000 diamonds. PriceScope diamond price chart page shows the full diamond price charts for rounds and other fancy shapes. We update the diamond prices on a monthly basis. Keep an eye on July's diamond prices.
We have seen a positive spike in the average price of round diamonds over the past month due to the scarcity of diamonds. Could we see major jewelry retailers such as Cartier resort to lab-grown diamonds in the near future? We would love to hear your thoughts - Click on the comments button below.
Latest Publications on Diamond Prices June 2021
Rapaport:
De Beers Raises Prices of Larger Diamonds
De Beers increased prices of goods above 2 carats at this week's sight as shortages of rough coincided with strong polished demand.
Latest: Rapaport Weekly Market Comment
Supply shortages driving an uptrend in prices. 1 ct. RAPI +0.8% in May. Inventory declining; number of 0.30 to 0.50 ct.
Diamond Shortages Driving 'Crazy' Rough Prices
India is experiencing a shortage of diamonds as rough supply has dropped and polished goods remain stuck at the Gemological Institute of America (GIA).
Steady Demand Lifts Diamond Prices
Diamond market sentiment was positive during May as the US and China saw upbeat jewelry sales. Supply shortages and swift recovery in demand supported polished prices.
IDEX:
De Beers Raises Some Rough Prices by 10 percent
De Beers is reportedly raising prices of larger stones by as much as 10 percent at its fifth sight of the year, which opened yesterday in Gabarone.
IDEX Polished Price Index Rises Steadily in May
The IDEX Polished Price Index was up 1.37 percent in May, an increase almost double that of April (0.73 percent). The rise was pretty steady day on day, with the Index averaging 124.970 across the month and closing at 125.900.
JCK Online:
June 4 Diamond Shavings: Your Friday Web Roundup
This week in Diamond Shavings: Watch demand back at pre-pandemic levels. Big customs diamond busts in Hong Kong and India.