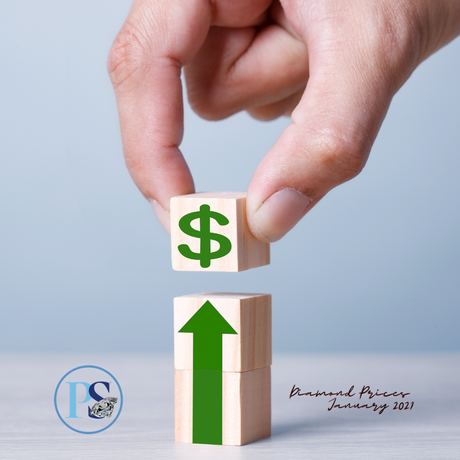 As predicted we saw an increase in the average price of retail diamonds for December 2020. Consumers reallocated budgets from travel and services toward high-end luxury goods. The holiday period may have rectified the diamond market since the COVID-19 outbreak back in March 2020 but what does 2021 have in store? Let's take a closer look at the average price of round diamonds for January 2021 and how the prices differed from December 2020.
POPULAR DIAMOND SHAPES

Round diamonds continue to be the most popular shape of diamond on the market consuming 74.71% of the market's popularity. Followed by Oval (5.34%) and Emerald (4.53%) placing third. Round diamonds have increased in popularity over the holiday period, therefore decreasing the percentage of the popularity of the other four shapes. However, the Top 5 Popular Diamond Shapes positioning remains unchanged since last month.
DIAMOND PRICE CHART FOR ROUND DIAMONDS
The table below gives you the rundown and details of the changes for the last three months (11/01/2020 - 01/01/2021).
This January the average diamond price per carat for a round diamond of 1- 1.4 carat G color VS1 clarity is $7,797 compared to December 2020 which was an average price of $7,619. We have seen an increase over the past month. As mentioned, I predict that the holiday period saw many consumers splurge on high-end products causing a positive spike in the average price of round diamonds.
The current average and lowest prices per carat are shown in PriceScope's diamond price charts by carat and their corresponding color and clarity.

Average Diamond Price per Carat (01/01/2021)
We advise consumers to keep in mind that cut quality and vendor services such as upgrades and returns can make a significant difference in the price point when shopping for loose diamonds.
PriceScope has been collecting retail diamond prices since 2007 of over 500,000 diamonds. PriceScope diamond price chart page shows the full diamond price charts for rounds and other fancy shapes. We update the diamond prices on a monthly basis. Keep an eye on February's diamond prices.
Since Valentine's Day is fast approaching - could we see a continuous trend in retail diamond prices come February? Share your thoughts with us by clicking on the "comments" button below.
LATEST PUBLICATIONS ON DIAMOND PRICES
Rapaport:
What the Brexit Deal Means for the Diamond Trade
The UK's departure from the European Union has altered the way British diamond businesses trade with important centers such as Antwerp, as well as with markets around the world. The impact stretches from new Kimberley Process procedures to updated rules on value-added tax (VAT).
Coronavirus Updates: Impact on the Diamond Trade
The Covid-19 pandemic that has swept the globe has had a notable impact on the diamond industry, with new developments unfolding every day. Here, we present a one-stop, running news feed on industry events impacted by the virus.
IDEX:
IDEX Polished Diamond Price Index Returns to pre-COVID Level
Year-on-year diamond prices for December 2020 were exactly in line with those of the same month in 2019 - no change at all. They were badly hit by the pandemic in March and April, when they were 4.8 percent down, but have risen more or less steadily ever since and have now reached pre-Covid levels. The Index is now at the x-axis, with every likelihood that it will break through next month.