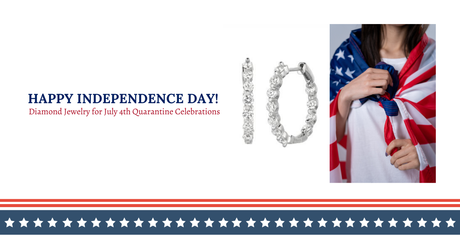 Businesses and entertainment venues are starting to reopen which means many of us will have the opportunity to enjoy a pared-down, socially distant celebration during these weird times. Now, if you do plan on venturing out, there is no reason why you can't look amazing while doing so. There are a few jewelry tools at your disposal to elevate your Independence Day look whether you are going for a casual or elegant style.
CLASSIC STYLE
Celebrate Independence Day dressed in the classic American styled crisp white shirt and denim jeans. This simple yet classic look pairs well with sleek espadrille wedges or embellished sandals. Bangles are trending this 2020, whether worn on their own or stacked, they make a great fashion statement. Take a look at that 14K rose gold bangle at Whiteflash- Talk about a July 4th accessory!
POOLSIDE STYLE
So, you've decided to stay inside and enjoy your July 4th alongside the pool with your quarantine family. You'll probably be in and out of the house and have more than likely invested in a chic sarong or cover-up. We recommend you accessorize your Summer poolside attire with a pendant necklace for a little bit of sparkle to suit the occasion.
HAUTE STYLE
If you're attending a small social yet elegant event this July 4th then don't be afraid to pile up on the bling. Dust off your Lilly Pulitzer and pile on the jewels, your time to shine again has come! We recommend pairing your Haute styled look with a pair of diamond stud earrings and a tennis bracelet. There is no such thing as too much when it comes to diamonds. Shopping for a tennis bracelet? We highly recommend the Diamond 18K White Gold bracelet at Blue Nile.
SUMMER WHITE
Perhaps you're opting for an all-white look, then we recommend you accessorize your July 4th look with a piece of subtle turquoise jewelry set in white gold, silver, or platinum. White creates the perfect background for a Summer palette, so alternatively you can opt for one of the many colored diamonds and gems.
Yes, these are challenging times and it is understandable to want to be out and about this July 4th. If you're planning to enjoy time with family and friends, we ask that you practice socially distancing for the health and safety of yourself and your loved ones. Fortunately, PriceScope is here to assist you with shopping for diamonds and jewelry online.
Would you like to assess your diamond's cut and sparkle? Try the FREE HCA Tool.

Written By PS Staff