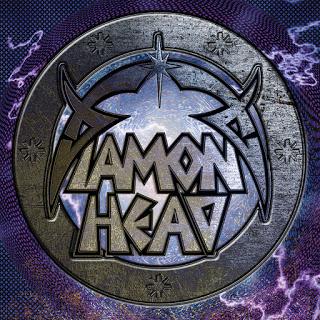 2016 Dissonance
DIAMOND HEAD are guitarist Brian Tatler, vocalist Rasmus Bom Andersen, drummer Karl Wilcox, bassist Eddie Moohan, and guitarist Abbz.
Diamond Head are back! The new, self titled album is their first first full length release of new music since 2007's "What's In Your Head" and their first record with Danish singer Rasmus Bom Andersen.
The albumblasts out with "Bones" with a signature Brian Tatler riff and the mid song tempo changes we've come to expect and love from Diamond Head.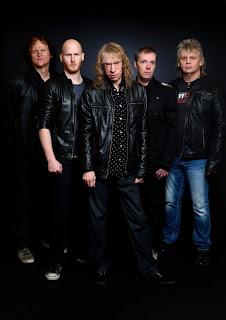 "Shout At The Devil" thankfully has nothing to do with any hair bands from Los Angeles and features a rumbling bass line from Eddie Moohan.
The pace slows down a bit with "Set My Soul On Fire" and we get to hear Ras's voice really shine. Of course, being DH the tempo shifts at the guitar solo where Tatler andAndy 'Abbz' Abberley burn up the fret-boards
"See You Rise" kicks off with a nice drum pattern by Karl Wilcoxand another killer riff by Maestro Tatler.
"All The Reasons You Live" begins with a nice acoustic intro (hankering back to the bands NWOBHM days) before becoming a good mid paced song with a keyboard laden chorus.
OK, being a demure, innocent lady I'm not going to explain what "Wizard Sleeve" is slang for!But with lyrics like "can I come inside your wizard sleeve" - it's pretty self explanatory!This is a fun song and shows the band doesn't feel they have to be all serious all the time! Killer solo by Brian too!
"Our Time is Now" - nice interplay between the rhythm section of Moohan and Wilcox.I can just pictureDiamond Head playing a huge outdoor festival somewhere in Europe and the whole crowd chanting "Call to arms strengthen the legions! Dismantle the walls for the sake of the children!!" Nice touch throwing in a few seconds of the iconic "Am I Evil" riff at the end!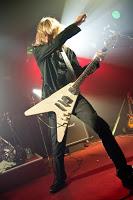 "Speed"next .I really love the dual guitar leads.  This song so reminds me of "Helpless" but with a 2016 spin.I can just picture Ras's throat bleeding at the end of the track when he belts out "I need Speed". Love it!
"Blood On My Hands" another slightly slower track with a great riff that's already stuck in my head.
"Diamonds" is another strong track – actually there are no weak tracks on the album.
The final track is "Silence" and closes the album in epic fashion.Arabic style guitar swells, acoustic passages, lyrics about "recall the days where you dug children's graves and regret".
All in all a very solid "comeback" release from Diamond Head who with a few nods to their legendary past, have their feet firmly in 2016.Looking forward to seeing them tour the states this fall!!
Thanks to Paula Hogan and Brian Tatler for all their help.

  




-Rys