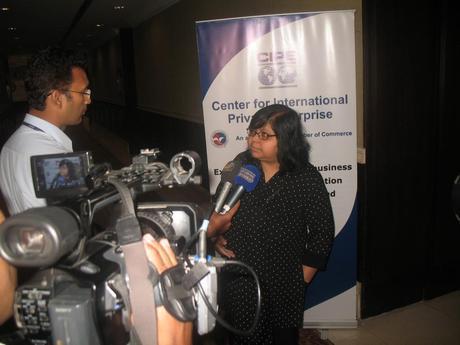 [email protected] President Jehan Ara speaks to the media at a [email protected] event. (Photo: CIPE)
Last week, a young parliamentarian named Ms. Marvi Memon submitted a bill to amend the Electronic Transactions Ordinance 2002. It would not have been possible without extensive dialogue and engagement between the Pakistan Software Houses Association for IT and IT Services ([email protected]), the Federal Investigation Agency, and Ms Memon.
The bill recommends inclusion of clause 36 of the ordinance in the legislation, which was removed in the last amendment depriving the citizens of Pakistan of any protection or remedy against cyber crimes, such as hacking. This lacuna in the law is technically encouraging cyber-crime by making legal an activity that was previously an offense under the laws of Pakistan.
[email protected] hopes that if this bill is passed, a number of cyber-crime cases that are in the courts will be decided on merit and those affected by any cyber-crime will also be able to file complaints with the Federal Investigation Agency. In the meantime, CIPE's support of [email protected]'s dialogue and engagement with legislators will continue to strengthen channels for feedback between policymakers and Pakistan's growing ICT sector.