Everyone should make skin care a part of their life as it contributes towards healthy skin. When I use to work in a skin clinic a decade before, I came to know the importance of skin care and how one can get a happy skin.  It was then I started using sunscreen and now I can vouch for it. 
However, I was only using face wash & sunscreen due to time constraints, but after I crossed 30 I started giving more attention and begin a proper skin care routine.
The chemical-free or less chemical products may show results tad late, but it is always safe & good for the skin.  Thankfully, many new brands have come up with natural & chemical-free products.
Deyga is one of the brands made in India for Indian skin tone. If you haven't heard about them yet, then keep reading this post and know about Deyga Organics Skincare products which are pure, natural & handcrafted.
Deyga Organics
Deyga is a homegrown brand to provide cosmetics, skincare, beauty products that are 100% Natural, 100% Pure, and handcrafted with love.
Every ingredient is sourced from the best farms in India to give your skin maximum benefits. The products are chemical-free and cruelty-free.
PIN THIS POST!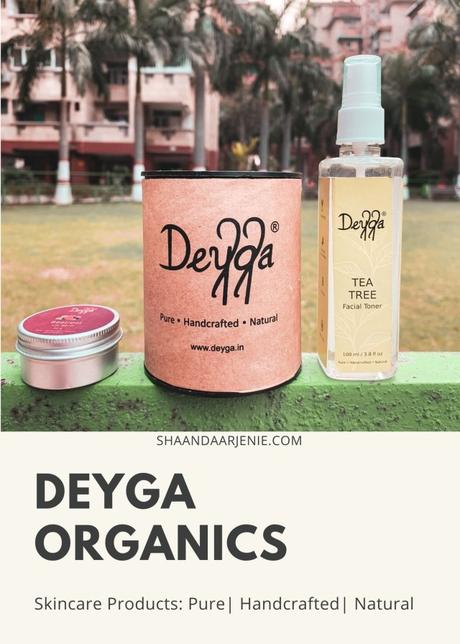 They firmly stand on their Six Pillars & assure their customers receive products that are:
Handcrafted with love

Animal Cruelty-free

100% Pure

Made with traditional recipes

Safe for skin

Sustainable
Deyga Organics Skincare Products
Deyga Organics Skincare Products have a wide range and you can choose as per your preference. I have received three products and sharing the details about them.
*Note: Kindly do a patch test before using any new product.
1)Deyga Beetroot Lip Balm
Winter is coming and a lip balm is a must to nourish our chapped lips. Personally, I need lip balm throughout the year as my lip is always dry.
This lip balm contains beetroot which helps in fading pigmentation and moisturizes the lips. The other key ingredients are beeswax, almond oil, avocado oil, and Jojoba oil, Shea butter, which makes the lip soft & supple.  It is also enriched with the goodness of essential oils that keep the lips nourished.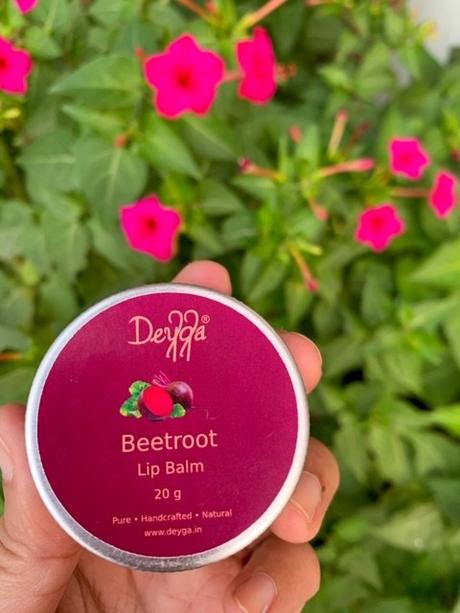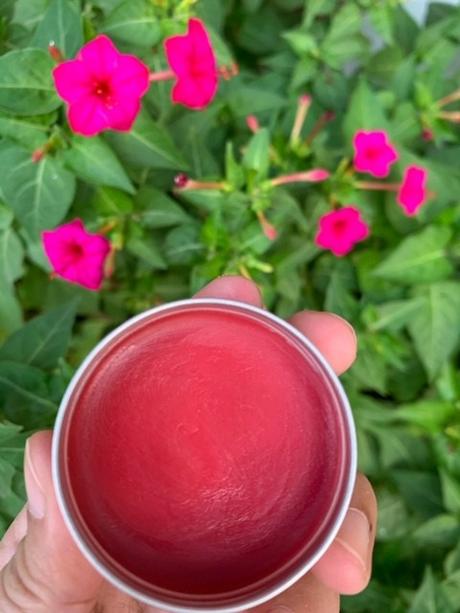 This is a bit tinted lip balm with no such peculiar fragrance. It indeed moisturized my lips and gives a shine. I liked the cute packaging, which can be easily kept in our pockets. One of the best Deyga Organics Skincare Products.
Shelf life: 8 months
MRP: Rs 290/- for 20g
---
ALSO READ: 5 Best Lipsticks Under Rs.500
---
2) Deyga Tea Tree Facial Toner
Tea tree is known to clear pores and controlling acne-prone skin. Deyga Tea tree facial toner minimizes the appearance of pores and provides healthy skin.
It can be used to instantly refresh & hydrate your skin, to remove dirt or makeup, and to dilute face pack.
This facial toner is purely made up of 100% pure steam distilled tea tree water. Hence, I didn't like the fragrance due to its pure form.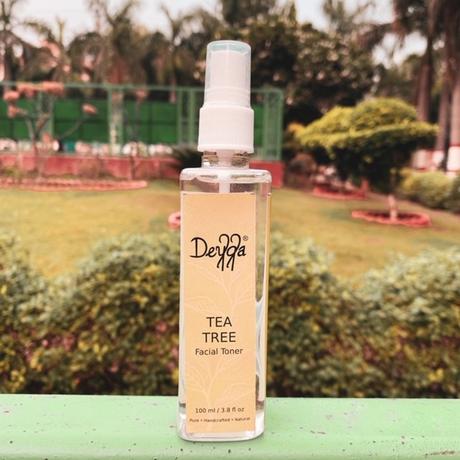 I am using it to refresh my dull skin when am tired, before I apply night cream and after I apply face pack. This makes this toner a multi-usage product and worth the buy. 
Shelf life: 6 months
MRP: Rs 450/- for 100ml
---
ALSO READ: Mamaearth Tea Tree Hair Mask & Conditioner Review
---
3) Deyga Face Pack
This face pack is specially crafted for acne-prone skin which helps in reducing zits & pimples to reveal clearer acne-free skin.
Enriched with the goodness of Spirulina & Matcha, it promotes skin healing and controls excess oil and sebum.
Spirulina: Detoxify skin, has anti-fungal properties which prevent fungal acne.
Matcha: Anti-oxidant and anti-aging properties, provides hydration.
The other key ingredients are aloe vera, moringa, neem & comfrey which helps in exfoliating dead skin and keep the skin clear & healthy.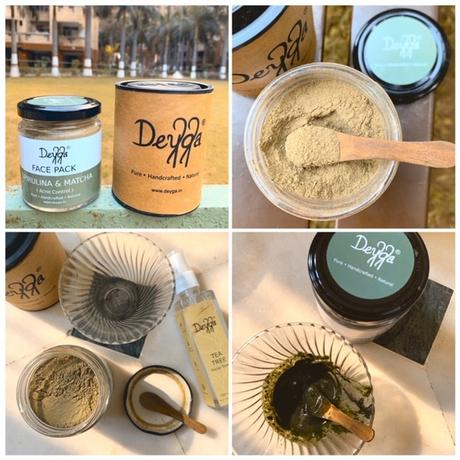 I liked the packaging as it comes with a box (like a watch box) so that the product reaches us safely.  I have oily, acne-prone skin and have used this product once as of now. I had used a toner to dilute with a face pack; hence the fragrance of toner was significant. Next time will add milk to it.
I had kept it for a good 30 minutes and washed off the face & then applied toner. The face looked clear and free from oiliness but the skin felt bit hot which went off after sometime.
How to use:
All you need to do is mix it with milk, water, or toner.

Apply & rinse it after 20 minutes.

Spray the toner on your face as it will close the open pores. (Recommended but optional)
Shelf life: 6 months
MRP: Rs 450/- for 100ml
---
ALSO READ: Spirulina: A Natural Superfood that will boost your health
---
I hope this post helps you out to choose natural and pure products. After all, who doesn't love happy skin? Do check out their website as they have a wide range of hair care, bathing, wellness, oral care & men's products too part from skincare.
The products are available to shop from their website and soon will be available on Amazon.
Have you tried Deyga organics skincare products? Let me know about your experience.
---
*I'm taking my blog to the next level with Blogchatter's #MyFriendAlexa
*Sponsored post