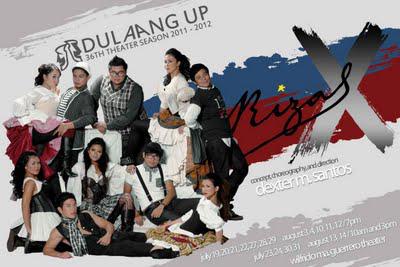 It's not your typical Rizal play. Not "Fili." Not "Noli." Not Rizal straight out of a textbook. Dulaang UP's "Rizal X" is a breed all its own.
Conceptualized, choreographed and directed by Dexter Santos, who returns fresh from his hugely successful "Orosman at Zafira," "Rizal X" promises to surprise even the most avid theatergoer and inspire even the most hardcore Rizal fan. DUP's 36th Theater Season opener is a fitting tribute to our national hero's birth sesquicentenary.
"Rizal X" aims to re-introduce Rizal to the times we live in through a mélange of mixed media popular to this generation such as video, vignettes, and music, intertwined with the more traditional staples of theater--songs, dance, monologues, scenes, and poetry to form a production which Santos hopes to be "a total theater experience."
Actress and TV host Bea Garcia, who plays various roles in the production, describes "Rizal X" as the "antithesis" of text-based, historic and difficult to understand Rizal plays. "It speaks a language that all of us--the young and the not-so-young alike, can understand and relate to," she says.
Though made up of several individual segments, the play is all about one message. As actor Reuben Uy, who essays the role of Rizal, puts it: "Rizal lived, loved and laughed like the rest of us, and being like him, there lives a hero in each and every one of us just waiting to come out."
"Rizal X" hopes to inspire us in believing that we can be Rizal in our own little way. It aspires to serve as a reminder that Rizal is not a distant memory trapped in the dusty papers of a book or in cold busts and monuments, but a warm and palpable presence that is still and will always be a source of pride and inspiration to each and every Filipino. That what he was able to do for the country in his time, we can also do today. Rizal will never be passé; his life and works is an infinite playlist, the relevance of which transcends time and space.
The cast includes Reb Atadero, Natasha Cabrera, Red Concepcion, Jules dela Paz, Alchris Galura, Bea Garcia, Jean Judith Javier, Yanah Laurel, Maita Ponce, Reuben Uy and the Dulaang UP Ensemble.
"Rizal X" showcases the creations, across various media, of Dong Abay, Gerson Abesamis, Manix Abrera, Aiess Alonso, Chips Beltran, Layeta Bucoy, Winter David, Jopy Arnaldo, Malee Matignas, Deo dela Cruz, Al Garcia, JM de Guzman, Vlad Gonzales, Adi Lopez, Joaquin Pedro Valdez, Floy Quintos, and Rene Villanueva.
The artistic team includes William Elvin Manzano for music and lyrics; Happy Days Ahead for the musical arrangements; Katte Sabate and Chic San Agustin as head writers and dramaturgs; Leeroy New for scenic design; Voltaire De Jesus for lighting design; Mitoy Sta. Ana for costume design; Janine Santos as musical director; Ohm David as technical director; Jojit Lorenzo for photography and Tuxqs Rutaquio for poster design.
"Rizal X" runs July 20-August 14, 2011 at the Wilfrido Ma. Guerrero Theater, 2nd floor Palma Hall, UP Diliman, Quezon City, from Wednesdays to Fridays at 7 p.m. and at 10 a.m. and 3 p.m. during weekends. For tickets, call Cherry 0917-7500107 or the Dulaang UP Office 9261349, 9818500 local 2449 or 4337840.