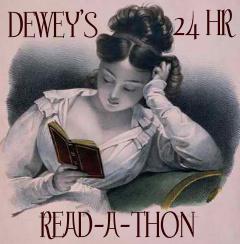 Ahhh...Well here we go!!  As the sun has gone down, I've finally reached the time of day where I work the best.  I'm feeling that I will be more productive in these 6 hours than the last 12 hours.  I'm also out of snacks.  So there's that.
Shout out to my mom, who is still going strong and she was an awesome cheerleader for the last couple of hours.  I'm so proud of her.  She's really so cute.  You can find her
here
.  We will definitely do this in the same place in April :)
Going to finish up the readathon in this post.  I'm thinking.  Happy Reading!
Mid-Event Survey: 
What are you reading right now? I'm currently reading The Summoning but will moving to The Awakening soon.  Both by Kelley Armstrong.
How many books have you read so far? I've only completed one book so far.  I know this is bad... but I ate a lot of snacks and took a bunch of naps...and tweeted...alot.
What book are you most looking forward to for the second half of the Read-a-thon?  All of them! The Awakening I guess
Did you have to make any special arrangements to free up your whole day? I had to move meetings and assignments around.  I will be up very late tomorrow.  Oh and I had to kick out the hubby.
Have you had many interruptions? How did you deal with those? I didn't.  Epic fail!!
What surprises you most about the Read-a-thon, so far? I'm surprised how little I'm actually reading but I am having loads of fun.
Do you have any suggestions for how to improve the Read-a-thon next year? I think we should have more linky..so we know who is participating, running errands, etc. each hour.  Also, I think we need a better plan for people who don't have blogs when it comes to some of these challenges.
What would you do differently, as a Reader or a Cheerleader, if you were to do this again next year? I would do the same.  If I was in more of a reading mood next time, I would read more.  I may preprep my posts because they take more time to generate than I expected.
Are you getting tired yet?

Nope.  After two naps, I'm wide awake.

10. Do you have any tips for other Readers or Cheerleaders, something you think is working well for you that others may not have discovered?

If you eat all your snacks then you have no more distractions.  It's working for me.
I'm still working on these: