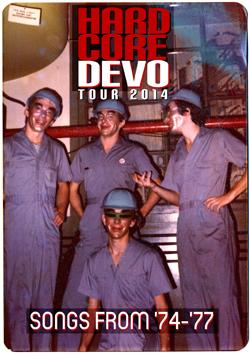 DEVO have announced 10 shows for Summer 2014!
HARDCORE  DEVO LIVE! A once-in-a-lifetime opportunity to see Devo perform the legendary, experimental music the band created between 1974-1977 in Akron Ohio! The tour is dedicated to the memory of Robert Casale, (A.K.A. Bob 2), one of the 5 original Devo band members who is now touring the universe.  VIP ticket admission will let guests meet the band and exclusively view / purchase rare, limited edition photo prints by noted photographers shot during the band's pre-label days. A portion of all proceeds from the tour will go to Bob Casale's family.
This early DEVO material was recently presented on their "Hardcore DEVO" re-issued vinyl & CD last year.
This is the first time in 30 years that some of these songs will be performed live!
DON'T MISS THIS!!!
June 18 - Baltimore, MD - Ramshead June 19 - NYC - Best Buy Theatre
June 21 - Chicago, IL - Arcada Theatre
June 23 - Denver, CO - Summit Music Hall
June 25 - Seattle, WA - Neptune
June 26 - Vancouver, BC - Commodore Ballroom
June 28 - Oakland, CA - Fox Theatre
June 29 - Los Angeles, CA - Wiltern
June 30 - Solana Beach, CA - Belly Up
July 2 - Austin, TX - ACL/Moody Theatre
Ticket links will soon be posted at ClubDevo.com! 


------------------------------------------------------------

DEVO Record Store Day 2014: 3 Releases!

No1:  DEVO Live at 

Max's Kansas City
(by Jackpot Records)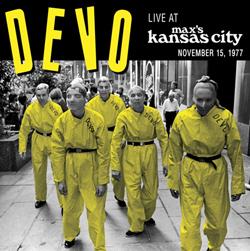 Nov. 15th, 1977: Max's Kansas City - David Bowie is
backstage with the 5 self proclaimed 'spudboys' from Akron,
Ohio waiting for his cue to introduce the band who, in his
words were, "The band of the future!". As time went on, it
became clear that the future is still waiting to catch up with
DEVO. Working closely with the band and those who were there that
night, Jackpot Records brings you this audio time capsule
that catapulted DEVO from strange, musical hillbillies to
innovative pioneers overnight.

Now the truth can be told! Available for the first time on vinyl
the entire performance, complete with rare, unearthed audio
of David Bowie.

With liner notes written by DEVO Co-founder Gerald V. 
Casale specifically for this release (which also includes a 
reproduced early DEVO press bio sheet from 1976), this 
record will be the perfect compliment for hardcore DEVO 
collectors, music fans and those who are new to the game.
Limited to 2000 copies worldwide
Tracks

:
David Bowie Intro
Satisfaction (I Can't Get No)
Too Much Paranoias
Praying Hands
Uncontrollable Urge
Mongoloid
Smart Patrol / Mr. DNA
Gut Feeling (Slap Your Mammy)
Sloppy
Come Back Jonee
Release Date: April 19, 2014 - Record Store Day
---------------------------------------------------- 
No2:
DEVO / Flaming Lips Split 7" Vinyl
(by Warner Bros)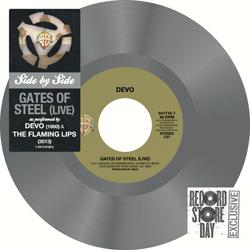 DEVO/THE FLAMING LIPS "
GATES OF STEEL" - 
SINGLE-POCKET JACKET, REGULAR-WEIGHT SILVER VINYL 7". 
LIMITED TO 7,500 COPIES
Part of the WMG's Side By Side series. Includes Devo's "Gates Of Steel" from the original 
DEV-O Live EP and a previously unreleased cover by The Flaming Lips all on gorgeous silver 
vinyl!


---------------------------------------------------- 
No3: Butch DEVO & The Sundance Gig 12" Pic Disc Vinyl + "The Men Who Make The Music" DVD!  (By MVD)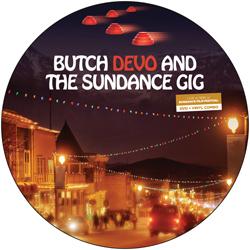 Dual release - "Men Who Make The Music" DVD and "Butch Devo..." picture disc vinyl!
Jerry Casale says, "In '96, we closed Sundance Film Festival. We wore 20s style prison suits on stage."
Pic Disc Track Listing

:
Too Much Paranoias
Praying Hands
Uncontrollable Urge
Mongoloid
Jocko Homo
Goin Under
Blockhead
That's Good
Jerkin Back and Forth
Girl U Want
Whip It
-----
All three of these releases will ONLY be available at record stores on Record Store Day, April 19th!
 
---------------------------------------------------
Old-Stock 2004 Blue Energy Domes Found!
Now Available at ClubDevo.com!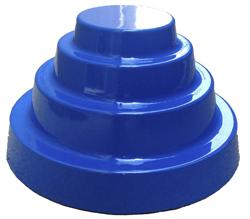 Warehouse find!
These are VERY rare – The first version of DEVO's blue Energy Dome hats. Manufactured 10 years ago to coincide with DEVO's participation in Nike's "Run Hit Wonder" 5/10k Race 2004 concert tour, which made stops in Los Angeles, NYC, Portland, and Chicago.
Nike manufactured custom designed DEVO stage suits which included jackets, pants, and Energy Domes…all blue to match the Nike's color scheme for the tour. These Blue Energy Domes are made of very strong/thick blue plastic (and they are a little bit smaller than the Energy Domes that DEVO sells currently).
Get 'em while you can! These will not be made again!.
ORDER HERE!
---------------------------------------------------
That's all for now, comrades.
Don't forget to check out Devo-Obsesso.com for recent additions to my DEVO Archives. Here are links to a few newly added items:
- Test Pressing of RSD "Max's Kansas City" LP
- Test Pressing of RSD "DEVO/Flaming Lips" 7" vinyl
- Test Pressing of MVD's RSD "Butch DEVO..." Pic Disc 12"
- Josh Patrick Bootleg 12" "Freedom Of Choice" Remix
- Dr. Strange/Dr. Jinx DEVO Tribute Tee for Animal Charity
Also, remember to check out the new additions in the "

Chosen Mutations

" gallery of DEVO tattoos. We are now up to more than 300 on the site!


Duty Now More Than Ever

,