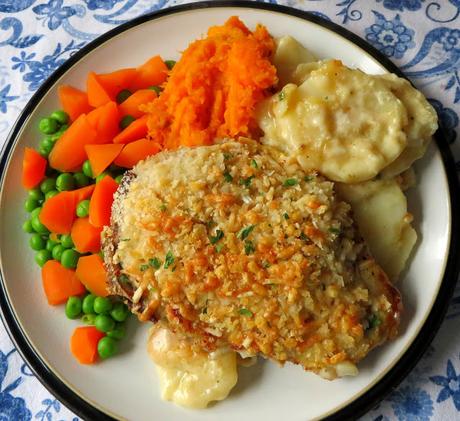 All in one meals are my favorite kinds of meals.  Tasty meals like these deviled pork chops with scalloped potatoes are at the top of the list when it comes to cooking a delicious supper for the smaller family.
Sized for just two people, this recipe pleases on every level, but can also be doubled to feed four. Crisp coated deliciously tender chops served with creamy rich potatoes are practically unbeatable in my humble opinion!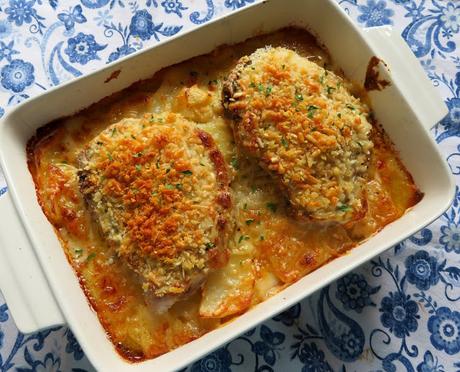 I have a lot of pork chop recipes on this blog, but this is one of my favourites.  I like to always use bone-in chops when I can.
I have always found that bone in chops have a much better flavor than the boneless ones. I like the old fashioned ones that still have a tiny bit of the tenderloing attached. You can absolutely use boneless pork chops if you wish.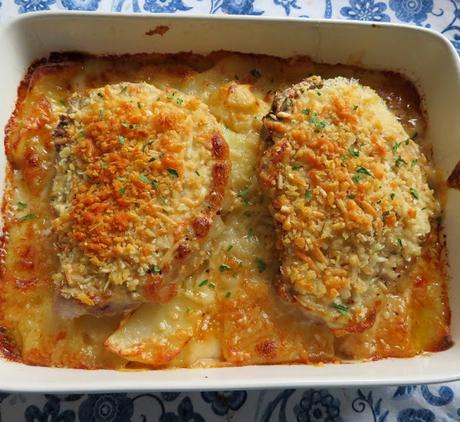 I always also like to leave a little bit of fat along the edge of my pork chops. You only need a little so if your fatty edge is super thick, just trim it off a bit with a sharp knife.
I also like to slash the fatty edge of my chops at 1/2 inch intervals.  This helps to prevent the chops from curling up when they are cooking.  This works for both frying and baking.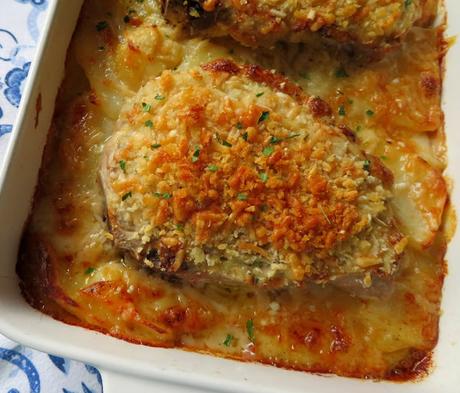 That's a trick I learned from watching Jamie Oliver on the telly.  I always hated it when my pork chops curled up. Its really hard to brown them evenly when that happens.
This simple tip means that happens no more! If you haven't tried it, I highly recommend that you do!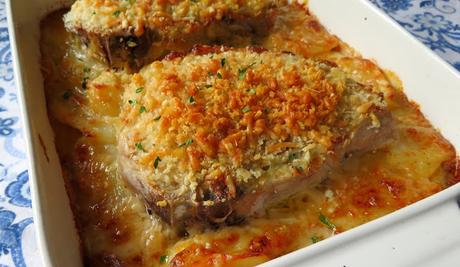 I love the flavours of "deviled" anything. Deviled Eggs, chicken,  ham, chops, etc.  But just what is it that makes a food worthy of the term "deviled?"  Devilling food and the use of the word "Deviled" when descibing such things goes back to the 1700s.  Originally it meant to cook foods with lots and lots of hot and spicy condiments and seasonings. The most commonly spices used for this were mustard and cayenne pepper.
In the case of these tasty chops I have used a mixture of things.  Mustard? Check!  I use a nice creamy Dijon Mustard. I adore French Mustard.
It has just enough heat and bite, but is mellow enough to enjoy. I am afraid I was never fond of the prepared English Mustard. It was far too hot for my taste. I have only ever used it in the dry powdered form, and even then sparingly.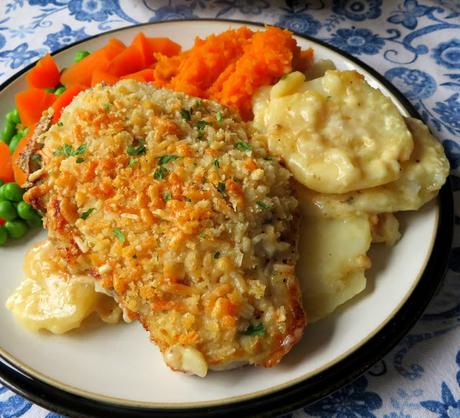 The mustard in these gets mixed together with some good mayonnaise and hot sauce.  I like Tabasco sauce.  This mixture gets spread generously over the top of the clipped and seasoned chops.
Make sure you pat them dry first with some paper kitchen towelling, or the mixture won't stick properly.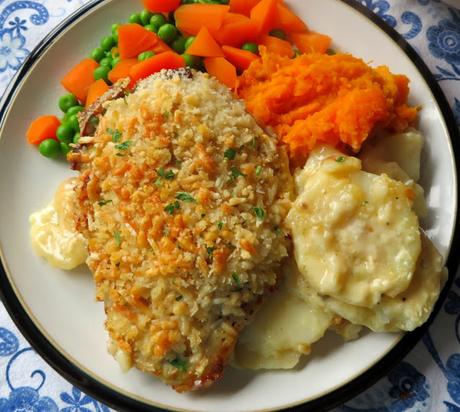 Once you have coated the tops with the creamy "deviled" mixture you then coat the tops in crumbs.  I like to use Panko crumbs because they always give a lovely crisp and yet light finish.
The Panko crumbs are mixed with some Parmesan cheese for even more flavor.  You just press the coated tops of the chops into this mixture. It would be a waste to coat the underside as these are going to be baked on top of some rich and creamy potatoes.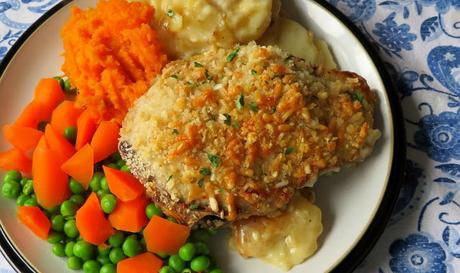 You could, of course, skip the potatoes if you wanted to and just cook the chops. To that end I would double all of the ingredients for the chops.
Coat them on both sides with the creamy Dijon mayo mixture and then press both sides into the crumbs.  I would bake as below on a lightly oiled baking sheet until done.  That would also be very delicious.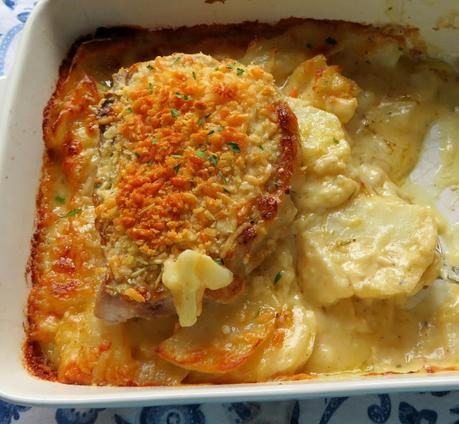 But really, these potatoes  . . .  These potatoes are so rich and creamy, and perfectly cooked. You really do NOT want to miss out on them.
And they are not as fiddly as normal scalloped potatoes. You don't have to create a creamy bechamel to cook them in.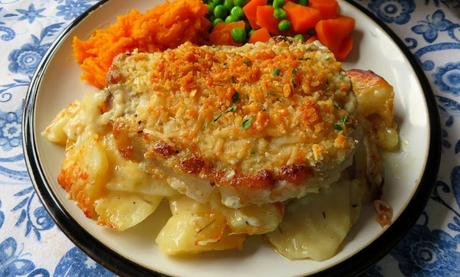 You begin by cooking thinly sliced potatoes in some hot chicken stock in the microwave. You can even do this right in the baking dish if it is microwave safe.
Once they are tender at the edges, you mix together some heavy or whipping cream and flour and then just fold it into the potatoes.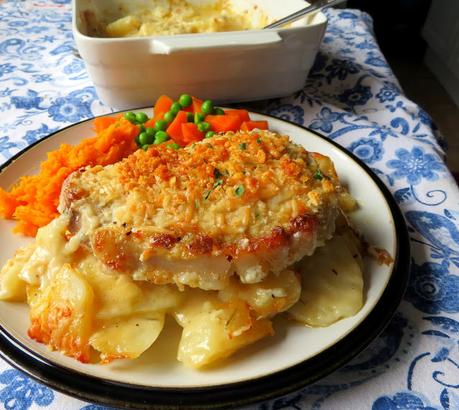 Easy peasy. You could even use undiluted evaporated milk instead of the cream if you wanted to. I always keep cans of that stuff in my cupboards. It is a very handy storecupboard ingredient to have on hand! 
I also like to season them a bit with salt and pepper,  and I add some garlic and onion powders as well as dried rosemary.  I like to pulverise the rosemary so that it gets evenly distributed throughout.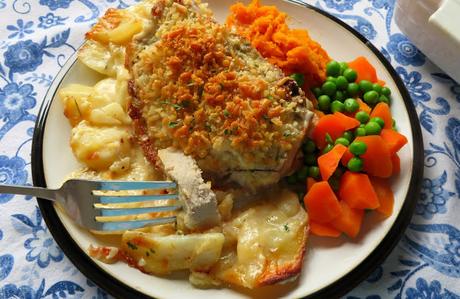 Spread the potatoes in the dish, cover and bake for about half an hour by which time they should be getting pretty tender.  The coated chops then go on top and the while mix is baked uncovered for a further fifteen minutes or so, depending on the thickness of your chops.
Obviously, the thicker your chops are, the longer it will take to cook them. My chops were about 1/2 inch thick maximum.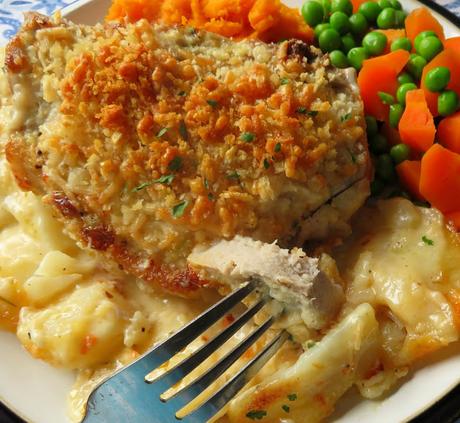 As you can see, I ended up with tender, perfectly cooked, not dry chops.  And those potatoes, perfect also. Rich and creamy.
Altogether this "Devilish" combination is incredibly delicious and a real family pleaser.  I served it with some roasted and mashed sweet potato and a mix of steamed peas and carrots for the win! Perfect for the stormy snowy day we are having today!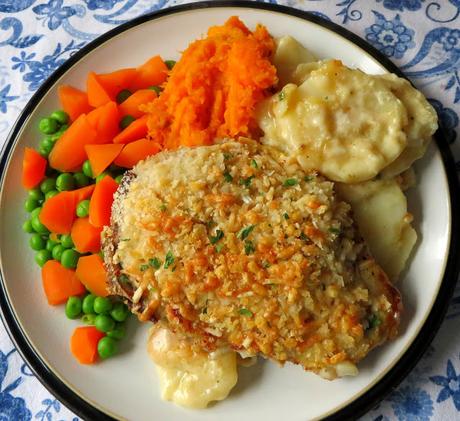 Deviled Pork Chops
Yield:
2
Author:
Marie Rayner
prep time: 10 Min
cook time: 1 Hour
total time: 1 H & 10 M
Tender and moist chops with a tasty crumb baked atop rich creamy scalloped potatoes. These are delicious. The recipe can be doubled.
Ingredients
For the chops:
2 pork chops, cut 1/2 to 3/4 inch thick, fatty edges slashed at 1/2 inch intervals
1/2 TBS Dijon mustard
1 tsp mayonnaise
3/4 tsp hot sauce
1/2 cup (60g) panko bread crumbs
1/3 cup (60g) Parmesan cheese divided
For the Potatoes:
1 pound baking type of potatoes, peeled and sliced 1/4 inch thick
1/2 cup (120ml) boiling chicken stock
1/4 tsp dried rosemary
1/4 tsp onion powder
1/8 tsp garlic powder
salt and black pepper to taste
1/2 cup (120ml) heavy cream
1 TBS flour
Instructions
Put the potatoes into a bowl along with the chicken stock, rosemary, onion and garlic powders and some salt and pepper. Cover and cook on high in the microwave for 6 to 8 minutes or until the edges of the potatoes are supple and translucent.
While the potatoes are cooking, preheat the oven to 200*C/400*F/ gas mark 6. Butter a 7 by 11 inch shallow baking dish. Set it aside.
Whisk the flour into the cream slowly until it is amalgamated and smooth. Stir this mixture into the partially cooked potatoes, along with their juice. Pour the whole thing into the baking dish, smoothing it all out evenly. Cover tightly with foil and then bake in the preheated oven for 30 minutes, at which time they should be almost tender.
Combine the panko bread crumbs along with 2 TBS of the Parmesan cheese in a shallow dish. Whisk the Dijon mustard, hot sauce and mayonnaise together. Pat the chops dry and season with salt and pepper, Brush one side generously with the mustard mixture and then press this side down into the bread crumb mixture to coat well.
Remove the potatoes from the oven. Sprinkle with the remaining Parmesan cheese. Place the chops on top, crumb side up. Sprinkle any remaining crumbs on top. Return to the oven and bake, uncovered for a further 15 minutes or so, until the chops are golden brown and crispy and the juices run clear. Let rest for 10 minutes and then serve.
Did you make this recipe?
Tag @marierayner5530 on instagram and hashtag it #EnglishKitchenCreated using
The Recipes Generator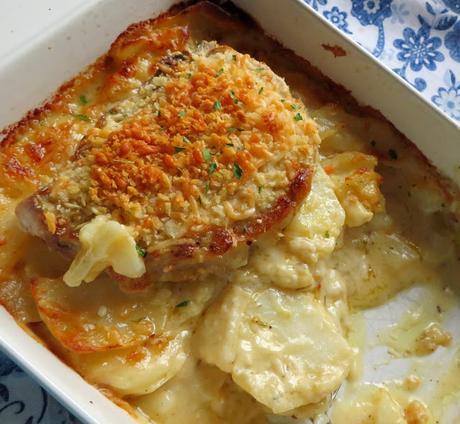 This content (written and photography) is the sole property of The English Kitchen. Any reposting or misuse is not permitted. If you are reading this elsewhere, please know that it is stolen content and you may report it to me at: mariealicejoan at aol dot com Thanks so much for visiting. Do come again!