In our first ever broadcast of a Division I NCAA Basketball game, the hosts of GameTime (Justin, Steven, Ryan, and I) present: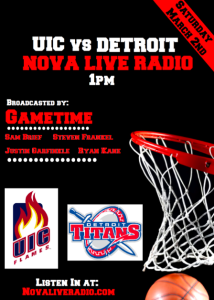 As stated on the flyer, the game tips-off at 1:00 pm (central time) in this star-studded affair, as NBA prospect Ray McCallum leads the 19-10 (11-4 Horizon League) Detroit Titans in to the UIC Pavilion to take on the 16-13 (7-8 Horizon) UIC Flames.
To listen, go to novaliveradio.com  at 1:00 and just…listen (no clicking necessary)! I hope to garner as vast an audience as possible, as this is a monumental event in my young career.