I am fond of cooking. Desserts with a twist is something that suits my personality and taste well. I don't stick to the same recipe for long, as I need variation to experiment with. Probably it is my taste buds that force me to do so. That is why even while cooking vegetables I keep varying the spices, content and quantity wise to experiment and thus evolve something different to taste. Definitely, one has to be cautious while applying such variations as a small twist might at times give a jerk. One must avoid such jerks that might create a bad taste. We generally cook ladyfinger without mixing it with any other vegetable. But recently when I was in Ahmednagar I was amazed to find a number of variations in many of the vegetables there in the menu at the workplace where a well known chef's services were hired for the three-time meals for 21 days of project work. One such variation was ladyfinger with potatoes. That was really marvelously prepared and was liked by everyone at the project site.
Inspired by this, I decided to prepare Moong Dal Halwa – a dessert quite popular, with a twist. A usual style of preparation would be soaking Moong Dal overnight, grinding it after rinsing and then roasting it in ghee for some good amount of time. After finishing, people would, at times, garnish it with cut dry fruits sprinkling over it. I decided to give it a twist with crossed fingers. The dessert with a twist is named by me as Moong Dal Pan Halwa. Here is the recipe of the same for 4 persons:
Ingredients:
½ Kg Moong Dal
½ glass milk
5 teaspoon cream
200gm cow milk ghee
½ teaspoon yellow butter
15-20 cloves
pinch of asafoetida heeng
¼th spoon of dry ginger (sonth)
½ spoon of powdered sweet areca nut (supari)
¼th spoon of pan flavor
The preparation goes like this – Soak Moong Dal in water overnight. Rinse it completely and grind it well till a proper paste is made. Put it in a wok (kadahi) along with milk and mix it properly. Place it on a burner. Add ghee and roast it. The moment it starts getting brownish add butter and cream into it. Fry cloves along with areca nut and pan powder separately and mix it into the contents in kadahi. By the time it is complete brown add sonth and heeng into it. Keep it on the burner for 3 more minutes on mild  mode and keep mixing the contents. Enjoy your Moong Dal Pan Halwa hot preferably.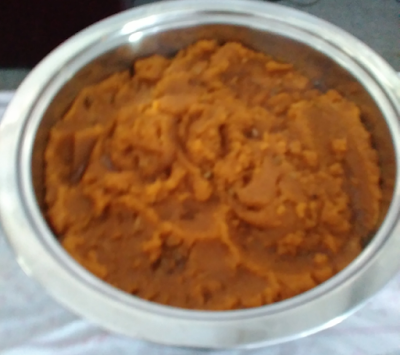 Next week I am flying to Bangalore and for sure would be discussing desserts with a twist with the chef of the hotel where I stay. Getting an expert opinion is not a harm. Would also like to know readers opinion on the same. Do share your views on this recipe in the comments section.
On the same lines you can also grab this opportunity to showcase your culinary skills with a dash of adventure with the ingredients related to Desserts with a twist on the Foodventures microsite as per the latest theme. Before you decide to go for it, don't forget to watch these informative videos. The experiments/ experiences/ recipes by the two legendaries Vir Sanghvi and Vikas Khanna are the real adventures at #Foodventures. Each video tells you a new and innovative story at #Foodventures.