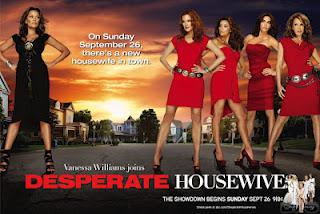 Writing the last reviews for Desperate Housewives and putting a final year in parenthesis it's like calling the time of death on the series that has been there for me for the last eight years and I can't even begin to recall all the things I've learned from it, for all the fans around the world it's truly the end of an era. 
How to say goodbye to a series that taught us valuable lessons about friendship, love and family values ? It's not something you're going to come around and realize that the time for a final kiss goodbye has come.
After the last week episode when we said our goodbyes to a dearly beloved character - Mike, we were only left to wonder about Susan and how is she gonna begin to live again, begin all over again, but this time without Mike.
We have a few more episodes left before the two-hour finale and we would want to see all the pieces falling into place, Lynette realizing that her life is empty without Tom and try win him back, Bree find love in a new man in her life, Carlos changing views on life and trying to do something a lot more meaningful in his, Gabrielle to find a job and work for a change. Susan to find some comfort and closure and live like Mike never left, help Julie raise her child and Bree finally put an end to the murder thing.
Now the fun part, Renee got engaged not in a romantic way and on the second day she rushed into the lane to brag about it and on her way she met Bree only to brag about the body cops found on the construction site of Ben's ex project. We finally met the day when MJ finally spoke more than a few words and was kinda rude to Julie and his mom, but I guess that is a coping mechanism to losing his father. 
Gabrielle broke the news to Carlos about wanting to find a job that pays enough to keep their kids in private schools and not cancel the ski trip they intended to.
Again Renee fails to brag about her engagement when Lynette shuts her up about her decision to win Tom back from the bitchy hawk - Jane. Andrew visits his mom and introduces his fiance only Bree did not expect he'd find love  with a woman after years of coming around to the thing that he was a proud gay.
After having her expectation shut down, Gaby took herself to have a workout to her credit card and never expected to be applauded after turning her fashion style into a work of art
.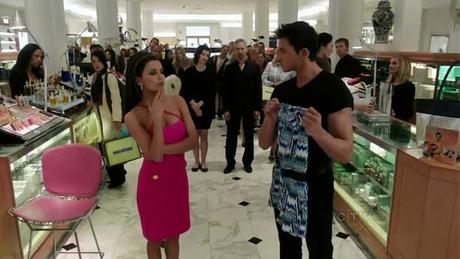 And I just think Gaby found her truly vocation, a shopping-savant if I heard right.
Bree tried to give a life lesson to his son's fiance about the love of the life and being with Andrew will feel that void only for a short time and her true love is out there, somewhere and she needs to look harder. Andrew finally open up about his problems and Bree was more than happy to help him, and without having an agenda and the help she offered was genuine and sincere.
Lynette's plan of winning Tom back seemed to work, a dinner with candles seemed to do the trick, her deviousness was brought to a nice output but everything was ruined when Tom's hand caught on fire.
In conclusion, it was a nice episode, Susan and MJ found some closure and began the journey to healing themselves. A son turned to his mother for help and didn't feel like a failure. A mother discovered an inner talent and her self-esteem got a generous boost.  We also learned that every time an opportunity shows itself we must take it, that we must never give up and keep the hope alive, keep proving our worth or to take the chance to show the right path to a child.
Next week on Desperate Housewives ...
Thank you for reading this mini-review and make sure to check back later for the ratings.