eMarketer released a report today that estimates desktop advertising to drop by $1.4 billion while mobile search will increase over 82 % in 2014. Of course Google has been talking about this in their earnings reports for the last couple years. This is certainly not great news for domain investors who park their domains, as mobile clicks pay less than desktop clicks. It stands to reason that parking earnings will be down across the board as the traffic becomes more mobile centric and a lower cost per click.
From the eMarketer report:
eMarketer estimates that desktop search ad spending will drop $1.4 billion this year, a decrease of 9.4% from 2013, while mobile search will increase 82.3% year over year. Mobile search will total $9.02 billion, compared with $13.57 billion for desktop search. Overall, US spending on advertising served to desktops and laptops will decline 2.4% in 2014 to $32.39 billion, down from $33.18 billion in 2013.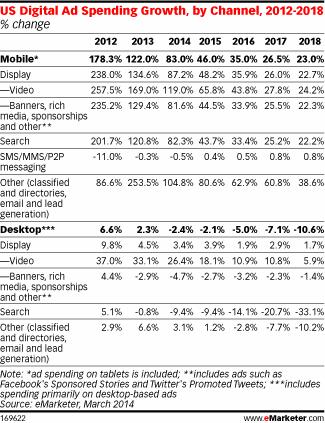 Devindra Hardawar wrote on Venture Beat that mobile has the flexibility to offer more opportunity to be creative.
For example, Yahoo's newly launched Gemini product, a "unified marketplace" that marries mobile search and native advertising.

"By bringing the two together, advertisers can now buy, manage, and optimize their mobile search and native ad spend in one place — driving greater performance and higher impact for their businesses and brands," wrote Jay Rossiter, senior vice president of Yahoo's cloud platform group, and Adam Cahan, senior vice president of mobile and emerging products.

Speaking broadly, the mobile advertising market is still nascent, but it's heating up quickly, with more and more mobile marketing startups popping up every week.

Overall, mobile advertising is expected to be a $40 billion market by 2018.