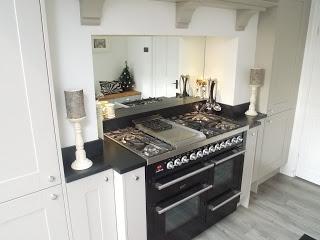 Considering a new kitchen design? Not know where to start? That's ok…we're here to help. Before you check out popular high street stores like Kitchen Design Centre, there are some considerations to make, especially in relation to what will give the room a more interesting and comfortable feel.
Make a mood-board to help you think of some good design ideas, like color, design, layout and themes.
Kitchen storage
Kitchen trolleys and kitchen islands not only mean extra space, but also serve as useful storage furniture.
You can keep small items close at hand as well as keeping bulky pots and pans out of the cupboards and drawers.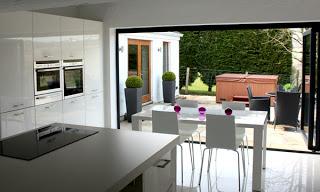 There is no need to reach far into the back of your modern kitchen cabinets when you could just pull out a drawer. Kitchen drawers are now bigger and better than ever. Make good use of your corners by fitting corner cabinets with pull out storage.
Wall space is a perfect way to utilise your kitchen design. Condiment shelves, dish drainers, utensil racks, knife racks, kitchen roll holders and cutlery stands. There are hundreds of options.
Kitchen cabinets
Using versatile kitchen cabinets is an interesting way to create interesting, practical and inspiring modern kitchens. Different heights around the kitchen can give your kitchen a fantastic contrast.
Integrating under cupboard lighting into your kitchen design adds atmosphere, functionality and style to your kitchen. Base and wall units look amazing when you use a mixture of ambient lighting, spotlights and plinth lighting.
When used properly, cupboard lighting can really add an amazing aesthetic to a kitchen design.
Kitchen Dining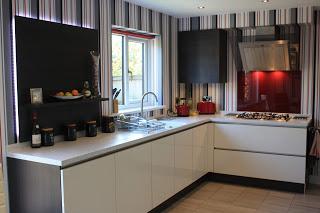 It makes sense to have your dining area on the same level as your kitchen. It's not a good idea to be running up and down stairs to serve meals to dinner guests. In an ideal house, your dining, living and kitchen spaces would all be on the same floor, so you don't have to go from one to another.
Or, if you have enough space, a proper kitchen table is wonderful. It needs to be carefully chosen, since it will be used for various different occasions. The table must be narrow enough for people to pass.
Extra ideas
Want something a bit different? A very unique way to decorate your kitchen, which can make all the different to your kitchen design, is painting a wall mural on the kitchen walls.
A mural, which compliments the theme of your kitchen, will be a fantastic focal point to your kitchen.