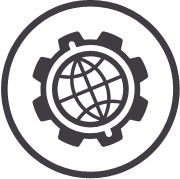 New businesses always have to think twice or more before they decide to jump into the ecommerce industry. The reason is simple. Ecommerce is tough and there are no shortcuts. Setting up an online store is not just about building a beautiful ecommerce website. Successful online shops have a very strong front end and an even stronger back end.
Here are a few key factors that influence the level of success of an ecommerce website effort…


The interface
Many online shops start with the thinking that if they make a beautiful website, people will get attracted and shower them with love. Well, if the most successful ecommerce businesses are any indication, this notion is completely false. You need a highly functional website more than a beautiful interface.
Remember one thing that the users don't come to your online store to admire it. They want to browse through your products, choose one, buy it and be done with it, as soon as possible. It is your duty to make this process as fast as possible. Online stores have greater information density.
The interface should have the following features:
It should pack a lot of information about the product
The interface should be clean, but not sparse
Buying a product should not be more than 2 steps away
In other worse, if you have to choose between beauty and function, choose the latter, because it makes things faster and more efficient.
Navigation
Your website's navigation is the biggest user experience aspect for customers. You basically cater to two kinds of customers. Those who are looking for specific product and who want to browse through all your products to see what they can buy.
The first kind of customer wants to get the job done as soon as possible. The product should be easy to find for this customer. She should have to simply type in the name, in order for the product page to be displayed. Once this customer experiences how quickly she can buy what she wants, she will want to come back and buy more.
For the window shopper, you need to have a very good navigation system with your items neatly segregated by category. Add as many sensible filters as you can, so that they can sort the product by price, gender, color, specific features etc. This way they are likelier to find what they want and will happily buy from you.
The backend
The biggest difference between an ecommerce website and others is that you are dealing with physical products. You need a very strong foundation for your website to gain any traction. You want a steady supply chain management with advanced logistics.
Ultimately, if you cannot deliver the product to your customer upon ordering, your website is a failure. Before launching an ecommerce business, it is important to get the backend right. The website design and other technical details are secondary to supply and distribution.
Customization
If you can't offer a personal experience to every customer, a lot of them won't come back often. Check out the biggest online shops. You will find that they always recommend something to the visitor to buy. If it is first time visitor, they prominently display their best selling products.
On the other hand, if it is a regular customer, they display products similar to the ones already bought. With ecommerce websites, you need a lot of different things to come together and work seamlessly to deliver a smooth user experience. Succeeding in ecommerce is not impossible if you know your target market and address it properly.

About the Author: Devin Morris has been writing a lot of posts related to technology and computers. He has also written a post on things that you should consider while hiring the services of website designers for your business websites.