Would you like to be able to easily make a logo without spending lots of time and energy to deal with the steep learning curves of professional and unintuitive graphic design software?
If so then DesignEvo, an easy-to-use online logo maker may be what you're looking for.
Take a look at the features and more in this article.
3,000 Free Logo Templates
Yes, design a logo is not easy, especially for people who have little or zero graphic design background and skill. But wait a second, DesignEvo got your back. It offers you an impressive list of professionally designed logo templates packed into 34 categories, helping you get your logo design project off the ground.
There are 34 categories including Business, Lifestyle, Technology, Art, Education, Animal, Environment, Fashion, Real Estate and much, which let you create really nice looking logos for a wide variety of fields. All the templates are customizable, so you can further modify the different parts of it to suit your actual needs and create your own custom logo.
Logo Icons and Fonts
DesignEvo owns an inbuilt graphics library, which gives you free access to millions of vector logo icons. By simply type in some keywords, you will get endless choices in seconds. To further enhance your logo, DesignEvo provides you with shapes to choose from, including badges, decorations, lines, solid shapes, outlined shapes, banners, and symbols.
You also have more than 100 stylish text fonts to play around with. There are two main types of fonts- Classic and Art, and each one has bunches of various fonts. So you don't need to look up free fonts on the Internet anymore.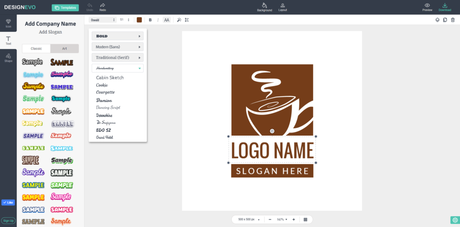 Preview and Output
What I like best about DesignEvo is that it provides a preview mode, which gives a great visual support. You can see how your logo looks like on T-shirt, business card, website, notebook cover, and some other marketing materials.You easily figure out where your logo needs to be redesigned or modified.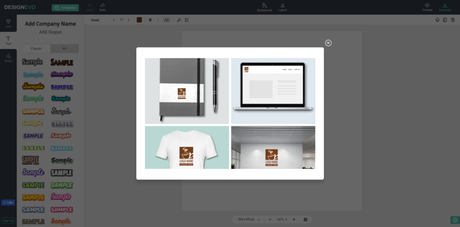 Once you are satisfied with your design, just click the Download button. DesignEvo supports four types of logo output- JPG, PNG, PDF and SVG. Alternatively, you can also save your logo as a project, so that you can continue working on it whenever you want.
Final Words
In conclusion, DesignEvo is an easy to use tool for bloggers or small business owners to create effective and marketing engaging logos. The large collections of free ready-to-use logo templates make it easy for you to create a professional looking design in minutes. If you are looking for a fast and simple way to create a good quality logo to represent your brand, take time to check it out and you will end up with a stunning logo design.
You can visit their website Here.