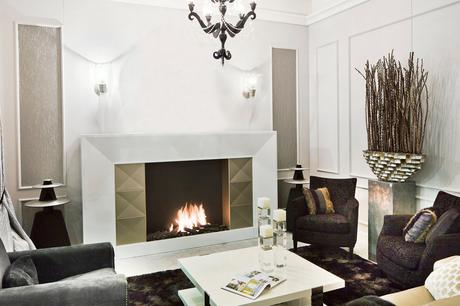 Grant your home with the soothing warmth and striking design statements by obtaining one of these luxury designer fireplaces!
Here are some remarkable design ideas that will certainly fit your home scheme. From ultra-modern to chic and simple, these fireplace units will leave you wanting to get your own piece in an instant! Browse through these designer fireplaces and find one that meets your standard:
White and Gold Combo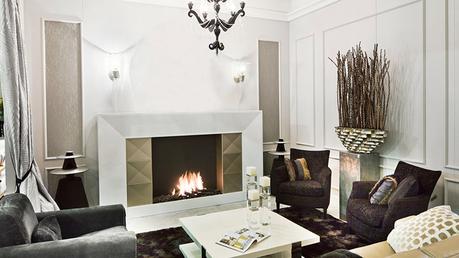 Nothing is more extraordinary than having a modern fireplace with a luxurious gold finish. Place some elegant furnishings throughout the room and you will certainly have a living room fit for royalties. This particular designer fireplace was integrated with a bio-ethanol burner, though it can also be modified to either gas fire or wood, depending on the client's preference.
Go For a Dark Theme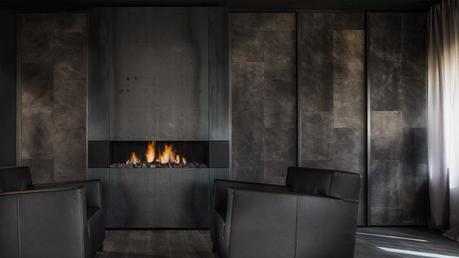 This dark-coloured fireplace seems to blend in with the walls and its surroundings. This fireplace was designed with a floor-to-ceiling layout to add height to the entire room, as well as dark frames to draw the eye upward. Aside from that, the unique blend of dark elements offer a striking depth to the finish and gives this piece a luxurious, contemporary look.
The Multipurpose Wall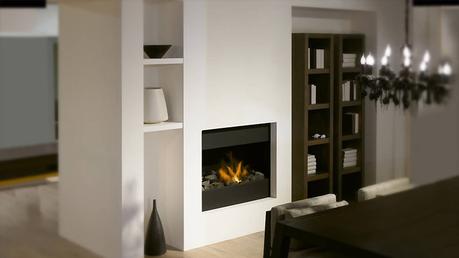 Opt for a designer fireplace design that could also serve as a divider between the living room and the dining area, just like what the owners of this home did to their place. The classic black & white matt finish is also the ideal colour combination to achieve the balance between traditional and modern accents. It also gives a calming vibe to the entire space.
Modern and Rustic Feel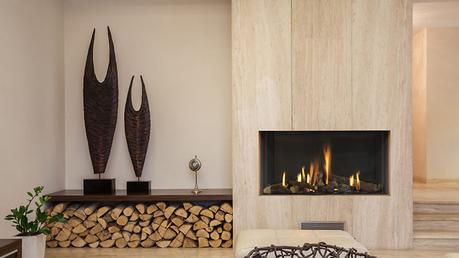 If you want the look of a wood-burning fireplace minus the smoke and the ashes, then consider getting a designer gas fire with log decoration. If you still have some space to spare, try to stock up on some firewood and place them artistically alongside the fireplace unit. This particular design definitely stands out as the star of the room with its wood panellings and natural materials, which gives it a modern, rustic vibe. It also has a high heat output as it is an enclosed gas fire. It's the perfect model for homeowners who want to incorporate clean-cut lines and minimalist details in their home scheme.
Get This Stunning Masterpiece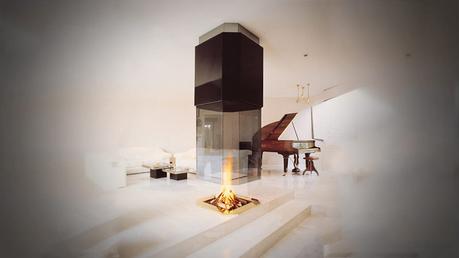 This piece definitely looks like a sculptural work of art.
The space planning for this luxurious living room centres on the exceptional bespoke gas fire with a ceiling-hung canopy. Its heat-resistant glass also renders visual clarity of the dazzling fires from all angles and allows warmth to flow freely to the entire room. Just like the other bespoke designs in our fireplace collection, this particular unit could also be reconstructed in any shapes you want using different materials you prefer. However, this particular design is just incredibly chic and contemporary, don't you think?
So what are you waiting for? Plan out the fireplace of your dreams and transform your home from plain and boring to modern and luxurious! Opt for designer fireplaces designs.
Modus Fireplaces has been in the industry of producing bespoke fireplaces and providing luxury designer fireplaces for homes and hotels in the UK. Together with Europe's top manufacturers, we are able to provide clients great and unsurpassed collection of unique fireplaces. We know that most of their clients have different needs, which is why we will work on site and directly with them to achieve in creating that impressible fireplace.