I absolutely loved participating in Serving Up Style this year. For those who don't know, it is a designer showcase and gala benefiting Molly's Fund Fighting Lupus. The event is held in Portland, OR, but has been attracting some amazing designers from all over.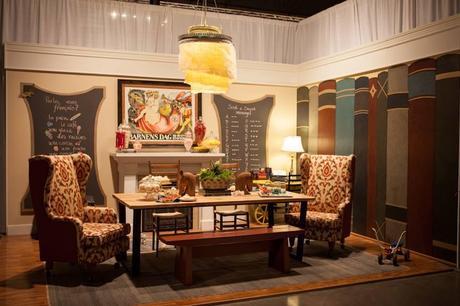 However, the weeks leading up to the event were full of insanity. Working in my garage while I painted the books, cut out and painted the chalkboards, created the light fixture from duct collars, embroidery hoops and burlap, I swore a lot under my breath. I watched several seasons of Parks and Rec (I lost track of how many!) During the two 15 hour days of setting up the space at the Expo center I couldn't help thinking I just couldn't ever participate again.
Once the space was finally built the event took on a whole new light. Standing at my booth, I got to spend time meeting with some really incredible designers. There was so much talent in the show this year that I was intimidated to see my room up against such unique and creative ones.
I had some incredible support online and from the visitors we met at the show though, and with the help of all of you, we received the People's Choice Award!
Many thanks to my family, one bedraggled but cheerful carpenter, and some lovely sponsors who contributed pieces like NW Rugs, Sunbrella, Trio Designs and Denali Furniture and the NW Natural Appliance Center.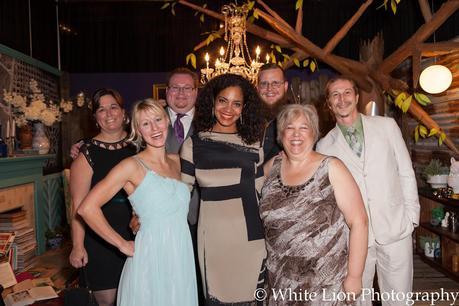 I was also inspired by all the other designer's I met. Danielle Colding, an HGTV Design Star winner and host of her own show attended and was so gracious and down to earth. This group shot is of Danielle with the students from Portland Community College who had the booth next to mine. We shared tools and ideas, and supported each other (literally!) then laughed when we were so tired we couldn't do anything else. I have a new group of friends!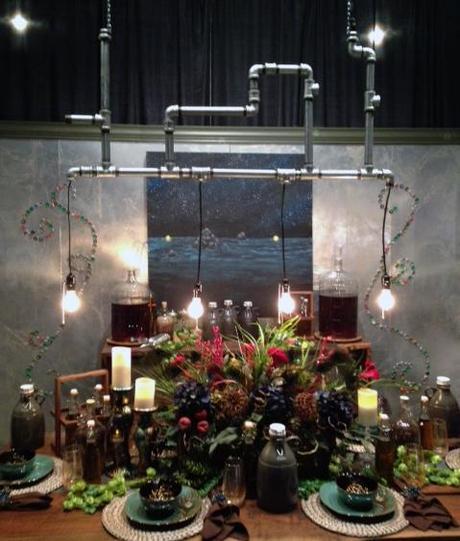 Ida York Interior Design
Other designers made me marvel at their creativity. I loved this light fixture made from pipes created by Ida York and her team. This would be a fabulous DIY if you want just a touch of industrial in your space.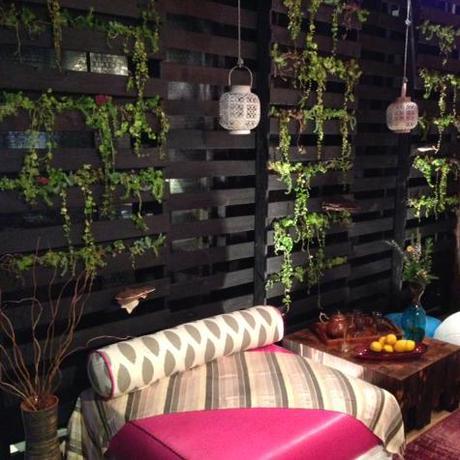 Mobius Home and Studio G Creations
I want this living wall, created from slats of wood; wouldn't this be a fabulous upcycle project with palettes?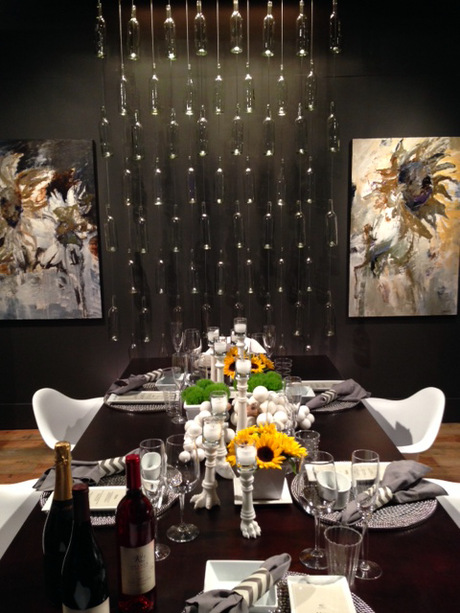 J. Meyers and Associates, LLC
I adore this simple wall decor of clear wine bottles suspended on small metal beaded chains flanked by some bold artwork. It's the perfect accent for a winemaker's dinner.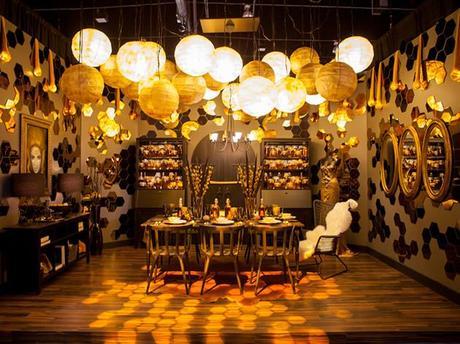 Art Institute of Portland and IKEA
This room won the designer's choice award. It is the queen bee's lair, filled with glowing honey and accented with lights that evoke honeycombs and even dripping honey down the walls. My absolute favorite touch in this room was the ax barring the door – that took the room to a whole new level for me.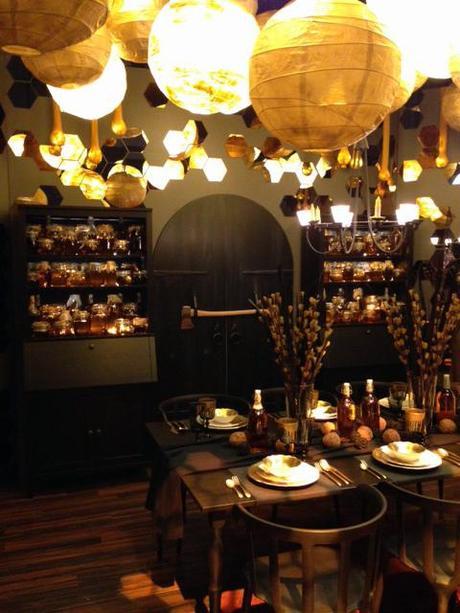 While I tried to give myself a break after the show, my mind is already racing with ideas for next year – I even sketched out my favorite. It's a little more outside the box than what I did this year, but its still something realistic that I would love for myself or my clients. Unfortunately for now I'll need to keep that information top-secret!
With Serving Up Style behind us we now turn to the next thing. I am partnering with Pier 1 to do a "Fall Makeover" for one lucky homeowner. We'll be finishing that up by the end of the week, so expect to see a blog on that soon. We'll also be giving away a $50 gift card, so keep an eye out to see how you can fund your own little make over.
Love you all! Thanks for your votes and your kind words on Facebook and Twitter! LL, you rock!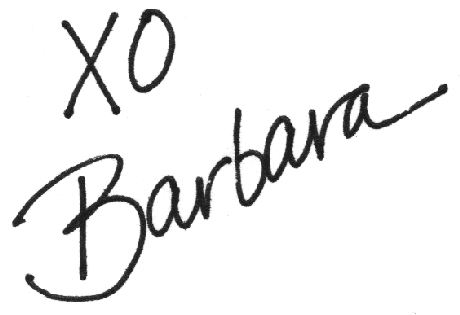 If you want your home to feel like a designer showcase contact me at YES Spaces today! I would love to talk to you about your family and your space!
Visit our YES Spaces DIY channel to see videos of other family friendly projects!
Connect with us on Facebook for the "How To" behind some of today's most popular design ideas!
View our Pinterest Boards for my curated design inspiration!