The weather is getting warmer every day and the flowers have started to blossom both in the garden and flower pots. So what are you waiting for?–it's time to start thinking and planning how to enjoy your back decks, patio and garden! You are going to want to enjoy every minute of the warm weather, and that includes entertaining friends and family outdoors. And you can enjoy it more by sprucing up your lawn, deck and garden with decorative furnishings and accessories.
Complement your front lawn with colorful seasonal annuals, like geraniums and pansies, which you can place in flower pots or an adjacent garden. Add some scented flowers or shrubs, like daylilies or lilacs. There's nothing like walking through a garden and smelling the sweet fragrances coming from your garden!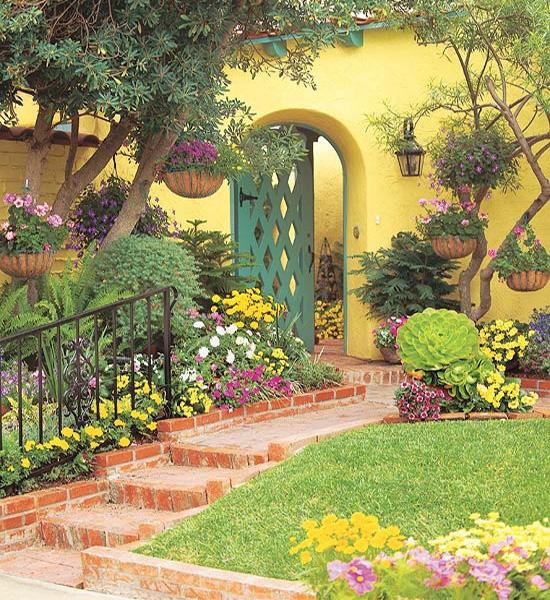 Outdoor furniture pieces now have more stylish designs than ever! There are so many choices available.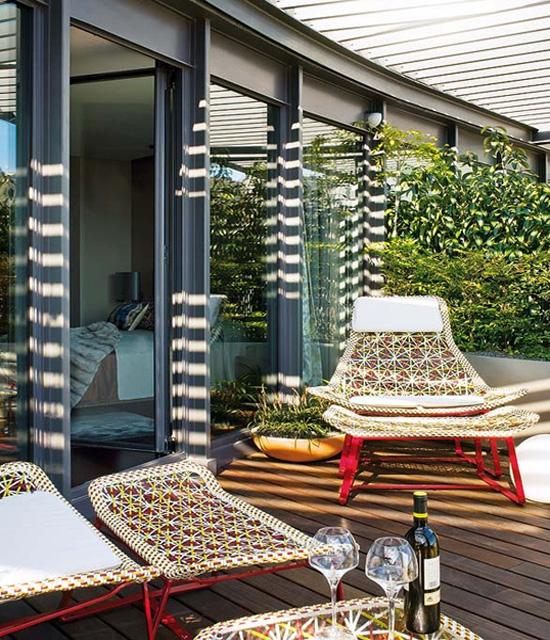 The most popular and traditional outdoor furniture designs are made of wicker. A benefit to wicker is that it can be painted.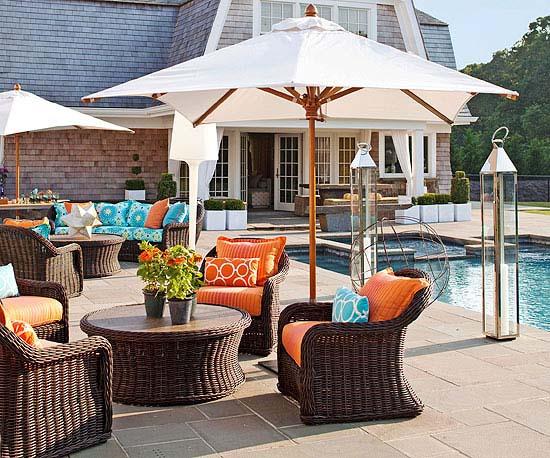 Don't just go for a neutral palette in your outdoor décor–add some pizazz with colorful furniture! It's particularly nice to use the colors of spring and summer, such as yellow, pink and red.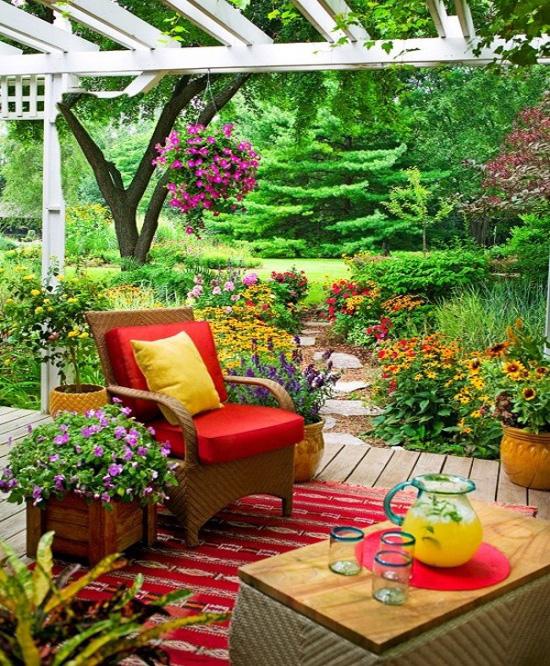 Image source:
If you'd prefer a more simple but elegant décor, use a one-color palette.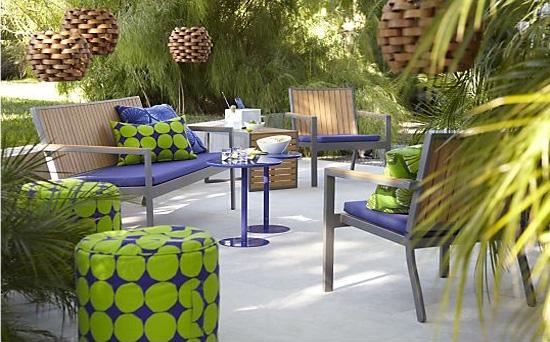 If you have a deck that's in need of some work and you don't have the resources right now, you can always paint it.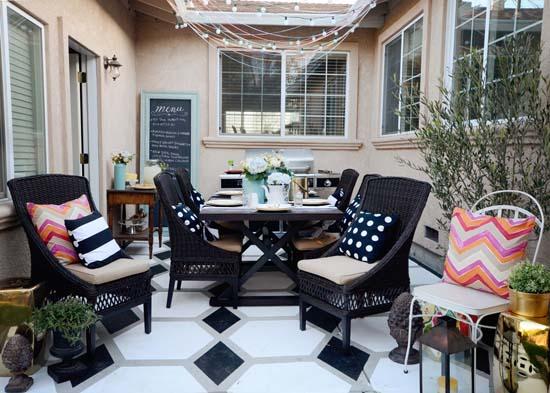 Image source:
When you are designing or entertaining outdoors, you may want some privacy. If so, you can hang textile curtains. Many curtains are made especially for the outdoors and are UV resistant.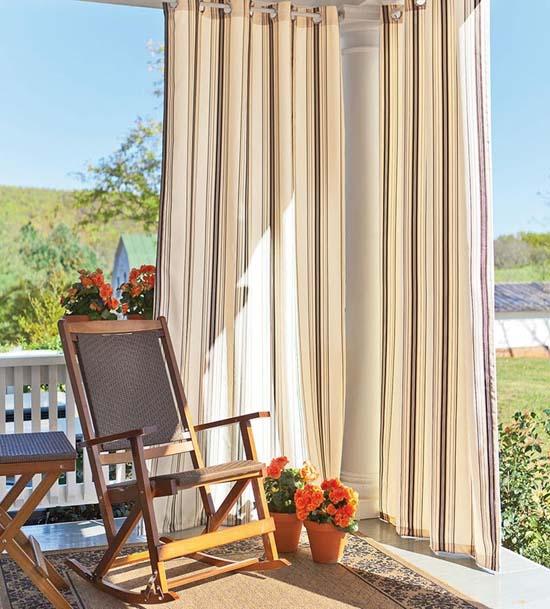 Image source:
We all love being in open spaces in the summer, but at times we want protection from the intense sun. Having a colorful sun umbrella can add to the beauty of your outdoor space.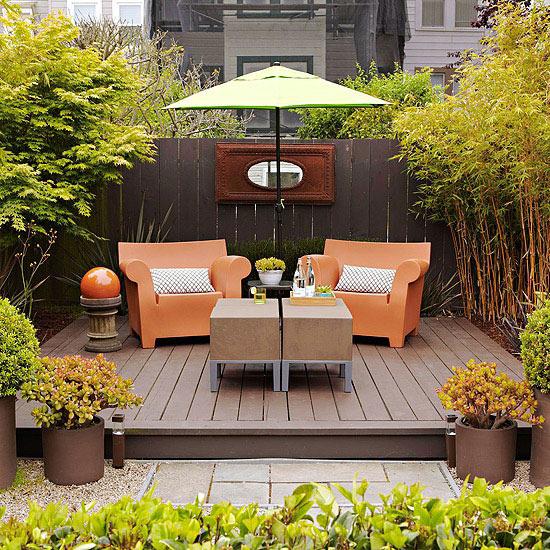 Image source:
Maybe you'd like to go one step further and make a design statement with your outdoor décor. One way you can do this is by making a pergola with bamboo rolls and using light and airy curtains.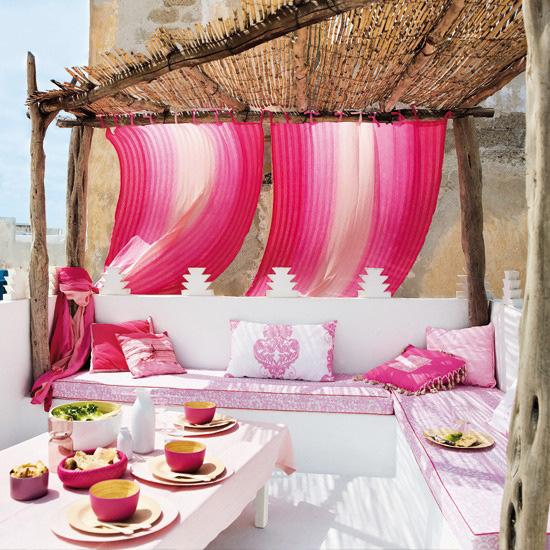 Image source:
Lighting is a very important and practical design element in any outdoor space, and it also helps in creating an ambiance. You'll find many different types of lighting available for the outdoors, like LED lights for the deck or patio, solar powered ones for the backyard and pathways. If you're eating outside, you should get some citronella candles or tiki torches with citronella oil to keep away those dreaded mosquitoes.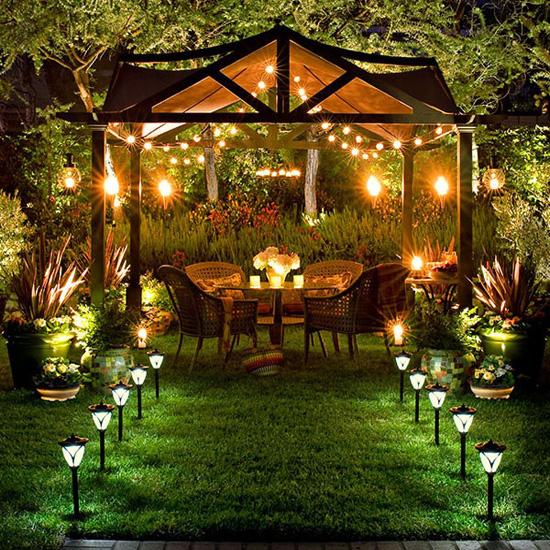 Image source:
Finally, let your outdoor space reflect a touch of whimsy something that's totally unexpected, for instance a hammock. There's nothing like enjoying a hammock on cool days or lazy Sundays.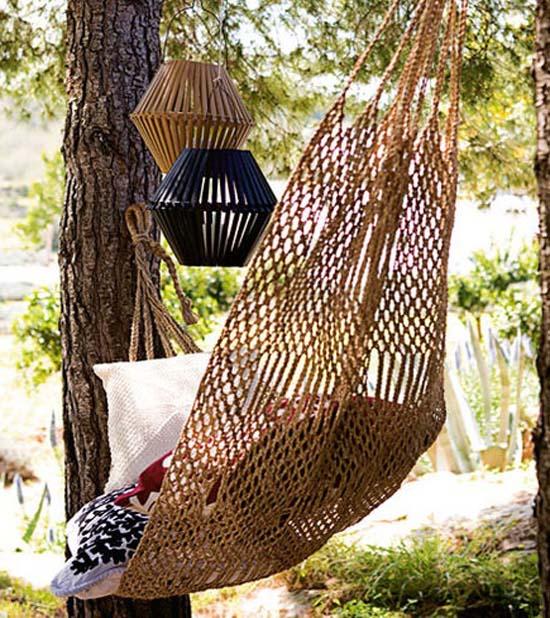 Image source:
Have I provided you with enough temptation to start designing your outdoor space? Now let's go out and enjoy what hopefully will be a delightful summer!
 Simone