I featured this spa-like bathroom designed by senior architect Barney Maier of Feinmann Inc., a Boston area design/build firm, as a  Room to Love in the Address section of The Boston Globe this past fall. I love the simplicity of the design, and would happily spend hours in that tub, which happens to be in the same neighborhood as my own condo (which is glaringly devoid of such luxury).
The project combined two units into one, and transformed the original kitchen and bath of one unit into this new master bathroom. A wall across the middle of the room separates the tub and shower area from the sink and toilet side of the space. A new, elegantly curved wall allows for breathing room so people can pass by. It's hard to explain, so scroll down to the diagram at the end.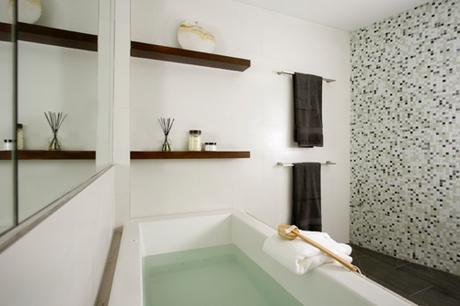 Maier designed the clean-lined, floating  shelves, which were manufactured by Showplace Cabinetry out of cherry wood and stained dark brown. The pair of stacked, minimalist towel bars in satin-nickel are Cinu by Ginger. The wall is clad in matte white tile. Recycled-glass mosaic tile by Kamet, in a blend of light green, black, white, and taupe covers the curved accent wall.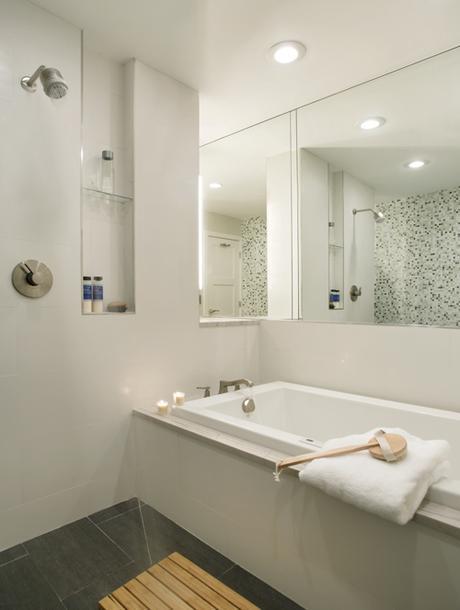 The shower wall, back wall and backsplash are done in Ferro White by Sant'Agostino 12-inch-by-24-inch tiles . Instead of bull nose tiles, stainless steel was used on the tile edges and shelving trim for a sleek, contemporary look. Matte black-porcelain Ceramica Sant'Agostino Ferro 12-inch-by-24-inch tiles ground the airy space. A wooden bath mat adds warmth and reinforces the overall spa feel.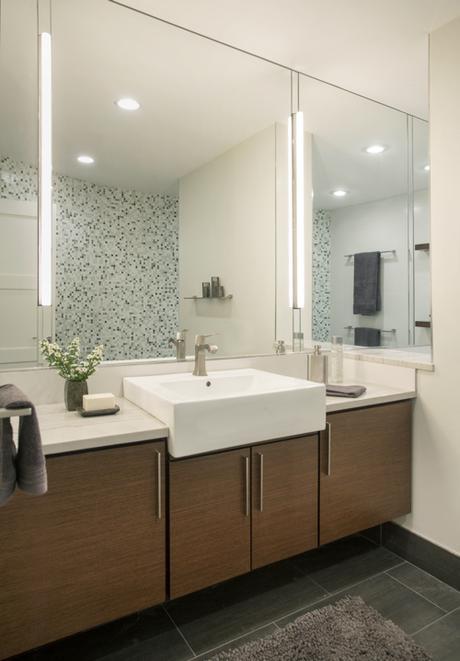 The floating custom-made vanity is on the flip side of the shower wall.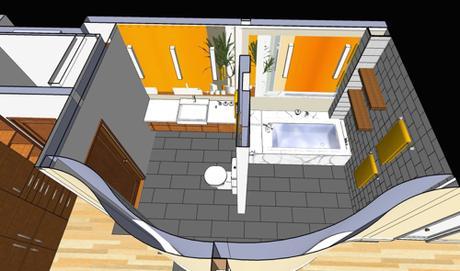 S H O P  the  L O O K 
from StyleCarrot affiliates.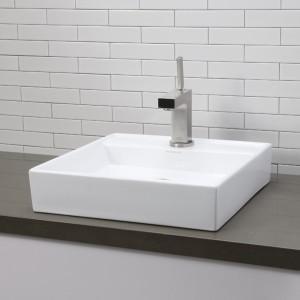 Above Counter Lavatory Sink
Ginger Cinu Towel Bar
Kohler Choreograph Floating Shower Shelf
Gray Wood Effect Porcelain Floor Tile