I used to write the "Destination Design" column for Design Milk, and I keep "Hotel Style" Pinterest board, but lately I haven't been keeping up on all the best new hotels. That's not to say that I don't welcome the chance to stay somewhere fabulous, or at the very least, blog about it. I was glad to hear about citizenM hotels, an innovative and budget-friendly, but style heavy, international chain of design hotels.
The New York Times described the citizenM hotel as "a cross between a style-conscious boutique and a pod hotel." The Dutch company, led by Rattan Chadha, a New Delhi-born entrepreneur who sold his Dutch clothing company, Mexx, to Liz Claiborne in 2001, cuts costs but cultivates a hip vibe. citizenM stands for "citizen mobility."
According to an article in Inc. Magazine, Chadha came up with the concept from observing how the young designers who worked for him at Mexx craved cool hotels, though not necessarily overtly luxurious ones. He tells Inc., "I wanted to create a hybrid: great style for a price a 25-year-old designer could afford. That concept existed in fashion but not in hotels." 
Dutch architectural firm Concrete designed this design hotel concept. The rooms are individual modules prefabricated in their own factory, then stacked shipping container style. The rooms are all the same small size, with the same size windows, and all cost the same per night. They sport must-have amenities including large custom mattresses, high thread-count sheets, high pressure showers, free Wi-Fi and free bottled water.
Reservations are taken online only,  and check in and check out are done via lobby kiosks. There are no concierges, but there are "ambassadors" on hand to help if you ask. (Interestingly, they're not from the hotel industry, but rather, at least in New York, drama students.) In place of the ubiquitous hotel  restaurant is a "canteen" that provides good quality food like sandwiches, salads, sushi, and such, open 24 hours a day.
The public areas of these design hotels are set up as communal living rooms with different types of spaces for working and lounging, furnished with sublime pieces by Swiss design company Vitra. There's abundant and enviable high end artwork by the likes of Julian Opie, Andy Warhol, Tracey Emin, and David LaChapelle. Chadha told Wallpaper, "[The lobby is] styled to look like the living room of a very well-travelled person."
In a number of the hotels, citizenM collaborates Amsterdam-based bookshop Mendo, the self-described as a "candy store for book aficionados." The pop-up bookshops sell glossy books on photography, architecture, fashion, and  travel, and will send them directly to one's home. 
The company is expanding its chain of design hotels, and has named Boston, Miami, Los Angeles, and San Francisco as target locations for new citizenM hotels. I'd love to see a citizenM hotel in Boston. Perhaps they'll offer me a bed for a night. 
Let's take a tour of five citizenM hotels:
Paris
The citizenM hotel Paris at the Charles De Gaulle Airport, which opened in June 2014, has 230 rooms and is the chain's seventh location.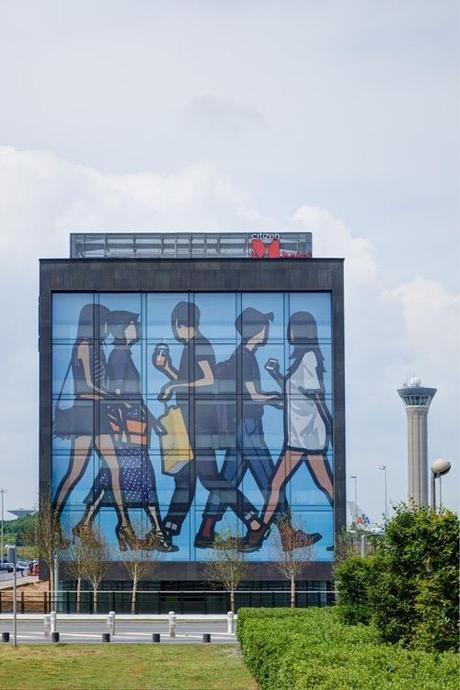 A commissioned art piece by contemporary London-born artist Julien Opie covers the entire full-glass front façade of the six-story citizenM Paris.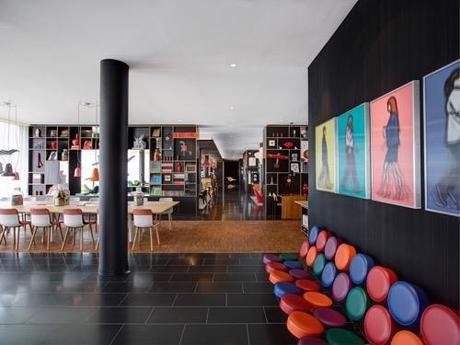 More of Julien Opie's artwork lines a black accent wall in the lobby living room, above an extended, multicolor George Nelson Marshmallow sofa.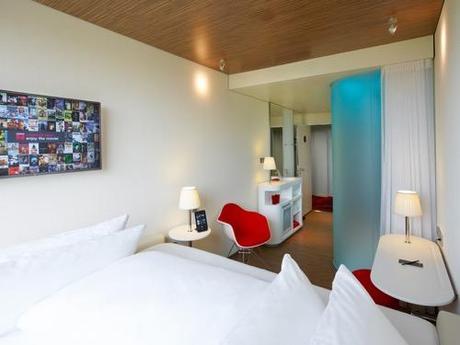 There are XL king size beds, Hansgrohe power rain showers, wood ceilings, and mid-century modern furniture. There are customizable playlists by 22tracks, a music discovery service curated by top European DJs.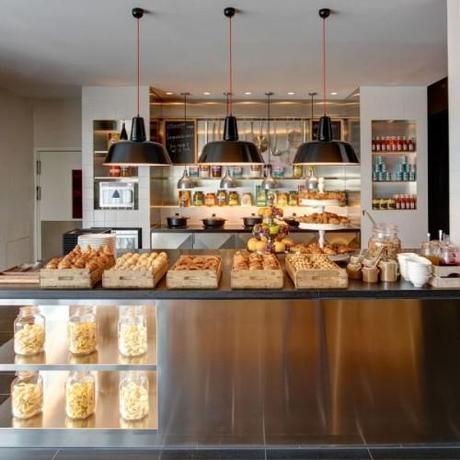 canteenM Paris is designed like an open kitchen.
•  •  •
Rotterdam
The 151-room citizenM hotel in Rotterdam, The Netherlands is the company's fifth property.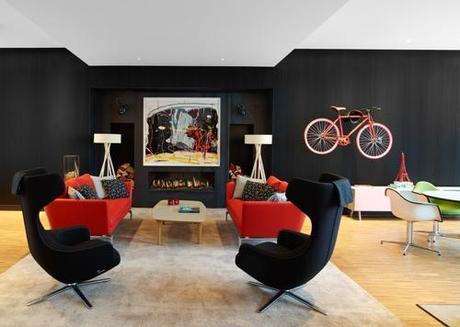 The black walls are on trend, as is the hanging bicycle. Not sure if it's art or readily available for a ride.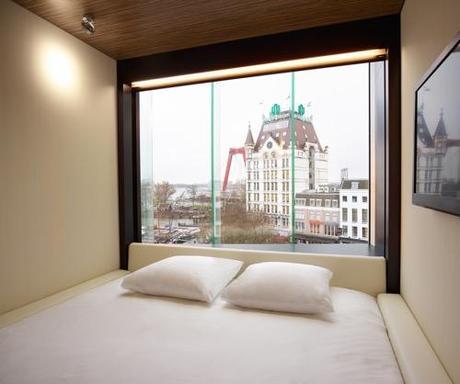 Tablet mood pads allow guests to dim or change light colors, draw the curtains, cool the room, and control the television. Unlike most hotels, every room is equipped with a small desk with sockets to charge mobile devices no matter what the plugs origin.
 •  •  •
New York City
The first Manhattan location (another will soon go up in The Bowery) is a 230-room structure in Times Square.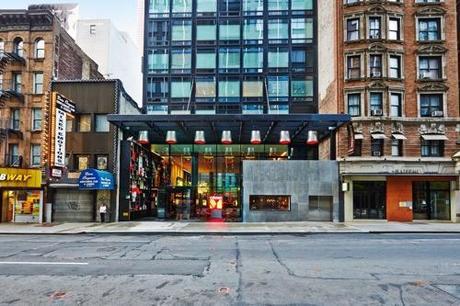 A commissioned artwork by Jen Liu wraps around the exterior façade of citizenM NYC.  The hotel collaborated with s[edition] to allow guests select contemporary digital artwork for the displays in each room, with works  by Mark Titchner and Tracey Emin.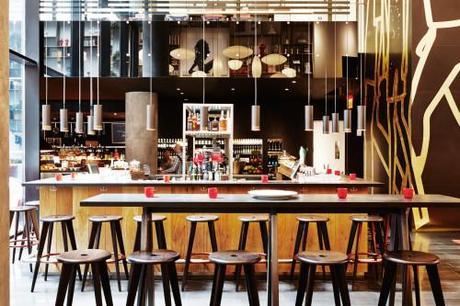 canteenM Time Square rocks a coffee house vibe. Food is locally sourced from New York suppliers.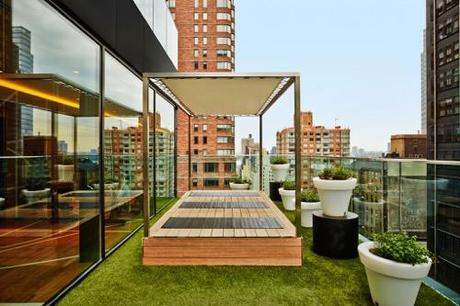 In addition to a wraparound terrace, the rooftop bar has a fireplace and cocktail menu curated by celeb mixologist Mayur Subbarao.
•  •  •
Amsterdam
There are two citizenM hotels in Amsterdam. One at the airport, and this one, with 215 rooms close to city center.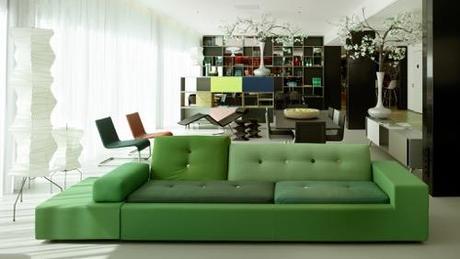 Living rooms sport comfy green couches and iMacs on long communal work (or pretend to work) tables.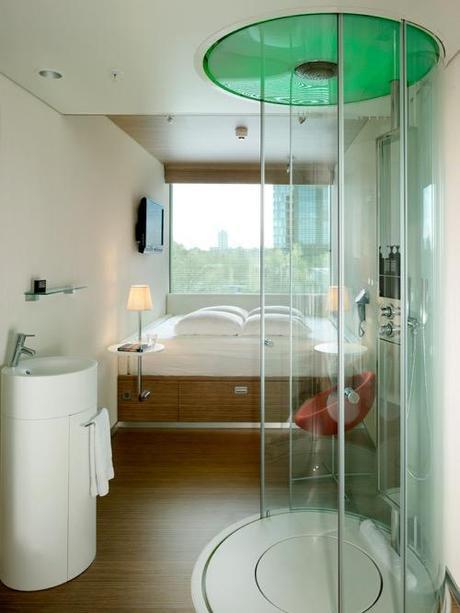 Rooms have XL king beds with Italian linens and super fluffy feather pillows, and as they tout on their website, "the best showers this side of the rainforest."
 •  •  •
London
The group's fourth hotel went up in London in 2012. It's in walking distance of the Tate Modern.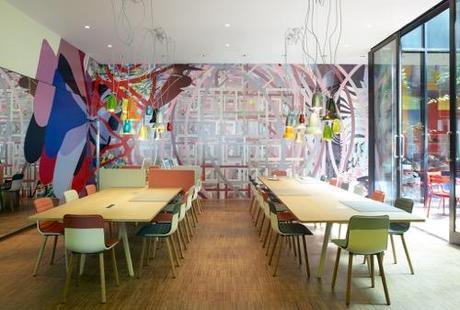 Conference tables evoke a party atmosphere.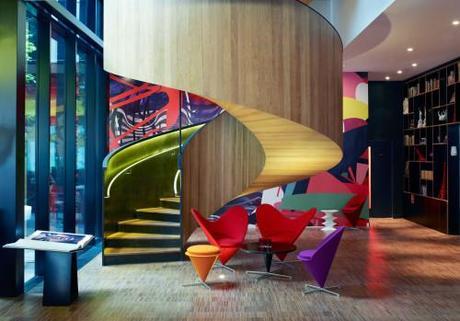 A spiral staircase leads to the first floor where there are seven meeting rooms. Artwork includes pieces by Hans op de Beeck, Gavin Turk and Mario Testino.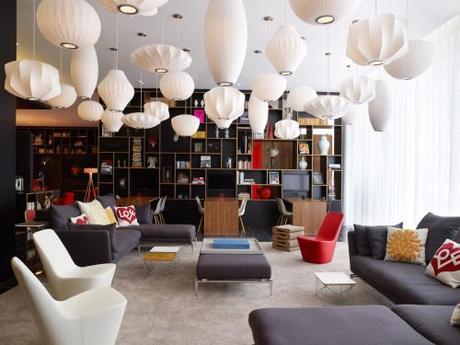 So many George Nelson bubble lamps.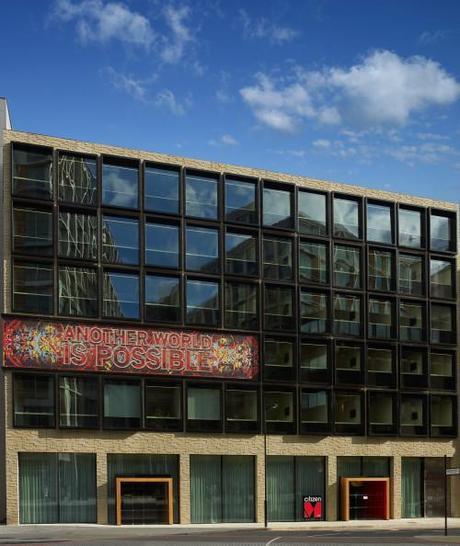 The exterior of citizenM London features a piece of text art by Turner Prize-nominated artist Mark Titchner that says "Another World Is Possible."