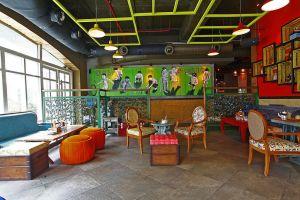 Similar to change in the dialect every few kilometres in India, the metamorphosis in preparation and taste of food can be astounding. Trying out local cuisine and preparations has always been on top of agenda whenever I have traveled. And on my return to Delhi, have always felt a void for a place that could dish up a good variety of food from various corners of the country.
Getting an invitation to bloggers' preview and tasting session at Desi Roots for the new menu that comprising of pan-Indian dishes made me excited and at the same time set me thinking if one outlet could do justice to such wide range of flavors.
Set up in a café style, the warm décor welcomed us. Uncountable locks at the entrance, the colorful setting and antiques adorning the wall made it all quite pleasant. I was looking forward to the journey of dishes traveling to my table from all directions of the country. As we got seated, we were handed over the "Desi Roots Tribune", the newspaper style menu card (or menu paper though will be a better expression). The paper provides some interesting read for guests to go through while waiting for the food.
We started with Mircha Poppers (Rs 365) and MongarMoong Dal Pakodi (Rs 225). Mircha Poppers, the popular snack from the west had a twist. It used the green chilies from the southern town of Bhavangiri and as against common filling of potatoes, it was filled with cheese (while the menu claimed it to be feta cheese, it tasted more like cheese made from cow milk rather than the sheep milk). Deep fried with a crisp quoting, it tasted well. The MogarMoong Dal Pakodi was the regular bite sized lentil drops, soft from inside with a crisp crust served with "mint chatni" and "moolikalaccha"
In starters, we were served Braganza Prawns (Rs 475), Chicken 65 Jaffle (Rs 325) and Mukhopadhyay Mach (Rs 375). As the name suggests, the juicy and moist Braganza Prawns dish, is claimed to be prepared with Goan spices. While I could not relate it to the traditional spicy preparations from Goa or Konkan, the batter fried prawns tasted very good. The Jaffel, with a good filling of Chicken 65 was a good creation. The crisp toasted sandwich with a filling of this popular south Indian starter is served along with cutting chai. Would like to make a special mention of Mukhopadhyay Mach. Grilled to perfection, the fish had the savory flavor of mustard. It almost melted in the mouth and would rate it on top among the starters.
Necklace Road Special (Rs 445), Delhi via Lucknow (Rs 445) and BaltiPaneer (Rs 395) were the dishes from the main course. Necklace Road Special was pulled mutton roast served with Malabar parotha. The mutton was admirable and the Malabar parotha was outstanding. The other dish Delhi via Lucknow was Nahari served with khameeri roti which wasn't per my expectations. The Nahari did not have that slight stickiness which is the uniqueness of the dish, nor did it have that distinct sweetness that makes it so delicious. The ChurChur Naan was amazingly crisp. I wish the BaltiPaneer served along was also as good.
The presentation of all dishes was par excellent and was unique for each of them. A variety of items like a cane basket, jewelry box, old time coal press, a wooden pan were blended with modern ware that enhanced the looks  and made dishes look beautiful. The dishes are like a platter with portions that would be good for one person.
In sweets I tried India–Stanbul (Rs 345) and Paan ice cream (Rs 225). The Paan ice cream was excellent and had the distinct taste of sweet paan leaf. The eatery is also serving other unique flavors like HariMirch, Sandalwood, Filter Coffee in ice creams. India-Stanbul was a blend of famous Mediterranean sweet Bakhlava and Badami Halwa from India. It was a good combination but I would have liked the Bakhlava phyllo to be crisp.
The service lacked given the full house at the restaurant. While the servers were courteous and warm, they were unaware of the details on dishes and were not able to get the dishes in time. Infact, they had to be reminded to get the service going.
Over all Desi Roots is a good option all food lovers who would want to try various dishes from all corners of Indian with a slight twist. The service could be an aberration on that day and I would like to give them the benefit of doubt. The chef has done a great job in doling out the authentic combination of grubs from various parts, with an unexpected turn of flavors.
Ratings (out of 5)
Food: 3.5 | Drinks: 4.0 | Ambience: 4.0 | Service: 2.5 | Overall: 3.5
Meal for Two: Rs. 1800 (Without alcohol) | Credit Cards: Yes | Alcohol: Yes | Timings: 12pm – 12am | Wheel Chair Friendly: No
Address: G – 16,17, 30 & 31, Ground Floor, Ras Villas Mall, Saket, New Delhi | Telephone: 011-41614008
Disclaimer: This review was done on an invitation from the restaurant. Due judgment and care has been applied by the author to remain objective and unbiased in the review, but readers need to consider this review keeping this fact in mind.