The Kolamburg
The bylanes of Bandra are well known for their small hole in the wall eateries; Desi Deli is one of the recent ones to join this club. Located on Chapel Road, right across Saltwater Café, it is surrounded by many eateries of all shapes and size. The eatery with its al fresco dining area, is a very tiny and cute looking establishment and is easy to miss if you are not paying attention.
In a city where parking is a major issues, what comes as a surprise is that this establishment has no valet arrangement (like the other establishments in the lane, I guess) and depends on either walk in crowd which in the long term looks a bit of a challenge to me.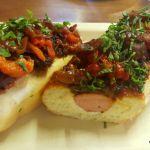 Goan Desi Hot Dog
The menu is a fair mix of hot dogs, burgers, pastas, some mains, desserts and shakes. The focus of the restaurant has been to create a menu which lives up to its Deli status but also adds elements of Desi into it; so diners may find adventurous dishes created with Indian elements like Goan Chorizos, Curry leaves, Indian spices et al.
For our tasting, we settled for The Goan Desi Hot Dog (Rs.275) which was quite good. The pork sausage used in the hot dog was fresh and the topping of goan chorizos and pickled tomatoes and onions gave the dog a lovely flavor.  I could not, however, relish the prawn burger called The Kolamburg (Rs.300) as I found the burger patty quite undercooked towards the center. The combination of the patty with the bun and gherkins and the sauces just didn't work well with me.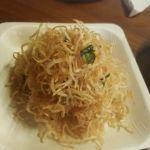 String fried potatoes
The String Fried Potatoes that were served with it were quite good and reminded me of Kolkata Jhuri Bhaja; they have added a welcome twist to this simple dish by adding a generous tempering of curry leaves which adds that extra element to it and makes it stand out pretty well.
The mains saw us going for a dish called The Champ (Rs.350) which is essentially lamb chops cooked in spicy masalas. This dish, curiously, reminded me of the Bengali Kosha Mangsho and I couldn't find anything novel in it, but it was served with a side salad of lettuce, rocket, mandarin orange, roasted almonds dressed with a honey citrus dressing which was simply mind blowing. I loved the play for sweet and sour salad with the spicy hot Champ.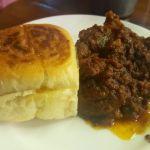 The Champ
The two desserts we tried were a mixed bag; while the Trucker Tycoon (Rs.200) which is French toast with chocolate and mascarpone cheese is an okayish dish, the Cleopatra (Rs.200) is deliciously gooey chocolaty comfort dessert that you would love to order for a nightcap.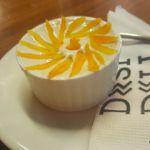 Cleopatra
All in all, Desi Deli has its heart in the right place with a menu that is interesting and adventurous and a hostess who is full of passion. What mars it perhaps is the pricing, which I found to be quite high compared to the content. However, it could be justified due to the location, but with so many other sit down restaurants around offering a wider range at similar prices, perhaps it would be prudent to re evaluate the positioning and match it up with the food.
Here is wishing this passionate venture all the best and hoping to see some great stuff coming out of their stable in the days to come.
Ratings out of 5
Food: 3.5 | Ambiance: 3.5 | Service: 3 | Overall: 3.5
Meal for Two with Alcohol: Rs. 1500 Inclusive of taxes | Alcohol: Yes | Credit Card: Yes|
Timing:  9.30 a.m.to 11 pm | Wheelchair access: No
Address: Shop 1, Pearl Haven CHS, 86, Chapel Road, Reclamation, Bandra West, Mumbai
Telephone : 022 2640 8333
Disclaimer : This review was done on an invitation from the restaurant. Due judgment and care has been applied by the author to remain objective and unbiased in the review; however readers may exercise their own discretion.